10 Tips to Have a Perfect Conversation when Dating
03.07.2017
Conversations are crucial in both online and offline dating. People often go on a first date full of hopes that it will be the first step to long-lasting relationships. But when it comes to the first date itself one of the prospective partners or both of them are out of any conversational topics.
You may think that it's no big deal, because we have online dating nowadays. Online dating services give you a lot of time to get to know your prospective partner. Online dating allows you to figure out how much in common you have with your prospective partner in order to determine whether it's worth going on a first offline date. But how on Earth are you going to do that if you have no ideas how to start a conversation online?
That's why you need some tips on how to have a great conversation with your crush. So, check out the following list of tips that will help you have a great conversation with a girl.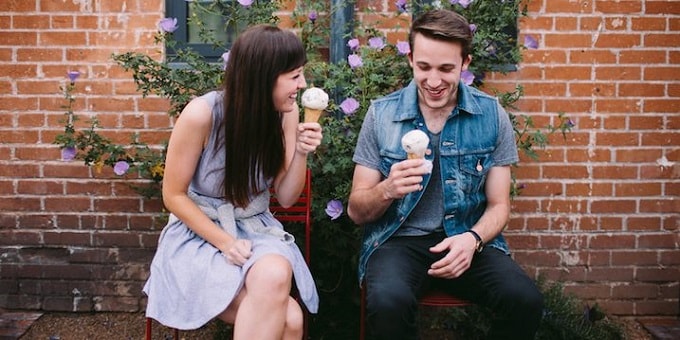 Constantly Dig Information
If you have the knowledge about what's going on in the world, you will never run out of great conversation topics or at least great conversation starters. Of course no one prevents you from talking about yourself, but you must be sure that you are an interesting person able to tell about yourself in a few sentences in order to avoid sounding too narcissistic to your prospective partner. If you check Google News, you can always strike your prospective partner with something interesting regardless of your life being mediocre or not. So, all you have to do is to get into a habit of reading a number of articles every day. Knowing the facts about issues that are trending will prevent you from being boring on a date. But you should mind what topics to discuss with your crush. Of course topics to discuss may vary from person to person, war in Iraq or famine in Cambodia are unlikely the topics to talk about on a first date.
Ask Question
Your conversation on a date must be in a form of 'give and take'. Of course modern people mostly prefer to be interviewed rather than to be interviewers themselves. But if you are only answering questions of your prospective partner without asking him or her, your crush may get the feeling that you are not that interested in further development of relationships. Moreover, asking questions can provide you with more things to talk about on a date. You can run out of your own topics, but the answers of your prospective partner can give you more things to talk about.
You should ask questions about interests, hobbies, backgrounds of your prospective partners. Mind that you shouldn't be boring when asking these questions. You should avoid simple questions like where they are from or where they work. Ask them about their hometown and whether they are passionate about their job or not.
Asking questions will help you figure out how much in common you have, as well as introduce new topics to keep up your conversation.
Be a Good Listener
In order to be a good conversationalist, you need to be a good listener. It means not only listening to what your conversational partner says, but hearing what he or she says. This will provide you with the follow-up questions you can ask and help you take the conversation to another level. Moreover, when you are an effective listener you'll have no problems figuring out what to talk about on a second date.
If you are a good listener, you can easily figure out what activities you can do together based on your and your prospective partner's interests. If your prospective partner enjoys cinema, then you should go to the movies for the next date.
Being a good listener is also about being attentive to your prospective partner's body language. You should keep an eye contact with your partner, as well as nodding your head to show that you're attentive to what he or she is saying.
Don't Forget About Humor
Humor is one of the most important aspects of being a great conversationalist. We are not talking about telling some mean jokes at your prospective partner's expense, nor making fun of him or her. Being humorous means demonstrating your attitude to life, which is taking it with humor. You're unlikely to win someone if you're taking life too seriously. It is too short and neither of us is going to get out of it alive. You also need to show that you're not obsessed with your past troubles. All of us had certain troubles and not so flattering situations in our past, but if it bothers you still, it only shows that you are immature and only about to grow up (if you ever will).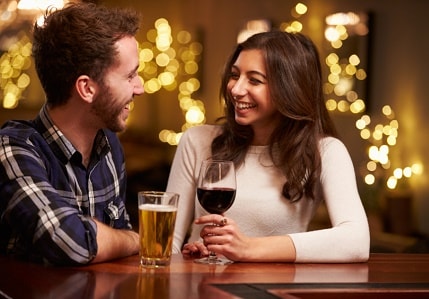 You can make fun of you being fat in school, you can make fun of you being the worst student at your college. Ridicule your first experience of being fired from your job. Of course, you mustn't use dirty jokes, as your prospective partner may not find it funny.
If your jokes about the past make your prospective partner laugh, he or she may share a similar experience, thus providing you with more topics for further development of your conversation. Remember that laughter lightens the mood and makes people more open. If you are able to make people laugh, your likeability factor increases by large percentage, thus making your chances to win your prospective partner's heart bigger.
Don't Forget to Make Compliments
Compliments are crucial for conversations on a date. There is hardly one person who doesn't like to receive compliments. But mind that your compliments must be sincere, as the only thing that can be worse than absence of compliments is the insincere compliments. If your prospective partner told you something that impressed you or made you think in a different way, don't forget to point it out and compliment it. Don't forget to compliment the look and the outfit of your prospective partner. Even things like the color of the hair or the color of the eyes of your prospective partner deserves a compliment. You can also compliment their choices of wine or food if your first date takes place in a cafe or restaurant.
There are no comments. Your can be the first