Can You Skip the Foreplay?
04.10.2018
There are two types of people: those who strive for a quick result and those who like to have quick sex before, well, more sex. We are talking about foreplay, a game that turns you on ten times better than porn; this is a kind of appetizer before the main course. You kiss and touch each other; you want more; your blood is full of endorphins. Who can possibly want to skip this? We have an idea. How about, instead of depriving yourself and your partner of pleasure, you turn the foreplay into the best sex of your life. And we'll show you how.
Foreplay is a game you have to obey the rules of. Each player has the right to be equally active. Impatient lovers and those who love routine lose. The winners are those whose caresses inspire the partner and bring real pleasure to both. You can become a winner. Just study your partner, try not to be selfish, and follow our foreplay tips.
What is foreplay?
Let's be a bit formal here. Foreplay is an intimate game that stimulates passion and precedes sexual intercourse. It's divided into two parts. During the first one, both partners focus on delivering sexual pleasure to each other without the contact of genital organs. The second part includes such contact (without penetration), caresses, and kisses.
But, frankly speaking, foreplay isn't only about romance but also physiology. Your hormones wake up and prepare the body for an emotional cocktail called sex. Passionate foreplay completely changes a woman: her vaginal walls slightly swell, changing its shape, and the clitoris becomes more sensitive. A man's muscles relax, and his nipples harden.
This state is similar to relaxation, so it can significantly reduce the risk of premature ejaculation. By the way, if you end up in this situation, don't panic. Just pretend that nothing happened and start all over again. This approach helps to establish not only physical but also emotional affinity. Harmonious foreplay is a mix of three components: sensuality, caring, and frankness. Without these, even experience doesn't matter.
How long should foreplay last?
Foreplay shouldn't be longer than 15 minutes, although a woman may be ready for sex already after 5 minutes. The next 10 minutes will bring her to the highest degree of arousal. The only reason to stop the foreplay is when the girl asks you for it when she reaches the highest point. Usually, only women of average temperament, who aren't shy of their partners, can fully enjoy foreplay. Some women experience an erection of the clitoris at the end of the foreplay, while others need more time for this. But if you know what buttons to push, you'll have no problems with foreplay before sex.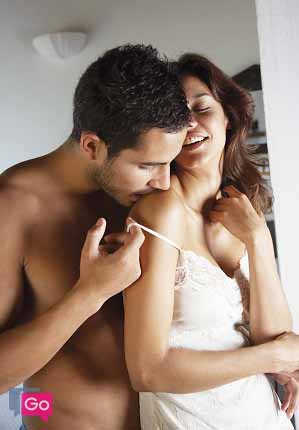 Most women behave passively and quietly during foreplay. However, girls with hot temperament love sex games. Women's passion, regardless of how strong it is, makes a woman concentrate on herself. This is especially true for temperamental women, who show their emotions without hesitation, which also turns men on. Some women with strong temperament can be passive during foreplay but show unusual passion during intercourse.
There's a simple way to tell if the girl is ready for sex, and it's time to stop the foreplay. This is a signal that shows that you should put a bit more effort before going to the next level. It's all about the secretion a woman's body produces during sexual intercourse. In other words, to find out if the girl is ready for sex, you need to check how wet she is.
Foreplay techniques
Alright, we found out how long the foreplay should last. But where does it begin? How to do foreplay? The easiest way is to start with kissing. Through kisses, you exchange energy and passion with your loved one. This doesn't mean that you need to become a predator ready to attack its prey. This means that you just need to enjoy everything that happens. The girl will feel it. Stroke her face, hair, and neck. There are a lot of nerve endings on the head, as well as on the face. Stroke her cheeks – girls like that.
Start kissing her on the lips, and then gradually move on to the neck. Be gentle and a little passionate at the beginning of the foreplay. But don't kiss and touch her too softly. It tickles, and girls don't like to be tickled. Be confident and a bit aggressive. Don't rush things. Just enjoy what you do.
How to caress a girl
What's the best foreplay for her? The one where you use touches and strokes in addition to kisses. Don't be afraid to touch the girl; turn her on! Where to touch her? Try the abdomen, back, the inside of the thighs and arms, shoulders, buttocks – these are all the erogenous zones that men don't know about. A woman's body is one big erogenous zone. Gentle touches seasoned with your tenderness and desire will do the trick. Stroke her with the back of your hand – she'll like it. There, your skin is softer, so the sensations are more pleasant.
How to touch the intimate zones
Be extremely careful with her breasts. You can be rude with it only during rough sex. During the foreplay, you need to be gentle. Start from the boobs without touching the nipples. Tease her. You can stroke her through clothes, gradually undressing her.
Here are two best foreplay tips: when the girl is already aroused, move on to her nipples and area around her clit. But before you proceed to the most interesting part, caress the inside of the thighs, the lower abdomen, and fold under the booty. Touching these areas will turn on your partner even more.
Once you get to the clit, remember that you can touch it only when it's erected. If you rush things, you'll trigger the opposite reaction, and you can even hurt her. There are so many nerve endings around the clit that wrong actions will lead you to failure. Try to think less – this usually makes things worse. Enjoy the process. Watch her reaction to your moves to better understand how close you are to the success.
Types of foreplay
Now that we have the techniques figured out, let's talk about the different types of foreplay that girls love. Here's what you should know.
Kisses and caresses
Obviously, everything starts with a kiss. You don't need a rocket scientist to figure that out. That's why you should always brush your teeth before the action begins. In fact, kissing doesn't always have to end with sex. That's right! Some girls just love being kissed. And, of course, 99% of women expect their partners to kiss them before sex. Start with quick, playful kisses on the lips, nose, and ears. Then, make your kisses more romantic and passionate. Once you take her clothes off, you can start kissing her literally everywhere.
Boob caressing
You can do almost whatever you want with them – kiss them, suck them, or lick them, but do it gently. Breasts are pretty sensitive, so instead of turning your partner on, you risk spoiling her desire and ruining the night of love. This means that you should never twist the nipples! You'll give the girl much brighter sensations if you just caress them. But no matter how much you love her tits, you shouldn't play with them for too long. They're sensitive, remember? You can always combine the first and second types to make your hot foreplay longer.
Vagina stroking
Just put your hand down there, and you'll see how much she loves you. This is arguably the most effective type of foreplay. It's the best and fastest way to turn your loved one on. But like with the boobs, you should be gentle. Stroke her pussy with soft touches. If you want to get to the next level, you need to make her wet. So give her some love.
Foreplay ideas
There are dozens of different ways to awaken your passion, and the emotions you'll get as a result will help prepare your body for much more pleasure. We picked up a few interesting foreplay games for couples.
Public caresses
Surely you and your partner have always dreamed of having sex in some public place. If you've practiced this more than once, then most likely, you don't have problems with foreplay, so congratulations. If you're still afraid to cross this line, we advise you to try playing with each other in public. Kissing, caressing, and stroking your partner in public places will give you brand new sensations, but only if both of you are ready for this. There's nothing to be ashamed of, and if you learn to play without others noticing what you're doing, you won't have to be afraid of people judging you. After all, there's nothing sexier than doing what's forbidden. Once you get home, you and your partner will feel the unbearable desire to have the best sex in your life.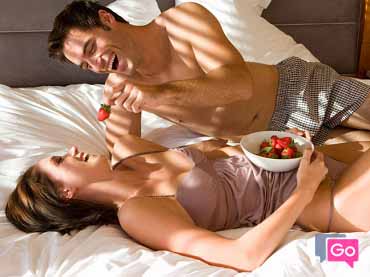 Take a shower together
If you and your loved are very close to each other, short sexual foreplay in a shower or bath can be a great start to hot sex. And even if not, the pleasure you'll five each other will be enough to calm your desire. A bathroom is an awesome place because here, your imagination can lead you both to a wide variety of outcomes. A bit of relaxation under hot water with caresses and maybe even oral sex are great ingredients for a passionate night of love. Sexual arousal you feel when taking a shower together is based both on intimacy and romance, as well as on a strong desire to continue what you started in the bedroom.
Massage
A lot of women and men love the feeling of oil on their skin, and slow stimulating movements that can affect the most intimate parts of your partner's body are truly arousing. Do your loved one a massage, going through the most delicate parts of her body: the neck, shoulders, waist, buttocks, palms, and fingers. After that, you can proceed to the foreplay itself, caressing her clit with your hands moistened with oil. Gentle and stimulating movements will do miracles, and your partner will be ready to do anything you'll ask. The main thing is that the massage should be sexy, not just relaxing, or your partner will simply fall asleep, contented and happy. Touch her body with lips, bite her smoothly, stroke, and keep up a playful mood because this is not just a massage – it's the best foreplay in your life.
Sixty-nine
There is nothing sexier than this famous position because there are so much intimacy and sensuality in it. You caress your partner while she caresses you. Delivering pleasure to each other, you'll both enjoy foreplay, and who knows what positions you might end up trying next.
A little secret
Some women say that they get wet when their partners whisper something sexy in their ear in public, especially when no one notices them doing it. You can secretly tell her that something special is waiting for her at home accidentally touching her in a certain spot or whispering what you're going to do with her or what you'd like her to do with you in her ear. The feeling that you both have a little, dirty secret will spawn a variety of thoughts and fantasies that will turn on both of you.
Bottom line
Now you see that you can't skip the foreplay because it's just too important if you want to spice up your intimate life and make your partner moan and beg for more. The best thing about foreplay is that it's not that hard to master, as it's not as complex as sex itself. Don't focus on it too much, and soon, you'll boost your skill and become a lover your girlfriend always wanted you to be. And if you'd like her to make you happy too, there are a lot of foreplay tips for women online, as well.
There are no comments. Your can be the first