The Peculiarities of a Traditional Ukrainian Wedding
24.04.2017
A wedding day is one of the most memorable days in every couple's life, so there's no surprise that everyone wants to make it special. And Ukrainians are no exception. Foreigners, who found themselves Ukrainian women for marriage, know that Ukrainian wedding ceremonies are full of ancient traditions and peculiarities.
Ukrainian wedding traditions
Most Ukrainian weddings start with paying ransom for the bride. Nowadays, it's nothing more than an interesting tradition that adds fun to a ceremony. But back in the old days, it meant a lot. In the past, men didn't marry girls from their home villages; instead, they chose Ukrainian girls for marriage from nearby ones. This process involved a lot of negotiations between a bride's parents and a groom who offered a ransom for their daughter. The ritual has lost its importance, but you still can't marry a Ukrainian woman without paying ransom for her.
Another important part of a traditional Ukrainian wedding is a korovai. It's a round braided bread, decorated with figurines, which must be present at every ceremony. Usually, korovai is made of wheat flour and appears to symbolize the welfare of the future family. All guests on the ceremony have to eat a piece of it, no matter how much they already ate.
There's also a tradition of covering the bride's head with the kerchief, involving the groom, the bride's mother in law, and the bridesmaids. During the ceremony, the mother in law takes off the bride's veil and put's the kerchief on her head instead. From this moment the bride is no longer a girl, but a woman. Then the bride puts the veil on her bridesmaids, while they are dancing in the circle around her.
Traditional venues
In Ukraine, the main part of the wedding takes place in the registry office, and not every couple agrees to hold a traditional church wedding. But those, who want to register their marriage in the face of God, choose the best place for it. Here are a few most popular churches for a wedding in Ukraine.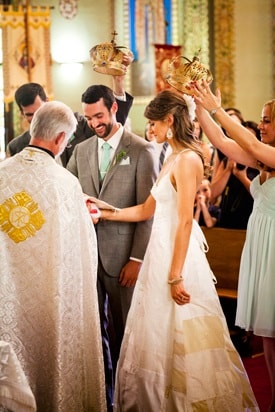 St. Andrew's Church
Located in Kiev, St. Andrew's Church is one of the most recognizable and beautiful architectural buildings in the city. It was built on St. Andrew's descent – the second famous street in Kiev, that's why the church became so popular. The wedding ceremony, held here, will never be forgotten.
St. Michael's Cathedral
St. Michael's Cathedral, a part of the St. Michael's Monastery, is one of the oldest ones in Kiev. The golden-domed cathedral is painted in sky-blue. It has its own park, where couples can do wedding photo shoots, and the beautiful bell tower. It's the best place to marry a Ukrainian girl.
Those couples, who don't care much about the spiritual part of their marriage, pay more attention to the wedding banquet. And choosing the right restaurant for it may take a lot of time. Depending on a number of guests, a couple may choose a small restaurant or a large banqueting hall. There are so many criteria to consider, such as prices, the quality of food, interior and exterior, and, of course, the location. Besides, there should be a winter garden or summer terrace, where guests can escape the noisy atmosphere of the ceremony for a while.
Modern peculiarities of a Ukrainian wedding
Today, marriage in Ukraine is still accompanied by old traditions. Some of the rituals are too complicated for modern couples, so often they simplify them. But mostly people stick to original ceremonies and try to preserve them.
Nowadays, more and more couples would like to try something new, like a wedding in the air or at the bottom of the sea. But traditional weddings are still the number one choice.
Here are two most popular wedding traditions that all Ukrainian ladies for marriage would like to see on their ceremony.
Traditional toasts
Like hundreds of years ago, a modern Ukrainian wedding can't go without toasts. All guests have a couple of words to say. And there's a tradition to end every toast with the word "Hirko!" which means "bitter." Every time when someone says this word, newlyweds have to kiss. As the say, a kiss can sweeten any bitter moment in life.
Embroidered dress
Recently, elegant wedding dresses with national embroidery have become popular among modern Ukrainian brides.
A Ukrainian wedding is an interesting ceremony that involves all the relatives from the bride's and groom's side. And its traditions will never fade away.
There are no comments. Your can be the first