How to Have a Perfect Date At a Picnic
23.06.2023
How to plan the perfect picnic date? Dreaming of making an unforgettable romantic picnic in nature for your soul mate, you must initially decide on the scale of such an event.
For convenience, we will divide our picnic into two main types:
a romantic picnic in nature as a regular pastime (you just had a free day together - why not spend it in nature?)

a romantic picnic in nature in honor of your anniversary (the day you met, a year or several months of relationship).
Thus, you will know what scale the event is waiting for you, which means you will be confident in your choice of food, accessories, and attire.
So, now we will consider all the best picnic date ideas and the stages of preparation for such a picnic, thereby learning how to quickly and efficiently organize leisure for ourselves and our beloved (beloved).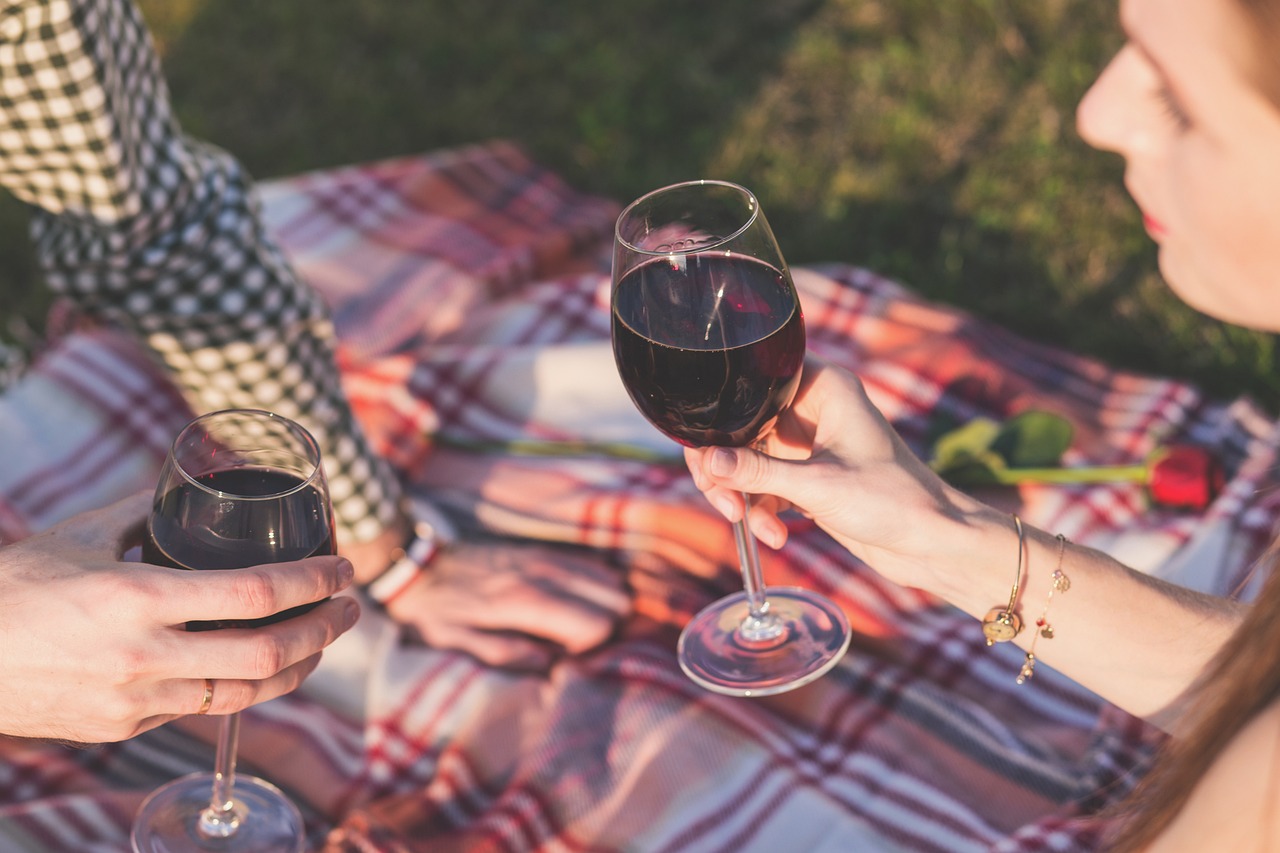 How to have a picnic date?
For a romantic day (evening), you need a more or less deserted place because we don't need crowds of curious people. That is why we recommend that you choose not a local park where children, dogs, and pensioners walk but a nearby forest. Typically, such places for recreation are chosen by small companies that are not at all interested in what their neighbors are doing. An unpopular beach is also a great choice. By the way, it's okay if it is covered in grass and trees. It will only add romance.
Picnic in the park or in the botanical garden. You can sit down for a picnic with a girl somewhere in a public park or botanical garden. This is suitable for the perfect picnic date within the city, especially at the beginning of an acquaintance. You can have a good time and also enjoy communication with each other in comfortable conditions.

Picturesque place in nature. When you get out into nature, you feel completely different. Find a beautiful place somewhere in a picturesque corner near the city. A delightful place will set you and your girl in a romantic mood and will also allow you to spend many pleasant minutes with each other. It can be any beautiful place on the shore, on the lawn, on the shore, or in a clearing in the forest. A romantic picnic with a girl in nature always comes out cool and unforgettable.

How to plan a picnic date? Where do they usually confess their love or propose to girls? They say that this is the roof of the house or some kind of hill. Go with a girl to the roof of a house or a hill to have a full-fledged picnic there, enjoy a beautiful view from above, chat, have fun, and kiss.

Car picnic for two. This method is good for car owners or those who can borrow or rent a car. Having gone with a girl on a picnic by car, you can choose any place you like, which seems to you as nice as possible. In the car, you can look at the river, forest, nature, sunset, stars, and more. A car picnic is good because you don't care about the weather and can take anything with you. You can snack, drink something, play games, chat about everything in the world, kiss, and hug. In the car, a picnic often ends up with something hotter.

Picnic with a girl on the beach. The beach has the coolest picnics of all because you can come up with a lot of picnic date activity ideas. You can admire the water, swim, play games, sunbathe, fool around, and just have fun. A date on the beach is a great opportunity to look at a girl in a bikini or swimsuit, or it can captivate her to swim naked. In any case, a picnic on the beach, especially somewhere far from civilization and people, will be wonderful.
What do you need for a picnic date?
Let's get back to our picnic. If this is a romantic outdoor picnic in honor of your anniversary, you should take a more serious approach to creating a unique atmosphere around you.
The ideal option, of course, would be a tent decorated with hearts and balloons. Such tents not only give the appearance of a "romantic bungalow" but also save from the dirty tricks of nature - unexpected rain or gusts of wind.
Such a hut can be made independently using fabrics of any color. It can also be made in the style of a canopy, fixing the upper part of the dome on the branches of trees.
Folding chairs, warm blankets, or even the most ordinary pillows will be a great filling for your romantic "hut."
Put solar-powered lamps or candles at the entrance, and your tent will immediately become a place for romantic meetings, kisses, and maybe even more.
However, do not be upset if you do not have the opportunity to make or buy such a tent. You can use ordinary blankets or beautiful blankets and also create a unique holiday atmosphere for your loved one. If we are talking about an ordinary romantic picnic, just make sure you and your partner are comfortable and cozy.
The design of the picnic table is also essential. If you have a table, decorate it with a festive tablecloth, put beautiful wine glasses and plates, and take care of cutlery. Don't ruin your picnic by blowing your plastic utensils under the first gust of wind.
Don't want to mess around with fragile porcelain? Then get a beautiful cardboard dish decorated with drawings in style.
Do you expect to stay until the evening? Make sure you have a fire, a warm chair, and shoulder covers. You also need to devise things to do on a picnic with your girlfriend. You need to think about your comfort first of all because nothing romantic will come of it if you or your significant other will chatter your teeth instead of romantic sighs under the moon.
If you want a simple picnic without frills but at the proper level, we advise purchasing special picnic sets. They consist of a handy bag, backpack, or basket, initially filled with beautiful dishes that can be taken out on picnics. Usually, this is a pair of crystal glasses, forks, spoons, and several porcelain plates.
Is there no way to buy an expensive set? There is a great alternative - take an ordinary wicker basket, line it with bright fabric, and you have a basket for food and dishes ready. It all depends on your imagination.
Activities to do on a picnic date?
For a good picnic, of course, you need good food - bake the chicken, but first, carefully cut it into portioned pieces because no one wants to mess around with slippery and fatty food at a picnic. Take sausages to roast them on the fire. Prepare bread or toast.
An excellent option would be the well-known pizza, tartlets, sandwiches, or pancakes with gourmet fillings. Cheesecakes, vegetable salads without heavy mayonnaise. Fish baked with lemon and fruit. All this has the right to be on your picnic.
If you are preparing a gourmet anniversary dinner, then options such as:
fondue (its recipes are on the Internet, but you should not make it at a romantic picnic if you have never experimented with such a dish before).

French oven baked meat.

holiday meals.
Done with the menu? Then do not forget to take the necessary utensils, cutlery, napkins and, of course, something to drink. Freshly squeezed juices, good wine, or mineral water - everything to your taste. You can also grab a bottle of champagne as a symbol of your anniversary. Also, it will not be superfluous to learn about fun things to do on a picnic date.
We are sure that you will spend time with great pleasure, but we will give a few tips to those who feel constrained in such an environment. Just so you don't make unforgivable mistakes:
Do not talk at such a picnic about problems at work, in your family, or your relationships. To do this, there is a usual evening at home in front of the TV.

Do not remember old grievances and do not discuss other people, even if they are your relatives or friends.

Take time to remember your first meeting, your first kiss.

Remember how you went on vacation together, looked at common photos, or just silently enjoyed each other's company?

You can even play your favorite games, from chess to tennis, as long as it brings you pleasure.

New technologies allow you to take your laptop with you and watch a couple of your favorite movies.
Also, if you like to spend your time actively and have fun, you should look for games to play on a picnic date. You can throw a ball or play tennis, or perhaps it will be interesting for your partner to play board games.
Online dating is much easier and easier than in real life. Sign up for GoDateNow and find the right partner for you. Communication on this site will help save time, but you can also communicate with several partners at once. In the section Girls online gallery, you can meet girls who will interest you. To learn more about online dating, read Our Dating Blog.
There are no comments. Your can be the first