Meet a girl at a party
30.03.2023
How to pick up girls at a party? You need to meet girls in bars, parks, a gym, on the beach, or at a party - this is the only way you will feel this promising spark between you.
In case of meeting girls, for example, in a noisy bar, where there are a lot of other spectacular men around who compete with you, is not easy, we decided to make this guide.
Think over the image
How to hook up with a girl at a party? To get started, you need to answer a few questions. Who do you want to be today? A seductive and brutal heartthrob or a modest and romantic intellectual? Depending on how you are dressed, what perfume you are wearing, and whether you speak quickly or slowly, animatedly or calmly, you can make a completely different impression on girls at a party. The image and mood also influence the choice of the place where you want to meet your love (for this evening or for life). Not every one of us can go into any bar and leave with the most beautiful woman in five minutes. So you have to prepare for the act of seduction.
Go to a bar where you are known
Choosing the right bar is already half the battle. Go to a place where you have been before and where you are well known. Always talk to the bartenders because they can help you meet hot girls. When the bartender knows what the guest does and what his strengths are, he will definitely emphasize this when he sees him with a girl. If you're in the mood to meet someone this evening, plan ahead. Call the bar and ask for a table or seat at the bar. You can give way to the girl you like or invite her to sit with you.
Ask the bartender to introduce you
In getting to know women at parties, the main thing is to start a conversation. Not only to exchange two phrases but to hook on to each other so that you want to communicate all evening. The bartender can help you with this. For example, you see him chatting with a guest you like. You can jump into this conversation and at some point, ask you to introduce yourself. Or ask a question (for example, what kind of wine do you like or what kind of gin is better to make a gimlet on), and then address the same question to the lady next to you.
Watch out for the girl's drink
How to get laid at a party? Usually, in a good bar, bartenders make sure that the guest's glass does not empty. But it doesn't hurt to show interest in time, either. If you see that the girl is already finishing her cocktail, offer to treat her next. Or if she drinks too slowly or doesn't touch her drink at all, ask if she wants to change it. She will feel that you care about her comfort. And attentive guys are a rarity today at parties with girls.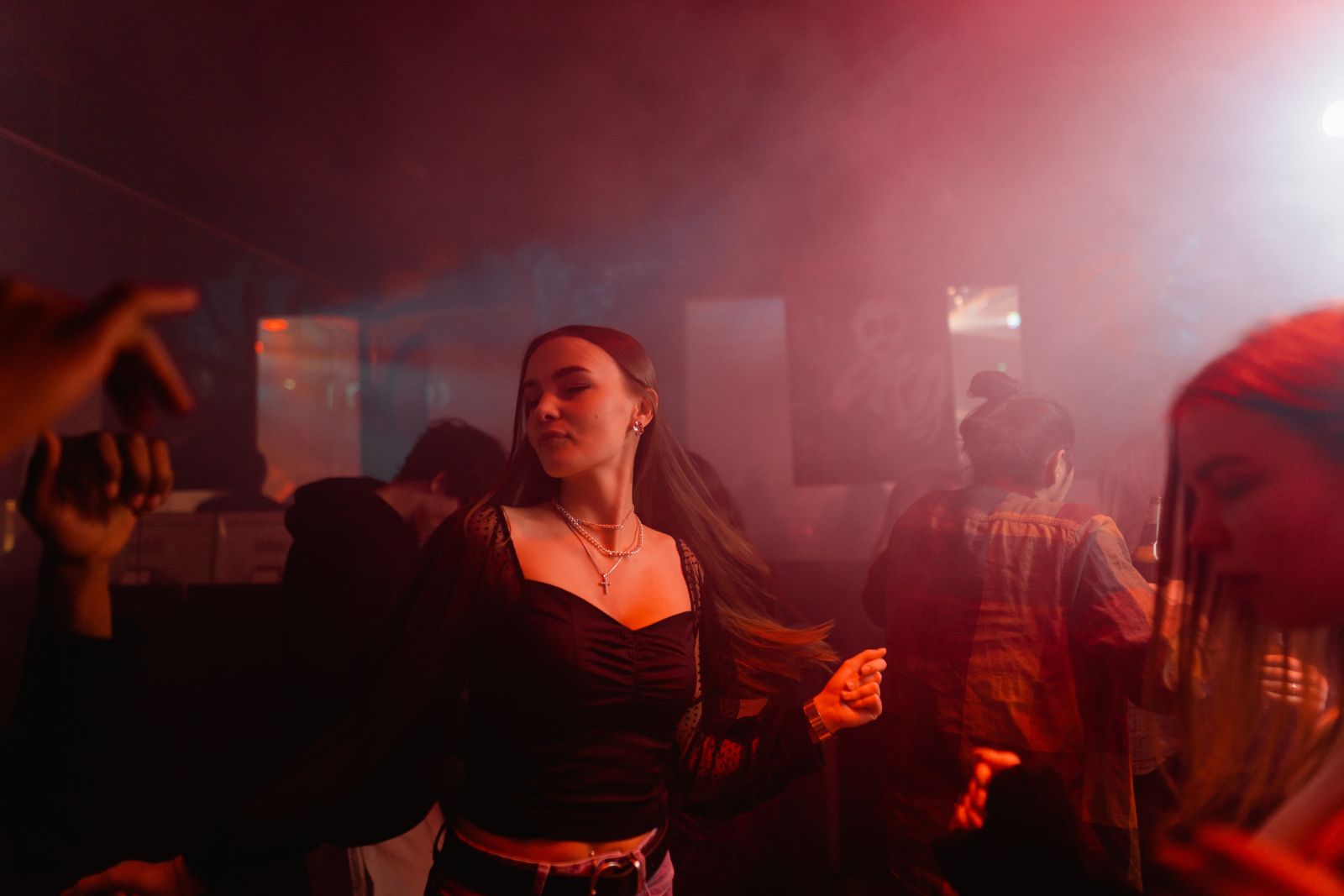 Don't drink too much
How to hookup with girl at a party? Often the guys at the bar, to cope with the excitement or gain more confidence in themselves, begin to lean on cocktails. The more alcohol, the less control. You run the risk of getting drunk, or the girl will simply suspect that you have a drinking problem. Drink slowly and measuredly. A drink is just an accompaniment to your conversation. And the bartender advises ordering discreet and strict cocktails, even if in your heart you like pina colada or strawberry daiquiri. You must talk a lot and be interesting. Tell us about yourself and what you do, be sincere and funny. And don't forget to ask the girl questions, compliment her, and emphasize where your opinions and interests converge. You can completely forget about the cocktail because you are so interested in her. This is how you can attract the attention of your party girls.
Change bar
As soon as you meet a girl in the first bar, talk, drink a few cocktails, and invite her to go somewhere else. In the evening, we advise you to change several bars and, at some point, offer dinner. The girl must understand that you can be trusted, you have good taste, you know how to choose drinks and food, and you are surrounded by care and attention. In the end, leaving the bar for your apartment is also a change of location for which the girl needs to be prepared. But if she is not ready for such a rapid development of events, do not insist. You have a chance for a second, third and subsequent dates, and if it seems to your companion that you only need sex from her, the last cocktail will fly in your face. For the next meeting, you can write to her meet me at the party.
Remember touch
In no case should you immediately put your hand on the girl's thigh or ass. When we decide whether we like a person or not, tactile sensations decide almost everything. After a good joke (hers, not yours), while you are sitting at the bar, you can delicately touch the elbow (you would approvingly pat your friend on the shoulder, but this is inappropriate here), at some point put your hand below her shoulder blade and ask, whether your companion likes everything. When you leave the bar, unobtrusively hold her waist and arm just above the wrist (you're just helping the girl up the stairs). Do not forget to help get into and out of the taxi, and regularly help to take off and put on outer clothing. If the conversation is going well and you feel that she is disposed towards you, at some point, you can gently fix her hair. For example, remove a strand from the face. While walking from bar to bar, offer the girl to take your arm.
Kiss goodbye
How to flirt at a party? Here you are, leaving the last bar, feeling hesitant to invite her to your place, slowly take out your phone to order a taxi home for her and timidly ask for her number. In general, everything is correct, just do not forget to kiss the girl goodbye. And not necessarily immediately brazenly on the lips, you can very gently kiss on the cheek because sometimes charming modesty captivates much more readiness to rip off clothes right in the middle of the street. Who knows, maybe after your kiss, the girl herself will not want to go home alone.
How to pick up girls at a college party?
Effective appearance. A flashy appearance may seem like a good move to draw the attention of the whole party to your person. There is a grain of wisdom in this. Yes, it is necessary that everyone more or less notice that you showed up at the party; that's how it is. How to achieve the desired effect? Start chatting and getting to know each other as soon as you cross the threshold. Taking off your jacket, pouring yourself a drink, and rushing to the toilet are loser options. Take a look around and choose a bunch of friendly people to start chatting with; just don't join a group of ten cackling guys. How to start communication? Ask how they met the owner of the house, what their names are, and all sorts of similar questions that you usually discuss with strangers. There are common interests - even better. You need to find topics that will put you in touch with each other. When you meet people, apologize and go away for what you wanted to do in the first moment (pour yourself a drink, go to the toilet, etc.).

Feel the overall vibe. How to get any girls attention at a party? At all meet parties, the mood is different; sometimes, it's polar different. The main thing is to feel how the people around you are set. This is easy to achieve by starting a conversation where you pour yourself a drink. Ask what people drink, and ask some probing questions like "Well, is it cool here?" or "Oh, great booze!" Try to meet as many people as possible and please them. So you will not only be more socially active and relaxed but also get some kind of social recognition: everyone around will see that you are a universal acquaintance. When you feel like you've had enough of it, it's time to look for girlfriends.

Looking for girlfriends. There are two ways. When you're at a party, it's hard to get banged up. The way it is. Look around, notice who she's hanging out with, and approach them. You have already done a great job when you feel the general mood: perhaps you have already managed to talk with one of her friends, and they will introduce you to her. Believe me; it works great; even the barely noticeable presence of you, a cool dude, next to these people is already enough for them to say: "Oh, Masha, let me introduce you to my friend," and the job is done. Another option is if, for some reason, you didn't like the first one, you can just keep going back and forth, and it will work. It's in the club that no one notices you, and at the house party, the girl noticed a long time ago that you are here and that you are cool, plus she already noticed that you talked to half the people at the party. If only for this reason, she is ready to give you five minutes.

Get close. You can get close in two classic ways: a kiss and a phone number. It's usually best not to use the first method when you plan to hang out for some more time, and this, you see, is quite reasonable. If you would like to meet her again, and at the same time you have the desire to continue the fun at the party (with friends, new acquaintances, old buddies) or go home, the best choice is to take her phone number. At parties, it is much easier to get close to girls, especially if you have a good conversation. Just say, "You know, I have to go, but I would like to see you again sometime, give me your number…" or something like that. Your speech should contain two points: an excuse to leave and a request to give you a number.
If you find it difficult to meet at parties and in bars, then register on GoDateNow. Here you can get acquainted by looking at different photos in the Girls online gallery, as well as practice. It is easier to get acquainted on dating sites because you are less nervous and can show all your positive sides. Also, read Our Dating Blog to learn more about dating and love.
There are no comments. Your can be the first