Double the Fun: Exciting Double Date Ideas
06.07.2023
What places to go on a double date? Sure, you're looking forward to dating your significant other, but when you're looking for new pairing ideas, why not celebrate with another couple and double your fun?
Double dates mean double excitement, fun, and romance.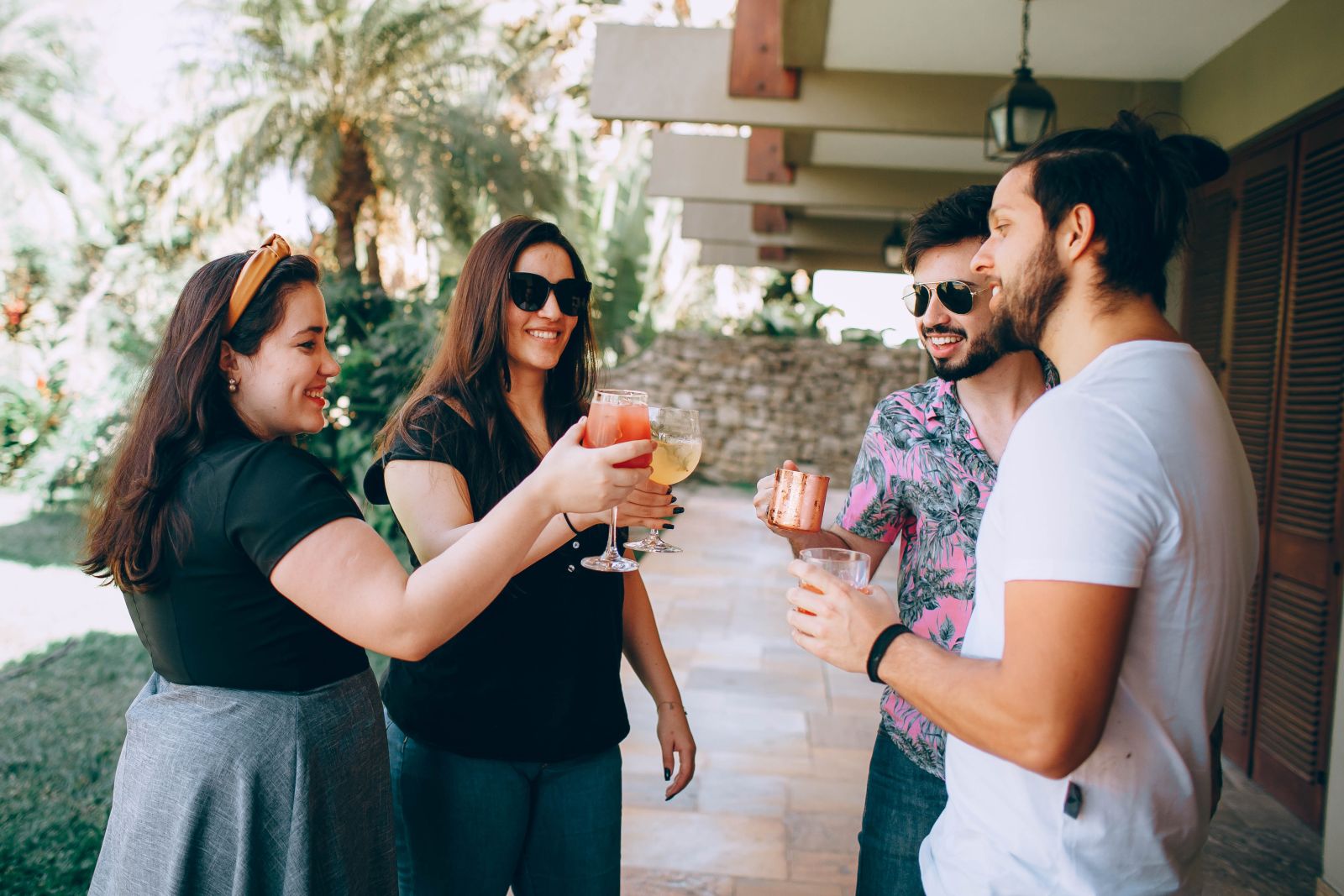 The best double-date ideas
Treasure hunting at a flea market can be an exciting adventure, especially during warm summer weather. Flea markets are a great place to spend a relaxing Sunday afternoon. Divide $50 equally among the four of you. Task? Browse boxes and bags for hidden antique treasures. See which couple can come up with the wackiest find. This is one of the cute double date ideas.

Organize a game night. Game night is perfect for couples spending time together! Invite another couple over to enjoy casual conversation during board games, charades, or, if you're feeling a bit aloof, strip poker games. To de-stress, start with the 20 Questions game - no matter how long you've been together, there's always an opportunity to learn something new about each other.

Take up mini golf. Even if you're not a pro, you can still play on a golf course (i.e., mini golf course), and these are fun double date ideas. Sure, it's a little silly (does anyone have any high school memories?), but it's fun! To make him feel more mature, make the losing couple buy a round of drinks.

Ride on a quad bike. Single bikes? Boring. Tandem bikes for two? Well, that's not enough for double-date activities. It's a very cool idea to ride quad bikes or special bikes for couples together. You can arrange a light walk with sports that will cheer you up and will be remembered for a long time.

Diversify your experience by going on a wine tasting. Realizing that wine tasting can run over your budget, especially if you're a couple on a budget, you can try to find a way to share the cost. Instead, I invite everyone to bring their own bottle of wine and host a sumptuous tasting evening at home.

Hit the Road for the Weekend is a pretty interesting double date night idea. It's super romantic to get together. Try to invite another couple on your trip! One pair can be responsible for navigation with a map in hand, and the second pair is responsible for driving a car. This way you will avoid awkward silence in the car and feel more secure when traveling in a group. Plus, it's nice to have friends willing to take photos of you instead of asking outside tourists or taking clumsy couple selfies.

Rush down the river. Good double-date ideas. If you and your friends are fans of spending time with adrenaline, then there is nothing better than rafting. You will be able to go down together on a boat along a rough current and spend the evenings in a tent by the fire. Such a pastime can unite and bring people together. In addition, you will have bugs of positive memories.

Try the guest room. Test your communication skills as you make your way through the quest room. The first couple to do so earns the right to brag!

Book a guided painting session—double date ideas at home. Take your friends and book a drawing lesson. You will be taught to draw beautiful pictures and have a cool time. After such an experience, you will not only get a lot of smiles and a joint positive, but also a finished picture painted by your own hand.

Go bowling. If you don't want to play sports on the street, you can go bowling. In fact, this is not a difficult sport that will be available to everyone, and it is also fun. Namely, fun determines how well you end up having a good time. You can go bowling and order snacks. The spirit of competition will not let you get bored.

Skate. What to do on a double date? You can go ice skating, of course you need an ice rink or winter. But in the summer you can go rollerblading or skateboarding. This fun pastime can cheer up, unite and give unforgettable emotions. Try to have more common hobbies.

Volunteering for a good cause. You can put your time to good use to help others.

Take part in themed cool idea races among group date ideas. Sign up for a competition or race. It will definitely be unusual and fun. There are many different competitions where you need to compete. You can participate in those where you can realize your potential.

Go to a karaoke place. Find a great place with good food and a nice atmosphere. You can sing either solo or paired with your friends. Singing together in public is definitely a fun pastime.

Get a workout. You can go to the gym. If the sports complex is too far from your homes, then you can go for a joint run in the park or do athletics at the stadium. You can also start swimming in a river or nearby lake. This will not only improve your health but also increase your level of communication.

Buy tickets to live theater; these are cheap double-date ideas. Art is able to reveal human personalities from new sides. Thanks to the theater, you can spend your time in an unusual and unforgettable way and enjoy discussing your common emotions afterwards.

Attend a sporting event. Choose any sport you like, from something as simple as cycling to rafting. Sport brings people together and it's always an adventure. This type of vacation is definitely able to be remembered and make your rendezvous unforgettable.

Go hiking. Grab your best stories around the campfire, stock up on sleeping bags, and head outside. If this is not what attracts you all, there are campsites where you can rent cozy cabins. Spend an evening outdoors under the stars and enjoy some time away from the hustle and bustle of everyday life.

Find a local carnival. Everyone is happy when the carnival comes to the city. Entertainment is plentiful: games, funnel-shaped sweets, a chicken on a stick. You can ride the Ferris wheel or play various games and win a soft toy for your couple. You in any case you will have a huge choice of things to do.

Try your hand at ax throwing. Doesn't the new fashion seem exciting? It consists in throwing real axes at the target. Let stress leave your mind with every toss. Organize a competition to have some fun and have fun.

The trip out of town. A great solution for double date ideas near me is to go out of town. For example, organize a mini-hike or go on an excursion to a nearby city. Be sure to think over the route and come up with a goal that will turn the trip into an interesting adventure.

Sports games. Games that can be played two on two are the perfect solution for a double date. This is, firstly, a great way to spend time, and secondly, a wonderful chance for every couple, especially if they are new couples, to learn how to interact with each other and work as a team.

Something new. To get the most out of a double date, choose something that no one else on the future rendezvous has done before. For example, participate in a quest, attend a culinary master class, visit a riding school, etc. Pay attention to discount coupon sites or special offers from different establishments in the city - often, you can find very advantageous offers specifically for a company of 4 people.

Home tasting. If couples are already in a relationship and don't mind having a rendezvous at someone's house, then for fun, you can arrange a culinary tasting. The highlight is that you will try some dishes or drinks that none of the four of you have ever tried. To make it more fun, try to keep the entourage of a real tasting.

Conquer new peaks by mastering rock climbing. Going on such a journey, show all your dexterity and courage, and also throw the word "think" out of your head. But first, ask if your friends participated in such events. If not, then first practice on a beginner climbing wall to minimize future frustrations.

Concert. An ideal place where you can have fun without exchanging extra words with your companions is a concert venue. It will be too loud to talk awkwardly about nature and the weather and too lively to stand all evening with sour faces.

Ride on catamarans. In the summer, it is nice to spend time near the ponds in the fresh air. And it's worth looking where you live for catamaran rentals. A double date will be fun, especially if you arrange a competition between your couple and friends.

Play table tennis in pairs. Two people usually play table tennis, but it can also be played in pairs. One has only to book a table in a sports club and arrange a double rendezvous. Such a vacation will help not only to spend time actively but also to strengthen relationships because in order to win, you will have to negotiate with a partner and become a team.
After registering on GoDateNow, you can start getting to know different potential partners. Here you can start chatting with different people, and when you are ready, you can make a date. This way, you can save time and not necessarily go on dates with people who are not suitable for you. Meet a girl in the Girls online gallery. And in Our Dating Blog, you can learn more about online dating and communication, as well as how you can build healthy relationships even at a distance.
There are no comments. Your can be the first