Seduce a woman with a foot massage, how to do it?
23.03.2023
How to give a foot massage to a woman? Massage is a great way to build intimacy and trust in a relationship. By exploring your partner's body, you create a strong, intimate bond. A good massage increases the level of oxytocin in the blood, and this is one of the most powerful hormones of love.
Gentle, confident touch means, "I'm there, you're safe, and I'll take care of you." Touch is a more honest way of communicating. If words can deceive, then tactile emotions will tell you everything about your intentions.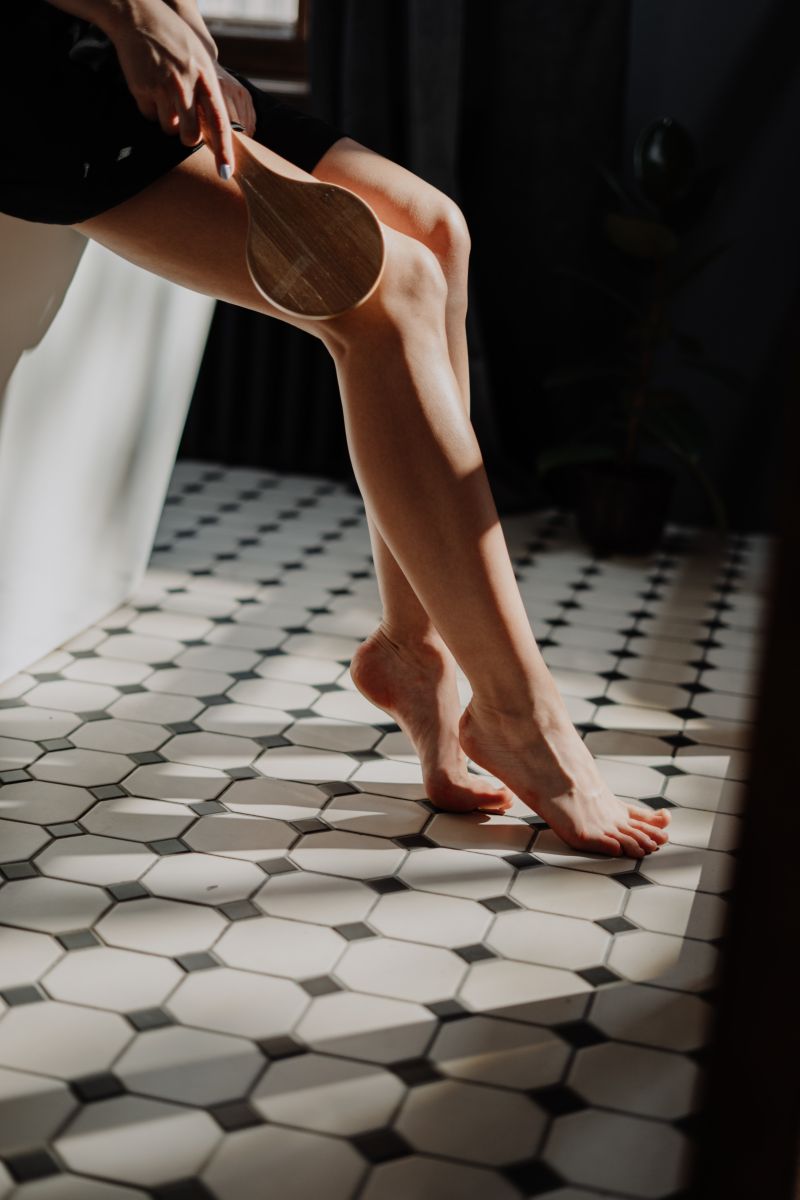 First date massage
Since massage seduction is a delicate thing, it is not necessary to offer it to an unfamiliar girl. It is unlikely that she will immediately agree to the fact that an unfamiliar man crushed her naked body. There is a big risk of being sent.
On the first date, it is better to limit yourself to massaging your hands or massaging her feet. No need to ask permission; just in conversation, take and stroke her hand. You can start with the phrase, "You have such tender hands and thin fingers ..." If the girl does not pull her hand away, it means she likes your touch.
After you have established tactile contact and the relationship becomes more trusting, say: "You look a little tense; I should give you a relaxing massage." If you are in a secluded place, then massage her shoulders and neck. If you do everything right, then the girl will want to continue, and she will hint about it.
Prepare a place for a massage
To start a seductive massage, you first need to prepare a place. To do this, you must have a quiet, comfortable apartment.
If you do not live alone, then think in advance about renting an apartment with a comfortable bed. Of course, you can bring the lady to the hotel, but it will not be romantic at all. Well, or - at least, kick everyone out of the house for the time that you spend with the girl.
Watch the training video to get a general idea of the massage, and remember the main techniques of the master, the sequence of his movements, and areas that need to be paid more attention to.
How to prepare a massage room:
First, ensure you have hot water, soap, and a new towel in the shower.

Make the bed with clean, ironed sheets. It is better if it is natural silk.

Lighting in the room should not be bright. Draw the curtains, light the candles.

Turn on calm, erotic music without words to massaging women.

The room should be well ventilated, free of foreign odors. Light a couple of incense sticks. Aroma is the strongest way to elicit the desired stimulating response. It is better to give preference to lavender.

Set the air conditioner to comfort mode. Make sure it doesn't blow directly on the bed.

Choose the right massage oil. Don't buy cheap body lotion. It is better to choose natural unscented coconut oil. The oil needs to be heated; for this, put the bottle in warm water in advance.
Foot massage techniques for her
Even if you have never had a massage in your life, the main thing is to remain calm and confident. The first touch sets the mood for the rest of the evening. Enjoy what you are doing, think about pleasant things, and breathe evenly and calmly. If you are tense, the girl will feel it and will not be able to relax.
Remember that you are not a professional, and your goal is not to cure osteochondrosis but to give pleasure.
Use your whole hand to massage, not just your fingers. Do not think about any special techniques; the main thing is touching, caressing, and stroking.
After you massage your back and feel that the muscles are relaxed, ask the girl to roll over on her back and massage her legs. Don't forget to moisturize your palms with massage oil.
Start with your feet, toes, and heels, and then move up. Massage each leg separately. If the girl is ticklish, then increase the pressure on the foot. Stretch your calf muscles and thighs.
Regardless of whether your sexual massage ends with sex or not, your relationship will become stronger and more trusting.
How to get a girl to let you touch her feet
Massage is the shortcut to sex, and for many, it is a veiled offer of intimacy. It's scary or embarrassing to ask directly, so we came up with a more cultural form of this sentence.
If you do not take into account professional therapeutic massage, for which people pay money, then everything else is just a way to excite a partner with caresses and women's sensual massage.
If you have known each other for a long time and trust each other, then just come up and start massaging her shoulders. Do it not very intensively so as not to cause unpleasant pain. Look at her reaction. If she likes it, then massage her shoulders, neck, and back of the head a little more, and then tell her that it is inconvenient to do this while sitting. It is better to find a quiet place where you can lie down.
Give her a certificate for a full course of massage with your address and phone number. Let it be in the form of an erotic game where the massage therapist seduces his client.
If a girl herself, in a languid voice, asks to give her a massage, then you slow down and torture her with small talk while she wants sex.
If she says that her legs are very tired and asks for a girlfriend's foot massage, then Madame knows a lot about pleasures.
How to seduce a woman with a massage?
To get started, learn sensual foot massage techniques.

Start with a classic, relaxing massage. Massage your shoulders, back, legs, and arms.

After the girl relaxes, she starts paying more attention to her erogenous zones. Start with a head massage, but without the massage oil. Don't forget about the neck, the back of the head, and the ears. This will help make her more sensitive to touch and receptive to stimulation.

Slowly lower yourself to her buttocks. Stretch them a little harder than your back. Run your fingers along the inside, tease, but do not rush to penetrate inside.

Massage the inner thighs and turn the woman on her back.

Gently massage your belly and chest in circular motions. There is no need to use force; the movements should be gentle, more like caresses. Pay special attention to the nipples, but don't hurt them.

Start massaging the pubic area and inner thighs. Tease her with light "accidental" touches on the clitoris. Do not rush to penetrate, even if the girl begins to moan and squirm, tease and stretch the pleasure.

Unlike professional massage, erotic massage can end with intimate caresses, kisses, and sex. You can use electric massagers to enhance the exciting effect.
Sexual foot massage pressure points
We warm our hands under a warm tap and wipe them dry. We lubricate them with a moisturizing and softening cream, take a lotion or cream for erotic massage, and return to our beloved. We start warming up her body and initially do an exciting back massage for the girl.
Back. Having lubricated her back with an intimate massage gel, walk your hands from the neck, with soft movements, go to the shoulder blades, move down the back and reach the buttocks. And now back up the back, around the waist, through the shoulder blades, and back to the neck. No sudden movements; everything should be smooth and gentle. Exciting back massage for girls is the basis of a pleasant procedure, warming up. If she is pleased, then you can stretch the skin a little.

Arms. And now her hands. With both palms and smooth movements, we move from the shoulders to the hands. A special area of attention is the wrists and fingers. Stroking and kneading these places, do not forget to kiss - double erotic stimulation. In addition, in addition to pleasant sensations, this procedure favors the work of the lymph nodes.

Buttocks. We knead the buttocks just as smoothly and gently as if gently kneading sweet dough. Well, the ass is the same, buns. We sweeten them with kisses. Light flip-flops will surely please your girl; they are such a small fraction of sexual play.

Girl foot massage. And now we are doing an exciting massage to the girl on her legs. We start from the hips and down to the heels. First, one leg, then the other. First, rub, then knead, then "calm" with light touches with your fingertips on the skin. Since the girl is lying on her back, we will deal with the feet later. Special zones are considered to be the inner surface of the thigh above the knee by 12 cm and a part closer to the base of the toe. Be sure to massage the girl's legs - this increases blood flow to the genitals. If you are massaging one point, make circular movements in the forward and reverse directions. For a better foot massage, learn how to massage women's feet.

Ears. In the starting position, lying on your back. We start the massage with the earlobes, rubbing them, then gently stroking the neck, circular movements behind the ears, rubbing from the chin to the collarbone. By the way, the ears are one of a woman's erogenous zones, so be sure to walk your fingers along the edge of the ear and back several times.

Head. We massage the head, gently pressing the fingertips on the skin. Start at the crown and work your way down to the neck. Do this for no more than 5 minutes.
Sign up on GoDateNow to meet a girl. You can choose a girl in Girls online gallery. To learn more about relationships and love, read Our Dating Blog.
There are no comments. Your can be the first