Cute and Romantic Movie Date Night Ideas for Couples: How to Make the Evening Extra Special
04.07.2023
What things to do at the movies with your boyfriend? Mysterious and romantic movie date night at home is the perfect way to spend an evening in a cozy atmosphere. You don't have to worry about crowds at the cinema or tickets; you can create the perfect ambiance with full control over every detail. Here are a few steps to help you organize an unforgettable movie date at home.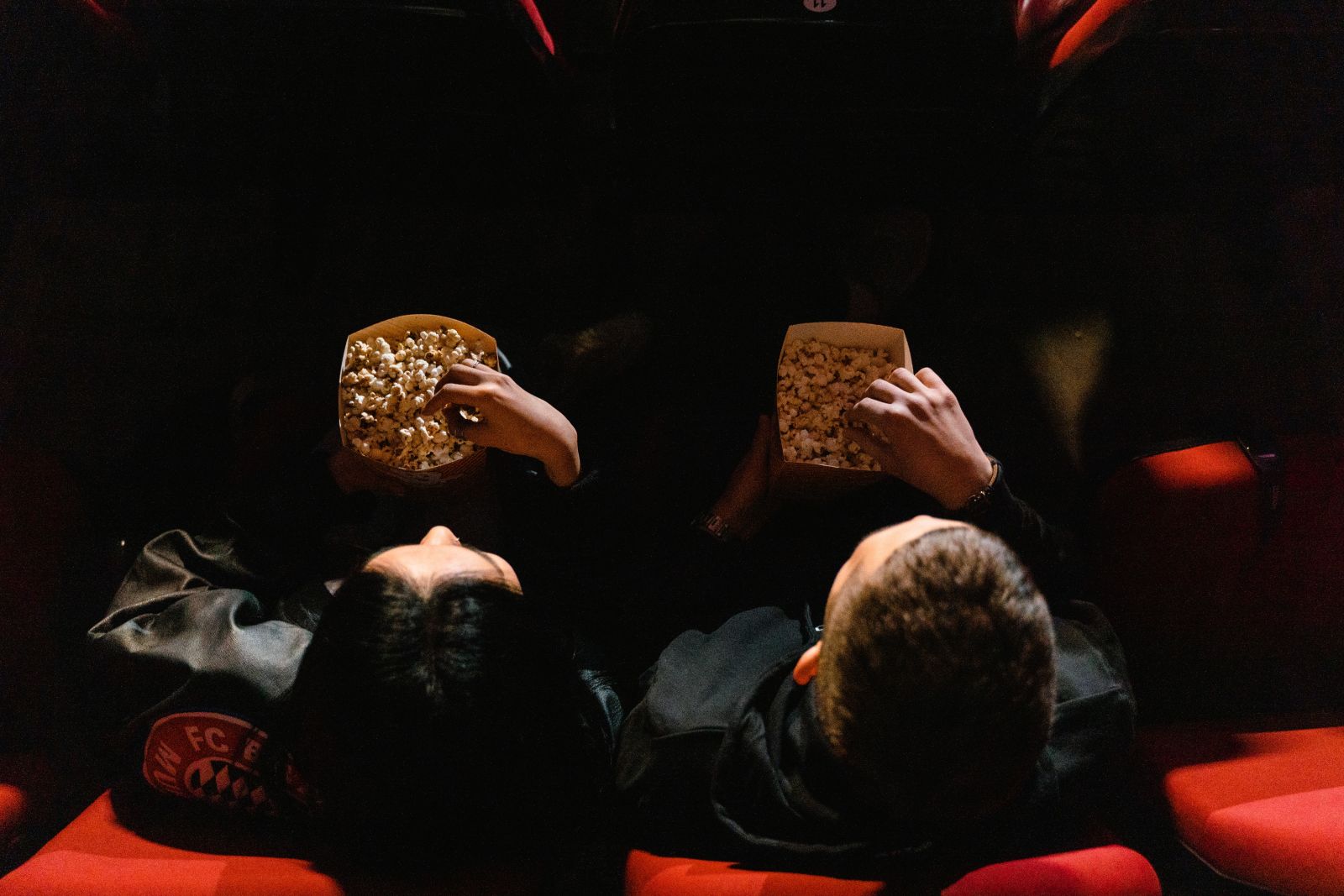 Romantic movie night ideas
Movie choice. Above all, consider your partner's preferences. Ask in advance what movies or genres he/she likes. You can do this casually during the conversation or prompt him/her to choose a movie from several options. Don't forget that the movie should be suitable for a romantic setting.

Creating an atmosphere. Decorate the room where you are going to watch a movie to create a cozy and romantic atmosphere. Check out movie night ideas for couples. Arrange soft pillows and bedspreads on the sofa or create a corner with soft chairs and ottomans. Consider decor to add to the ambiance: candles, flowers or garlands, gentle lighting, and maybe even scented candles or scented oils.

Treats. Think about what to offer while watching the movie. You can make popcorn, fruit, candy or have your partner's favorite snack delivered. Cocktails or glasses of champagne can also add a touch of luxury and conviviality to the evening. It is important to consider your partner's preferences and cater to his/her taste.

Cozy attributes. Place throws or fluffy blankets around for added comfort. Offer your partner comfortable slippers or socks to keep his/her feet warm. Consider using a home projector and a large screen.

Technology preparation. What to do at the movies with your girlfriend? Check-in advance all the necessary equipment for watching a movie. Make sure your TV or projector is working properly, and your sound system is set to the optimum level. Prepare your remote controls and make sure you know how to use all functions.

Creating a special atmosphere. Before you start watching a movie, create a special atmosphere. You can ask your partner to close their eyes while you prepare the surprise. Then, when you're done, turn on the lights, and invite your partner to open their eyes and see the beauty of your preparation.

Enjoy your movie. After all the preparations and creating the perfect environment, enjoy watching a movie together. Having settled comfortably, watch a movie, discuss the events and experiences of the characters, and share your impressions. Remember to create comfortable pauses to discuss what is happening on the screen or just enjoy the moment together.

Post-film part. After the movie, continue the date by discussing your impressions and what you liked or didn't like. You can continue with dessert or just enjoy each other's company or use other cute movie night ideas. If you want, you can continue the date with other activities, such as cooking dinner together or spending time in pleasant conversation.

Interactivity and variety. To make a date more interactive and varied, you can add some elements of games or activities while watching a movie. For example, you could set up a "concession stand" with a variety of snacks and drinks for your partner to choose and enjoy during the movie. Or offer a game, "guess the genre of the movie," where you will give hints, and the partner will have to guess what genre the movie being watched belongs to.

Surprises and gifts. To make a date even more special, you can prepare small surprises or gifts for your partner. It can be romantic notes, personal messages, or even a specially selected gift related to his/her interests or favorite movies. Such small attention will help to show care and attention to the partner.

Finishing touch. After you finish watching the movie, don't forget to thank your partner for the wonderful time you spent together. You can invite him/her to spend the rest of the evening in a relaxed atmosphere, enjoying each other and discussing what is close and important to you.

Themed dates. To add an element of play and fun, you can organize a themed date with a movie at home or use movie night ideas for adults. For example, choose a movie that belongs to a certain era or country and try to recreate the appropriate atmosphere. Decorate the room in the appropriate style, prepare meals or snacks specific to the culture, and dress appropriately. It will add novelty and uniqueness to your date.

Selection of films. Instead of watching one movie, you can create a special "cinema" atmosphere and prepare a selection of films for different evenings. Create themed sets such as "love movies," "adventure movies," or "classic movies." Let your partner choose movies from your collection, or have a little vote to decide which movie to watch each time.

Location outside the home. If the weather permits and you have access to outdoor space, you can arrange an open-air movie date. Check out movie date night ideas and set up your tent, cover the sofas and cushions with blankets, then set up the screen and projector outdoors. This will create a romantic and adventurous atmosphere to enjoy under the stars.

Adding interactive elements. In addition to dinner and a movie ideas at home, you can add interactive elements to immerse yourself in the movie world even deeper. For example, you can organize a quest or puzzle related to the plot of a movie and work together to solve it. This will help strengthen the team spirit and add new emotions to your date.

Post-film discussions. After watching a movie, spend time discussing its plot, characters, messages, and impressions. Share your thoughts and feelings, and discuss what you remember or are impressed about the film. This will create a deeper connection between you, allowing you to better understand each other's views and start interesting discussions.

Themed outfit. To enhance the atmosphere of movie night with boyfriend ideas and get even more involved in the world of the movie, you can invite your partner to choose an outfit that matches the era, style, or character from the movie. This will add playfulness and allow you to plunge into the movie's atmosphere. Take photos in costume or have a mini photo shoot to capture that special moment.

Comfort and care. Don't forget to take care of your partner during a date. Offer him/her comfortable pillows, blankets, or bedspreads to make him/her feel comfortable and cozy. You can offer a back or shoulder massage to help you relax while watching a movie. Care and care will create a special atmosphere of trust and closeness.

Open up and share. How to make a movie date night special? A date with a movie at home is a great opportunity to open up to each other and share emotions. During the film, feel free to express your feelings and reactions and share your thoughts or special moments that make you feel strong emotions. This will help strengthen the mutual bond and allow you to better understand each other.

Ending a date with tenderness. After watching the movie, end the date with tenderness and care. You can have a hot drink together, share hugs and kisses, or maybe even have a little dance or a romantic walk under the moon. This will set the tone for your wonderful movie date at home.
Creating a movie date at home is an opportunity to bring romance and intimacy into your everyday life. Use these ideas to make your date memorable and show your partner that you appreciate him/her and that you are ready to make the most of your time together. Enjoy each other, the movie, and the atmosphere you create.
Remember that the most crucial thing during a date is to enjoy each other's presence and create a special atmosphere filled with love, attention, and mutual respect. A movie date at home provides a unique opportunity to spend quality time in a cozy environment and enjoy each other. Remember that the most valuable thing is your mutual connection and the moments that you create together.
Sign up for GoDateNow to find your perfect partner. Here you can start chatting with different people, and when you are ready, you can make a date. This way, you can save time and not necessarily go on dates with people who are not suitable for you. Meet a girl in the Girls online gallery. And in Our Dating Blog, you can learn more about online dating and communication, as well as how you can build healthy relationships even at a distance.
There are no comments. Your can be the first