How to Flirt with a Ukrainian Girl – Men's Point of View
05.11.2020
Relationships with women go through numerous stages, starting from initial meeting and up to commitment. However, at some point, you need to demonstrate your attraction to make things work. And that's when it comes to flirting. Yes, I prefer to say that flirt is not only a wooing methodology (which it partially is, after all) but also a perfect way to demonstrate your interest and appreciation. It consists of verbal and non-verbal signs that help a girl understand that you are into her and want to continue your acquaintance.
Ukrainian girls have their own peculiarities and, of course, those features find their objectification in the sphere of interpersonal communication. You cannot just approach these girls asking one of them out like other European women – not because they are fussy but because such behavior is supposed irrelevant in Ukraine. You will need some advice to get the best from your acquaintance with a Ukrainian girl – and I gladly provide you with it. Flirting is an important part of the initial phase of the relationship development. You should take advantage of it and do not lose a chance to use the knowledge you have!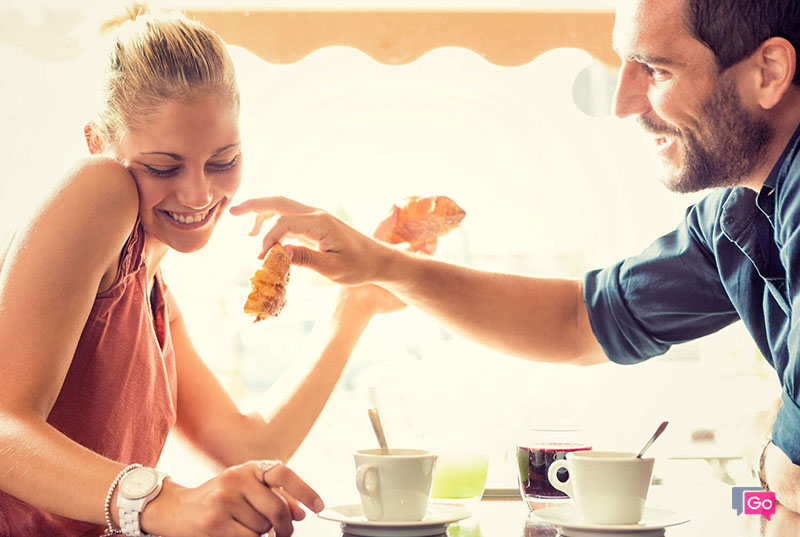 1. Small talks work the best. What should you do after saying "hello" to a Ukrainian woman? Of course, you need to talk about something. If you think that you can immediately start wooing her and talk suggestively about how much you like her – you are totally wrong. Your main aim now is to incline her to talk with you, make her want to spend time together. As a grownup, you indeed know quite enough to keep the conversation going. Talk about something simple yet amusing – recent movies, literature, beautiful places in the city, discuss the place you are in, and so on. Try to understand if you have anything in common.
2. The distance matters. We are now talking not about any kind of metaphorical distance as the emotional detachment of cultural differences (which are also important but not in this case). The literal distance between you and your potential Ukrainian girlfriend matters a lot. If you don't know each other for a long time and the atmosphere of the place you are in is not quite intimate, a Ukrainian woman will feel tremendously uncomfortable when you come too close. There should be from 60 to 80 centimeters between you to ensure her feeling of security. Ukrainian girls are often brought up in religious and pious families. Therefore, they perceive men's attention as something unnatural – even the most gorgeous representatives do.
3. Laughter is everything. Ukrainian culture is believed to be cheerful and self-ironic – and for a good reason. If you look at some of the most popular books by Ukrainian authors, you will find humor even in overly tragic and dramatic novels and poems. Cracking jokes and seeing everything in the ironic light will be quite attractive for a Ukrainian woman. You see, your ability to be humorous determines the wholeness of your personality – only intelligent and complete individuals can deal with humor. And, in the end, jokes and comedy are the things that really help to ease the atmosphere. But don't overdo it! Or you can become friendzoned for good – escaping this place is quite a complicated assignment.
4. Use creative compliments. Men often use cheesy compliments to indicate their physical and sexual attraction. For instance, you may say "you look hot" or something similar – and it won't work with a Ukrainian girl. Complimenting physical appearance is not the great idea with Slavic girls. It might sound like you are a creep. If you want to compliment her, choose something that she is responsible for – her dress, haircut, intelligence, manners, posture etc. She will be exceedingly pleased if you focus your attention on her intellectual abilities.
5. Don't ever overdo things. You know, girls (and humans in general) are not always ready to start relationship or date someone. Overdoing is as bad as underdoing and raw meat is no better than the burnt one. If you see that your Ukrainian girl is not really interested, don't be intrusive and assertive. In most cases, women avoid acquaintances not because they are fussy but because of the circumstances. She may be healing after a hard breakup, she might be committed, you may be not her type – options are nearly infinite. Her reactions speak loud enough. You will perhaps get a second chance if you act pleasantly and respectfully – and, at once, you will have zero chance if you intensify your efforts.
The power of flirting at the beginning of dating
Flirting is a kind of manifestation of sympathy, attraction, and coquetry. It can be light and non-binding or lead to serious relationships. Scientists at Northern Illinois University have identified six different motives for flirting:
Sex: flirting as an attempt to get the object of sympathy into bed.
Entertainment: For some people, flirting is like a sport – just fun entertainment. Romantic feelings or sex drive have nothing to do with it.
Observation: Some people use flirting to get to know a person better and consider the likelihood of starting a romantic relationship with them.
Relationships: Many couples who have been married for years use flirting to add new colors, passion, and more intimacy to their relationship.
Selfishness: some people flirt to increase their own self-esteem, to feel like a fateful handsome man and a seducer.
Benefit: Some people use flirting as a tool to achieve their goals with the help of another person.
Scientists conducted an experiment in which 101 women and 99 men communicated and flirted with each other. When the scientist asked the participants to name the reasons why they usually flirt, it turned out that most men do it for sex, and most women do it to improve their relationships.
Do's and dont's of flirting with Ukrainian women
Do you know how to flirt with a girl appropriately? Proper flirting is different from poorly veiled jokes and is aimed at hinting to a girl that you are interested in her. To do this, use the tips below.
Hit a happy medium for flirting
The most problematic thing in flirting is to be both careful and sufficiently decisive and bold. There is a thin dividing line that one can recognize only through empathy: just imagine how you yourself would perceive your words, consider their rudeness and offensiveness, and try not to cross the line when flirting with a girl. Also, this is one of the best tips on how to flirt over text with a girl, as you have some time to think over your words.
Maintain eye contact with a lady you like
According to research conducted by psychologists at Webster University, smile and eye contact play a more important role in flirting than physical attractiveness. Whenever you communicate with a lady, look only in her right eye! The result will surprise you. Moreover, try to stick in memory the color of her eyes. Attention to detail is a nice bonus for you. Scientists also suggest that mutual eye contact causes a feeling of affection, therefore, it can bring people closer.
Pay compliments unexpectedly
You should practice finding in a person what you like and talking about it with ease. For instance, during communication with a girl, you realize that she has gorgeous eyebrows. You interrupt the flow of conversation with a compliment: "You know, your eyebrows are very expressive! (make a pause) Well, what were we talking about?" After that, continue the topic of conversation or start a new one. You should learn how to pay compliments as easily as asking what time it is.
Don't fall beyond the scope of politeness
In case you cross that fine line of politeness and tell something aggressive or offensive to a girl, a failed attempt of flirting can destroy your relations or alienate the girl you like. Ukrainian women do not like rude guys.
Don't answer intimate questions directly
Most men, when asked about their place of work, age, and personal life, tell "everything as it is." It is unexciting and boring. Try to tease a girl for a while before giving out information about yourself.
Don't let a girl lose her feeling of safety
No matter what you hint at, it is important for a girl to know that she may break this off at each point of time, that it is just a sophisticated game. But if you behave too obstinately and refuse to notice the girl's efforts to stop you, she will surely pull away from you.
Flirting over text lines and tips
Many men prefer to flirt with girls on the Internet, as chatting online gives them an opportunity not to worry when writing flirty lines and communicating with the opposite sex. To make this task even easier for you, we have prepared the best romantic flirty lines that you can use when flirting with Ukrainian women.
You look so amazing today – all that is missing is a gorgeous guy. I can help you.
Does Megan Fox know she will never look in this dress as cool as you?
Would you like to drink some coffee? No? Well and good! We are going to visit the best restaurant in the city!
If you could go on a date with the perfect guy, where would we go?
Aren't you fearful of angering the goddesses with your amazing appearance?
I don't know what to say to make you like me. Let's pretend everything has already been said and move on to more interesting topics? It is advisable to continue acquaintance over a cup of coffee.
Do you know what the best people do on Friday evenings? Don't build plans for the next one, and I'll show you.
If I were a traveler in the desert, I would rather see you instead of an oasis.
Ukrainian girls are cheerful and delightful. All you need is some knowledge and kindness – girls from Ukraine highly value chivalry and manliness. Have a good luck and enjoy communicating with these precious creatures!
Scott
You know, one should be very careful with original compliments coz it's very easy to make a fool of oneself. The language barrier can spoil all your good intentions.
16.07.2020 14:45
Oliver
I have a friend who flirts with the opposite sex just to have sex with them. And his tricks really work! I can say that he already has a fairly high level of this skill, I would even call him a flirting guru. After all, he can spark the interest of any pretty girl he likes.
02.12.2020 14:11
Jacob
I have been living in Ukraine for two years, but still have not got used to the extreme beauty of local girls. I get embarrassed every time I try to start communication with one of them. I hope your advice will help me and I will learn to flirt with Ukrainian girls.
02.12.2020 14:12
Rose
Flirting is a thing that can help not-so-beautiful girls to conquer a man. In fact, it is a misconception that men want to date only beauties. After all, the mere beauty is not enough to build relationships. The inner world of a person is much more important than appearance, and flirting can help to show oneself in the best possible light.
02.12.2020 14:12
Zoe
I go crazy when a man with a beautiful low voice starts flirting with me. Then I myself begin to involuntarily flirt with him. I also like guys who know how to put a smile on my face, so flirting takes place much easier. Moreover, a man should smell delicious, this attracts women very much.
02.12.2020 14:13