How to Treat Ukrainian Girls – Men's Point of View
22.08.2016
Every girl in this world requires a special approach. You cannot just use the same pickup line to woo each woman – it will not work (moreover, girls hate "creative" pickup lines). Since Ukrainian girls have their mental and cultural peculiarities, you probably need to keep them in mind to ensure your success with them. In this article, we are going to talk about perfect ways to treat Ukrainian girls to get the best of your relationship. But remember that, aside from cultural particularities, they are just women that look for love and attention!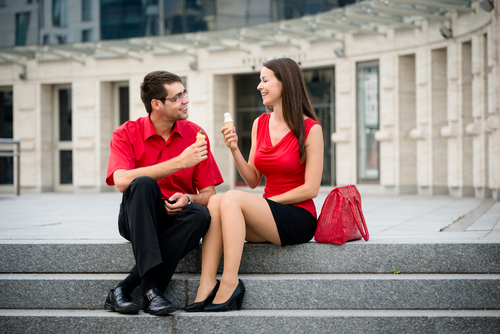 1. Respect and explore her culture
The Western world has a rather globalized culture, mostly affected by the USA, Great Britain, France, and other big European countries. The Eastern part of Europe (which Ukraine is a part of), without doubts, gets its share of Western cultural influence yet these countries somehow manage to save their ethnic self-identity. Ukrainians are proud of their folklore, national symbols, art etc. The Ukrainian language, alongside with Italian, is believed to be one of the most beautiful and melodic languages in the entire world. Therefore, your Ukrainian woman will be very pleased if you treat her traditions and beliefs with piety and respect. Talking about beliefs, you should bear in mind that most Ukrainians are brought up in a religious atmosphere (the Eastern Orthodox Church). They hold all other religious institutions in esteem and demand the same for their opinion (which is totally fine in the modern context of general tolerance). In the end, Ukrainian culture is interesting and has a lot to offer for diligent exploration. Their foods are delicious and nutritious, folk songs and dances are amazing, and counting.
2. Clear out your intentions
The contemporary society no longer forces people to dive into serious relationships just because of their parents' decision or titles. You can do whatever you want and with whomever unless it hurts anyone's feelings. Nevertheless, Ukrainian girls are quite meticulous when it comes to finding a partner for life. They are not really into random hookups and summer flings – these concepts just don't fit their agendas. If you are trying to start a relationship with a girl from Ukraine, you should better clear out your intentions. It does not mean that she will reject you only because you do not want to have children at the moment. However, she will feel much safer if she knows where your time together is heading.
3. Let her be feminine
Femininity in Eastern European countries is a highly praised trait. You would scarcely meet a girl without makeup even if it's only 7 o'clock in the morning and she hasn't had her morning espresso. Likewise, overly feminine behavior (don't mistake for stereotypically girlish mindsets) is what makes Ukrainian girls unique. If you want her to be happy, let her be as feminine as she wants. These girls are great housekeepers and cooks; they make great life partners and caring mothers – but she should not be pressured to do this. Let her have some time for her little moments of happiness. Let her be a woman – beautiful, relaxed, and adorable.
4. Put her first
Obviously, you have some important activities in life aside from your relationship with a Ukrainian woman. You probably have interesting job and projects, a few good friends, hobbies etc. A Ukrainian girl would never force you to abandon any of those just because she says so. These girls are smart enough to understand that life consists of not only family routine and work – there are much more things to be involved in. Nonetheless, a Ukrainian woman will feel comfortable only if she feels that she is your main priority. She needs to be valued – not overestimated but valued for who she is. Sounds simple, right?
5. Pay attention to her feelings
Ukrainians are not to be called the most extroverted people of all. They, in general, prefer to hide their deep worries and concerns. You need to be attentive. A Ukrainian girlfriend may have some emotional issues or just feel nervous yet she may seldom say it aloud (they are afraid of acting desperately and intrusively). If you feel that something is wrong with her – ask her about it. People on the internet often actualize this horrific gender stereotype – women just need to articulate their feelings and men have to listen and put up with it. It has nothing to do with the reality. Your communication is the most significant indicator of your happiness. That is, if you pay attention to her and treat her with care, she will give back twice as much love and gratefulness.
But as I always say – Ukrainian girls are just like any other ladies in the world. They look for love and only love. Don't ever forget about that!
Donald
I believe that first, every girl should be treated with respect despite her social status and personal traits. Everyone should do that actually.
16.07.2020 14:42