Making a gift to Ukrainian / Russian girl
04.11.2015
First thing to be mentioned here is that the best present you could ever make a girl (just like, in fact, to any possible person), is sincereness and pure, kind attitude. Relationships, of course, is not a marketplace, where you can buy somebody's attention or favor with the way you treat them. And still, positive regard is a pledge for a person to like you in return. You know, why Ukrainian girls are the best for relationships?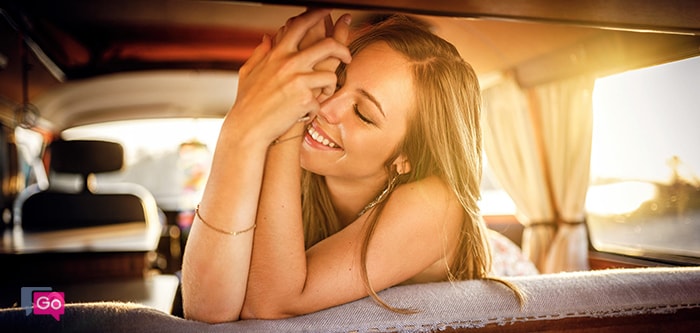 It is all good and right about the attitude, but returning back closer to the topic we're about to discuss, we shall mention that presents are a very important element of the Slavic culture. Russians and Ukrainians use most of the occasions to make presents, whether it's some kind of holiday (no matter, whether it is civil, religious or family one), party, birthday, simple home visit or date – there are lots of reins for people of this culture to make or receive presents. As this kind of attitude slightly differs from the Western and European mentality, we, hereby, are going to give you some short and useful tips how to make your present-giving successful and pleasant for both - you and the receiver (ie your Russian or Ukrainian girlfriend).
You can find a lot of information on Russian / Ukrainian women dating on our site and we strongly recommend to you check this one before you get your real-life communication started. Here we're not going to mention this and move straight to the actual point – what are the best gifts for Russian and Ukrainian women.
Making a gift for Russian or Ukrainian girls is not a hard thing to do at all, as long as the intention goes straight from your heart. If you were attentive enough while your previous, virtual communication, you will probably face no difficulties at this point as you have surely discussed things you both like and this is a fruitful field for your action. This is an important tip to be given since the very beginning: be perspective since the time you start your conversation, as in it you may not only find plenty of hints on your girl's true obvious or hidden desires, or longings, or preferences (which will definitely help you in the process of choosing a present) but also, simply, help you to know your partner better and give you a chance to get into her world.
Small romantic gifts for her if you want to make a surprise
Is it difficult to choose the perfect gift for a girl? This can actually be quite a difficult task. Although there is a huge variety of things that can be presented to a girl, you may be concerned about whether the selected gift will be pleasant to her. It must be remembered that the chosen gift should indicate that you know your girlfriend well. After reading the following information, you will be able choose the perfect gift for your girlfriend. You will certainly see her happy face when she opens the box. Here are some of the best small gifts for her you should consider.
Flowers
Here's the first on our list of gift ideas for her. This may not seem like the most original of ideas, but it works like an old clock. Flowers are like women, they are beautiful and require care, love, and attention to thrive, and this is what you are going to give to your girlfriend by presenting her with a nice bouquet of flowers. And with that said, the opportunities are virtually endless, as there are so many sorts of flowers you can find, so many ways you can present them, it all depends on your imagination.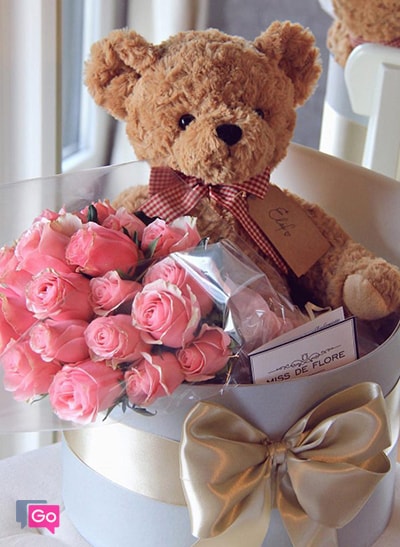 Exquisite sweets
Are you looking for romantic gifts for her? A beautifully decorated cake or pastries is a gift that will suit both any sort of a girl, there are many different small pastry shops and craftsmen who bake real masterpieces at home. Fine handmade sweets are always beautiful and tasty, and most importantly - inexpensive.
A bouquet of fruits
You can present your girlfriend with a bouquet of flowers but if you think that such a gift is a waste of money, which it isn't, then how about another type of a bouquet, a bouquet of fruits? Sure, as with flowers, there is an expiration date to such a gift, but it is more practical, in a way.
A bottle of nice wine
If your girlfriend enjoys some nice wine from time to time, then you can present her with a bottle of quality wine. Some of us don't really seem to see much difference between different types of wine, but if your girlfriend is fond of trying out new sorts of wines – then she will be delighted with such a present.
A delicate pendant
Of course, every woman will be glad to receive a piece of jewelry as a gift. Depending on the budget, you can choose jewelry with precious stones, gold/silver chains, bracelets, pendants, earrings, or any other original piece of jewelry. You can give a beautiful ring to a girl with whom you are planning a serious relationship or your beloved spouse. Do not hesitate, such a gift will surely be appreciated.
DIY gift
Are you interested in great gifts for a girlfriend? Make a gift yourself. If you are on a tight budget, you can try to make a gift yourself. Most likely, the girl will really like it if you give her something that you yourself have made. Of course, you will have to set aside enough time for this. However, your gift will be unique. Do not worry, you do not have to be Van Gogh to make a beautiful gift that a girl will like.
Best gifts for a girlfriend from Ukraine / Russia
What you give is what you are… or something like that. The type of gift that you give to a person you love reflects not only the type of person that you are but also your feelings for that person. We don't gift anything to the people we don't' care about, right? Well, when we do – we do our best to impress a person that we love, we do our best to make them happy and make their life better. Here are some ways you can make your Ukrainian/Russian girlfriend happy.
A useful device
Are you interested in the best gifts for a girlfriend? Think of a practical gift. Many people value practical gifts. But be very careful when choosing this option. Your gift should not be banal and boring. Ask yourself: "Is that something she will certainly buy for herself if I don't?" If you are not really sure or the answer is "no", then do not buy this thing. A good gift is a thing that your girlfriend will like and she will be able to use it, but she is unlikely to buy it for herself. For example, perhaps she likes some modern appliances that she can use in the kitchen, but she does not have enough money to buy it. Most likely, this thing will be the perfect gift for her.
Exclusive perfumes and cosmetics
Perhaps every girl dreams of such a gift. If you are aware of your girlfriend's preferences for aromas, know her skin type and other features, you can safely give her a perfume or cosmetic set, which she had long dreamed of, but could not afford. It is unlikely that there will be many girls who will not agree with the statement that there cannot be too many cosmetics. Therefore, if you cannot decide what is best to present to your girlfriend, then a cosmetic set or her favorite perfume can be the best option for you. Just try to find out in advance what cosmetic brands your girlfriend uses or is interested in, so as not to make a mistake with the choice. Also, in no case should you give anti-aging creams and other products that hint that it's time for a lady to fight age-related changes.
A coffee machine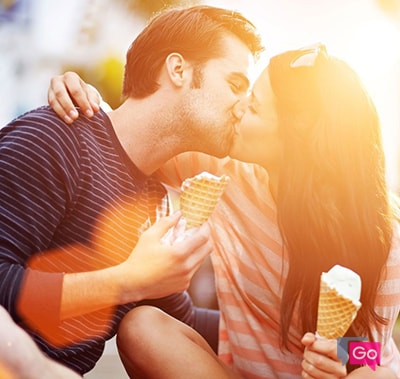 If your girlfriend always finds it hard to wake up or just loves coffee in general – a nice coffee machine will be a great addition to your home. Some coffee machines use special capsules with different drinks so the process can end up being very easy and intuitive, this is especially great if she does, in fact, struggle in the morning.
A trendy bag
Women love their bags, they play a large role in their appearance, they play a large role in their lives, when you think about it. They are women's trusty companions, they are just as important as smartphones are, and this says a lot. Thus, you need to be very careful and thoughtful when choosing a trendy bag for your girlfriend, but this will be a tremendous gift if done right.
Cocktail ingredients
Here's a great option if you are looking for creative birthday gifts for a girlfriend. Regardless of her taste preferences, get the ingredients for making your girlfriend's favorite drink. For example, if a girl likes hot cocoa, you can give her the following set: cocoa with small bags of marshmallows and small bottles of Baileys. If she likes tea, make a set that will consist of her favorite tea, honey, and a beautiful teacup.
Before going to your Russian woman, find out something about who she lives with and her family, as Russians and Ukrainians have a tradition of the gift-making to the family members as well, especially if you're coming from the different country. The first and the easiest present for you to make is a souvenir. As far as you're coming from another country, there are a lot of variants for you for a present. You can bring memento that reflects
whether your cultural or national species, or some local customs and traditions, or something that is connected to the social or family group you belong to. Whatever that may represent you in some way will do, especially if it looks cute! :)
The next big advice concerning making gifts for Russian / Ukrainian woman is its value. If it's not an out-of-row situation or something you've discussed beforehand, I would surely recommend your gift to be moderate. Whatever is that you are presenting, especially at the first stages of communication, you better do the accent on the present's meaning then its price. You see, it is both risky and inappropriate to make it expensive as, firstly, you may stress the girl with an awkwardness as costly gift is a serious input that may cause her thinking that you expect something from her and, saying frankly, it may be simply left disappointed and empty if things between you will not turn out well. So just be honest about what you're ready to give to a girl without consciously or unconsciously expecting something in return, and stick to it. Best things to pick here would be soft toys, flowers, sweets, tickets to some event or entertainment, something beautiful and memorable, something she told you she wants. Do you have questions? Read our full guide how to meet a Russian Girl.
And the last important tip on a present-making to your Slavic girl is its perceptiveness. As my grandfather was paying attention to my grandmother, he presented her a big Russian dictionary (she was a Russian language teacher). When she asked him why he made her such an expensive present (this kind of dictionaries were very pricy at that times), he answered that he already then knew he was going to start a family with her. So if you are sure about your feelings to the woman you are attending, feel free making some useful presents that will not only please your companion, but will also make an input in her personal development or may simply be useful in everyday life. For example – you can bring dvd with movies or books in English, so it would help her to improve her language or take her to a trip around her own nearby places she haven't been to, or somewhere you both will be new at – this would be an amazing experience that will not only leave a good memory, but also give many pleasant impressions.
Logan
I know that it's a tradition to come on a date with a bouquet if it's about Russian dating. Talking about the ideal gift, then a useful gadget might be the best option.
16.07.2020 14:34