Secrets to online dating
18.09.2020
Today, online dating is becoming more and more popular, and this tendency shows no signs of stopping. There's no surprise, as all technological achievements are aimed at making our life easier, and online dating services are no exception. They give you brand new experience through dating people from all over the world, while sitting in your room.
Why is online dating so hard? Since the technology is relatively new, it has its own set of rules, but it's still forming, so it's hard to keep up with it. These rules make online dating a bit more convenient, but you may need some time to learn them and adapt to them. Here are 16 online dating tips that you should know before trying it out.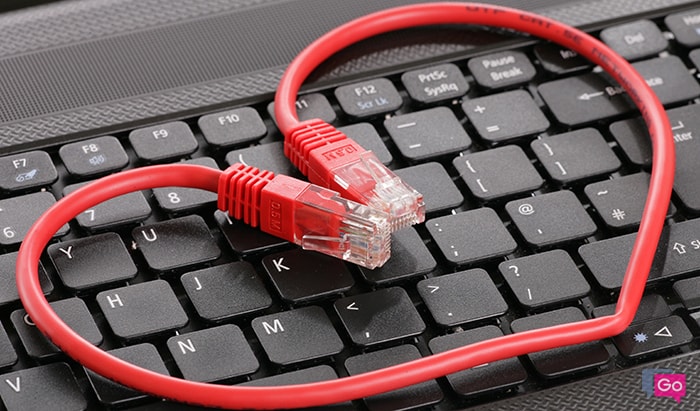 1) No one likes modesty anymore
When creating an online profile, a lot of people try to seem modest, writing that they are bad in doing something, like cooking and so on. The only thing these people don't see is that such modesty gets them nowhere. Really, how are going to attract someone's attention by underestimating yourself? You sound like you're looking for approval.
2) Don't forget about privacy
It's an important online dating advice. Even if you're dating online, it doesn't mean that you can forget about protecting your privacy. Watch whom you trust with your contact info, like email, home address, phone number, etc. It's better to give out this information only to those, whom you know well enough. There's the other way: you can create a second Gmail and Skype accounts and get a new phone number. So if someone doesn't want to leave you alone, you could easily get rid of this person's attention.
3) No one will notice you unless you stand out from the crowd
The main reason why we try online dating is to find someone to share our interests with. So it's obvious that to achieve this goal, we need to specify our interests and come up with something original. It's not enough to just mention that you love rock music, add that you enjoy writing your own tracks. Say that you like listening to the sound of the ocean. The more info you mention in your profile, the more chances you have to find yourself a companion.
4) Keep your personal problems to yourself
If you're older than 20, you probably have a couple of stories to tell about your previous relationships, breakups, emotional breakdowns, and so on. Well, those stories are for friends and family; your potential online companions don't need to know about your past. They're not ready for emotional conversations yet, so keep your secrets to yourself, at least for a while.
5) Try to organize the meeting with the person you're chatting with as soon as possible
If you share common interests with someone you met online, why not meeting each other in person? You don't have to wait for two or three weeks before arranging a meeting, especially if you live within a couple of miles from each other. In case if there are longer distances between you, then it's OK to wait for a month or two and learn more about your companion. The thing is that when you meet her/him in person, you'll get completely new emotions, and at this point, you'll probably decide whether to get to know her/him better or cut all ties with this person.
6) Don't make your profile look like a shopping list
Some people add just too many criteria for potential partners in their profiles. You know, those weirdoes who look for a companion with a certain height, eye color, accent, stuff like that. There are a couple of reasons why such profile can push people away. At first, as already mentioned, it makes its owner seem like a weirdo. Besides, this "shopping list" is probably made up according to facial features and character traits of its writer's ex.
7) A photo makes up about 90% of every profile
This means that a picture is the most important part of every profile on online dating sites. If you post no photos, it may raise questions among those who browse your page. They may start thinking that you're in a relationship or there's something wrong with your face.
The same thing goes for a number of your photos. If your main picture's great, people would like to check out more of your pics. They help learn more about how you look, and there's nothing wrong with it. So it's better to post more than one photo (actually, 2 or 3 snaps should be enough).
8) Be skeptical about other users' photos
Photos can only help you get the overall impression of your potential companion but nothing more. Don't expect too much from a simple image. This can lead you to disappointment if you ever meet in person.
9) Stay away from sexy pictures
Leave your naked pictures or snaps with your shirt off in your private collection; don't post them on your profile. Unless you're looking for sex and not for love.

10) Pick only recent photos
What's the point in posting old pictures where you look much younger and prettier? With such photos, you can't go further than online communication anyway. If you insist on meeting in person, your companion will immediately see the difference, and this difference will not be in your favor.
11) Don't keep people waiting for your response
Most people, who look for an online date, don't expect you to write them a three-page love letter or a poem. There's no need to complicate things, 20-30 words would be enough. But you also shouldn't expect others to write you something special and keep them waiting for your response. There are hundreds of other people to chat with.
12) No one may notice your profile at first
If you're new to online dating, you may be disappointed by not receiving any emails from other users on the online dating site. And if you're a guy, things may be even worse, as there are usually more men's profiles that girls' ones on dating services. But don't give up. Look for the most popular profiles and try to make yours similar to them. You'll probably have to change something, like a photo or some descriptions. And of course, keep emailing people yourself.
13) Don't drag your conversation, arrange a date or find someone else
Of course, it's a good thing to learn as much about your new companion as possible before meeting her/him, but don't wait for too long. How can you know if you fit each other without talking in person? Five or six messages from both of you should be enough to understand if you want to meet.
14) Try not to be too excited about the first date
You never know for sure what to expect when dating someone new to you. By the end of the date, you may find yourself hating this person, and this feeling may even be mutual. Be more realistic.
15) If you enjoyed the date, call your companion the next day and tell about it
There's a popular three-day rule, according to which, one has to wait for 3 days after a date before calling again. A lot of people use it, but even more people hate it. Don't follow it, just call your companion the next day and tell her/him that you enjoyed spending time together and would like to do it again. Who knows, maybe he/she would love to go on a second date with you.
16) You may have to look for that special someone for a while
Chances that your first date will end up not as well as you expected are high. I doubt you ever managed to do something great from the first try. If your date failed, the main thing here is not to start underestimating yourself; after all, it was an interesting experience. Try to learn as much from it as you can and go finding another match.
So, does online dating work? Sometimes. Is it easy? Nope. Is it safe? Mostly. But to know for sure, you need to try it yourself.
Can a free dating site be effective and safe?
Anyone who actually wants to use online dating has to close a paid membership in the long run. Sometimes you have to go to a more expensive site that has a classy audience with serious intentions: Paid sites also offer a lot of free services:
You can register for free and access the internal members area.
Flirting sites allow you to find other singles using the filters.
You can pass a personality test and receive free contact proposals.
You have the option of receiving emails from other singles with sometimes the option to read part of them.
Which services are sometimes free?
All the sites offering to find intimate adventures are completely free for women.
With certain promotional actions you can try out good dating sites for free for a certain period (for 3 days for example).
There are also portals that only allow writing if you pay. But users who do not pay are also entitled to reply to messages received.
"Freemium" type dating sites only ask for payment for certain additional functions to send virtual gifts for example.
Why can't quality be free? Another question: "Would you like to work without being paid?" Whoever wants to offer a certain quality needs financial support. For a top-notch dating site, providers generally need the following:
a good technical basis for managing members
a team responsible for controlling fake profiles and customer support
advertising in all possible media to gain even more singles
No one in the world is able to develop such a business without spending a single penny.
Dating sites security tips
Dating sites have increased sharply in recent years and it is clear that the success is here to grow. But, as in everyday life, love 2.0 can have its share of surprises, and vigilance is required when you want to reveal yourself to others. It is therefore necessary to respect some safety rules to limit the risks of ending up with malicious people.
One site is enough to find love
No matter which dating site you sign up for, the principle remains similar from one platform to another. In most cases, this involves filling in a profile and attaching a photo to it so as to match affinities between registered members. Thus, to make your choice and find the best dating site, you must first browse through detailed comparisons highlighting the positive and negative points of the most popular dating sites known for their seriousness.
Don't say too much in your profile
Never provide your personal data such as your name and address to strangers. This advice also applies to private correspondence. However, it is not about lying either. Nothing prevents you from communicating using your real first name, your age, your photo, and from informing your hobbies and leisures: here too, a little common sense is required. Let another person a room for investigation. If you already tell everything about yourself — there might be an awkward silence when they try to ask you about your hobbies.
Organize a safe meeting
It's been a few weeks now since you've been chatting on a serious dating site with a pretty strange rand you seem to like each other more and more. This is therefore the opportunity for you to take a further step by organizing a meeting. Organize a first meeting in a public place: a cinema, a shopping center, an amusement park. It doesn't matter, as long as this meeting takes place during the day and in the presence of other people. The ideal is to inform relatives or friends of the address and time of the meeting. It is an added guarantee of security that will allow each of you to fully enjoy this moment.
Bruno
Practice shows that if you don't have quality pics in your profile, all other things will not matter that much coz worthy and beautiful girls won't spend their time on you.
16.07.2020 14:58
alan
Quite useful information!
24.09.2020 00:29
Adela Garza
Some Internet users register on several sites. To my mind, it is useless for you to reproduce the same diagram, at the risk of meeting approximately the same people. Also, I advise you to trust your instincts and only agree to a communication with a person if you see that their intentions coincide with yours.
03.12.2020 16:40
Macey Sawyer
I would like to recommend everyone to never fill in the location of your gym or where you will run regularly. It is a question of giving some information about yourself in order to identify your lifestyle to get to know you better and not to geolocate you in real-time. This way one guy started stalking me and it was terrifying!
03.12.2020 16:40