How to Get Rid of Constant Negativity in a Relationship
18.05.2023
How to stop negativity in relationships? There are several reasons why people tend to think negatively, and the first of them is evolution. Our brain has a natural tendency to focus on the negative. To successfully survive, generations had to consider potential dangers by remembering all the troubles that happened to others. The next reason is the influence of an extremely stressful experience, trauma, or violence, which can provoke the reinforcement of negative thought patterns. Aggravate the negative perception of reality, depressive states, and anxiety.
Negative thinking can have both negative and positive effects on our mental and physical well-being. On the one hand, negative thinking can help us prepare for potential dangers and challenges, highlight problems, maintain a realistic outlook on life, and consider potential risks and consequences, all leading to good decision-making. On the other hand, while negative thinking is a natural part of the human experience, constant negativity in a relationship gets in the way of a happy life and can lead to chronic stress and health problems.
High levels of stress and lack of concern for one's daily physical and emotional needs can lead to a predominance of negative thinking in relationships. This, in turn, triggers our body's further stress response, releasing hormones such as cortisol and adrenaline, high concentrations of which over a long period can have a negative effect on the brain and body, causing memory impairment and increasing inflammation in the body.
Positive thoughts and emotions activate the release of happiness hormones such as dopamine and serotonin, which improve mood, reduce feelings of stress and anxiety, promote good health, and prolong life.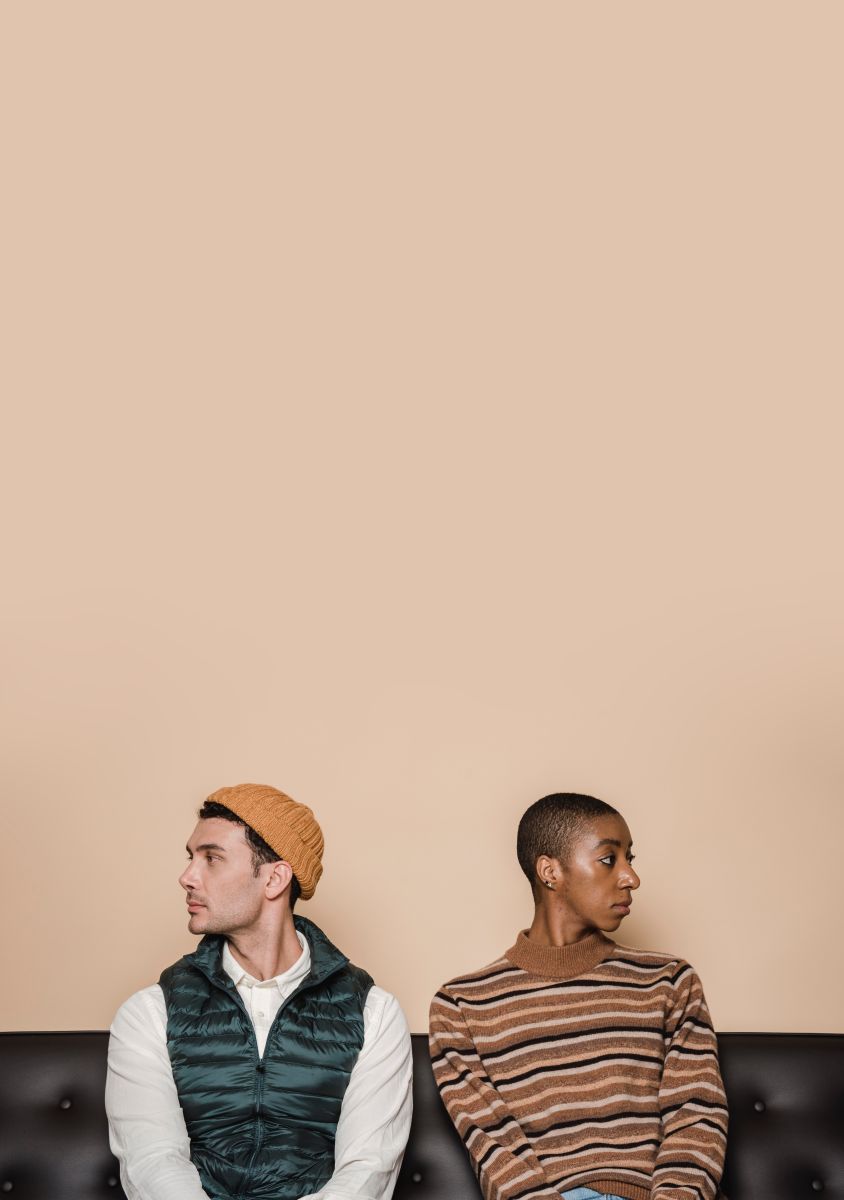 How negative thinking affects relationships?
If negative thinking is a habit, then we have the power to change it. But first, make basic happiness for the body - minimize the effect of stress on it: get enough sleep, eat balanced, work in a normal mode, play sports or yoga, dance, cuddle, and love. And provide a basic positive for the brain: minimize the impact of negative information, allocate only a certain period of time per day for news, spend more time with a positive environment, take 8-10 small "happy" breaks per day for humor, pleasure, relaxation or creativity.
How to get rid of negativity in a relationship?
Mindfulness Practices: Practice focusing on the present moment or on your breath. This trains the brain not to fall under the influence of stress and not to plunge into negativity.

Reframing: When you have negative thoughts, practice formulating them in a more relations positive way. You need to deal with negativity in a relationship to avoid bad thoughts. If you're thinking, "I can't do it," try changing your approach to "I can't do it yet, but I'll do my best."

Thought Analysis Practice: As soon as a negative thought comes to mind, ask yourself if it is really negative, if you have evidence that it is a fact, and if there could be another interpretation of the information. Often our thoughts may be exaggerated or based on our assumptions or limited information.

Journaling: Helps to release emotions and work through thoughts, as well as to identify patterns in thinking that can be gradually changed through reframing and thought analysis practice.

Practicing Gratitude: Develop a daily habit before bed to remember the 5 best things of the day that you are grateful for. how to deal with negativity in a relationship? It is important to feel gratitude and not mechanically name the best moments because it is during the experience of gratitude that serotonin is released, which helps to think positively.

Affirmations: Create a list of positive affirmations for yourself or search the Internet for a list of positive affirmations and repeat them to train your brain to think positively automatically.

Spending time with people who love, support, or inspire you: Like-minded people and a loving family stimulate the production of joy hormones and improve your mood, and your thoughts change to a positive one.
All of these methods have been tested by many people, but not all of them are right for you. Try everything and find the perfect ones for you; make them daily habits. Over time, you will notice not only a more positive outlook on the world but also an increase in energy levels and an improvement in well-being. You will also learn foxing on negativity in relationships.
How to stop being negative in a relationship?
As you know, it is easier for a person to think about the bad than about the good. So he protects himself and tries to prevent something that may never happen. But in most cases, these thoughts limit us, become an obstacle to career or personal growth, and prevent us from achieving great results. Let's see how to have a low negativity threshold in a relationship?
Stop fighting bad thoughts. The more you develop negative thoughts and think over the details and solutions, the only increase their significance and weight. You begin to unconsciously wind yourself up and follow this thought. Deceive the brain, change your attitude towards it, become aware of this thought, thank you, and let it go. So you will free yourself from tension and be able to tune in to positive emotions.

Consider that negative thought are advice from a pushy passer-by. When bad thoughts enter your head, just imagine that this is unsolicited advice from the first person you meet, which you are not going to follow. Say "thank you" to that thought and move on. This is an effective strategy that helps you control and manage your thoughts and emotions. You can learn more about emotional intelligence here.

Fall asleep under a heavy blanket. Often, bad thoughts come to us just before going to bed, and we begin to worry and cannot fall asleep for a long time. In this case, a heavy blanket from 2 to 13 kg can help, hiding behind which you can overcome anxiety. The reason for this may be the pressure of the blanket on the body, which thereby relaxes and relieves tension. Or a grounding effect that improves sleep and reduces stress levels.
If you're ready to get into a connection, sign up for GoDateNow. Here you can start chatting with several people at once to understand who suits you best. If you are looking for a girl, then look at the Girls online gallery. A large selection of different types of girls who want to chat will help you make new acquaintances and, possibly, the love of your life. Learn more about connections and love at Our Dating Blog.
There are no comments. Your can be the first