Road Trip Tips for Couples: How to Make the Best of the Trip
26.04.2020
When we fall in love with a new person and enter relationships, we feel butterflies in the stomach in anticipation of the first dates and the first kisses. This magical period makes us idealize our partners, evoke a desire to see them constantly, and imagine a joint future as a series of romantic activities, ending with passionate nights. However, alas, such a perfect scenario happens only in fairy tales and romcoms. Life turns out to be completely different. And as the delights of the first months of communication with women looking for men online subside, the pitfalls that are present in any, even the healthiest, relationships become visible. Suddenly, you realize that your partner is not perfect, they also have flaws you need to somehow put up with, of course, if you love this person and intend to build further relationships with them. In general, relationships are a constant, daily work that can be rewarded by a strong union for many years. If this is a part of your value system, then you should do your best to strengthen your relationship. And even if everything seems fine, and there is chemistry between people, it is better to prevent irritation, mutual reproaches, and other discomforts in the couple. You can do this in a simple but effective way. Just take a couple road trip.
It can be a road trip date to another city, around the country or another continent. The route itself is not that much important as your emotions that you experience when you see new places, meet new people, and do that together. A journey outside your comfort zone makes you become a team, and a loved one seems even closer. And, of course, do not forget that a joint vacation not only helps strengthen relationships, but it is also a very romantic pastime in itself!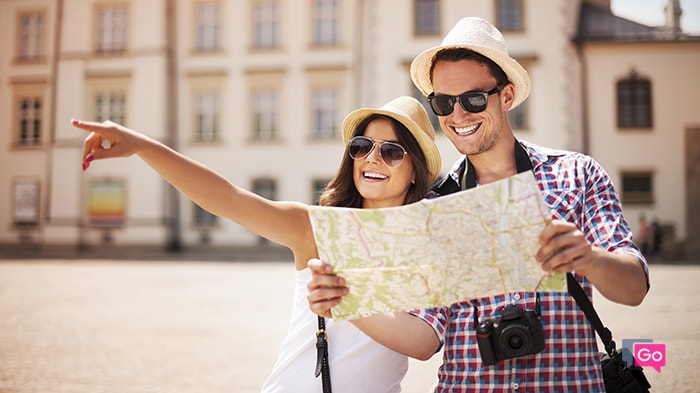 How to Be Prepared for a Couple Road Trip
We love to travel and want to do it in comfort. Which transport is the most convenient for you? Probably, the only answer here is that everything is very individual. But, since you are reading this article, then probably the road trip attracts you the most. It is very convenient when you are your boss, you rely only on yourself and follow your desires. Traveling by car is a wonderful adventure, but up to a point. You can get sick, the songs that you have been listening to for two hours may become annoying, you can forget some important things at home, and a great trip can turn into a nightmare. Especially for this occasion, we have decided to gather some road trip tips for couples on what road trip questions for couples to ask, how to organize everything to avoid unpleasant moments, and get as much pleasure as possible. A road trip has its romance and can make a vacation the best in your life.
1. Plan your route and properly comprehend distances
When you study the most attractive road trip ideas for couples, and it becomes clear how many days and money you are ready to spend on a trip, determine the goal, for example, what places you want to see and whether you want to make a stop. Take a map and mark the reference points where to go and connect them to create the route, if possible, choosing highways. Bear in mind that an 850 kilometers journey can make you go to bed rather than go for a walk. Do not set records, but rather allow a couple of extra hours for the road. 500 kilometers will be the optimal distance for a day's journey, subject to a decent road and early departure. If you decide to drive 850 kilometers in one day, then devote the next day to exploring your destination.
2. Packing your luggage, think not only about clothes
When you start packing your luggage, think not only about clothes that you take and snacks that will brighten up your travel time but also about other things that you will need for hygiene and comfort. For example, wet wipes are indispensable in the car. A first aid kit is also of crucial importance, and you should think of such precautions because anything can happen on the way. So, you should have everything to prevent injuries or if you suddenly get a cold. Besides, a neck pillow and a special blindfold can come you in handy and will greatly help restore strength during travels. Insect repellents and sunglasses are in the same category as well. Of course, you should not prepare for such a trip as for the apocalypse, but certain things can simplify your life.
3. Use maps with caution
Enter the start and end points, estimate the approximate length of the journey. Customize it and study the various routes and the approximate duration of each of them. You may find out that a place where you were not originally going to but which you would like to visit is only a few hours away. Make sure that the main route from point A to point B is created but not scheduled up to a kilometer. Choosing between a paper map and a mobile service, when determining the route, give preference to the latter. However, electronic maps can be wrong as well. When choosing between Google Maps, Maps.me, and other apps, choose the service with the most relevant databases, but rather download two different applications and save a map of the area you are interested in so as not to depend on the quality of the Internet. When traveling through unfamiliar cities, especially in other countries, it is better to use the navigator than to guess by signs where to turn.
4. Think about accommodation beforehand
Find an acceptable option for the night at each point on the route where you plan to stay for a day or more. You will have an opportunity to change your mind on the way since search engines suggest a free reservation or cancellation of the reservation. Depending on your budget and car, you may consider camping instead of a hotel or motel. This is one of the cheap road trip ideas for couples and an easy way to meet new people. If you have a large car or van, you will be allowed to sleep directly in it at some campsites, parking lots for vans, as well as parking lots of some gas stations and shops. However, camping in resort areas can cost no less than good apartments. Their only advantage will be the location on the shore and the presence of a pool on the territory.
5. Make sure you know the traffic regulations of the chosen country
We are living in an interesting time when everything can be found on the Internet. Thus, different countries may have different traffic regulations. European countries have similar rules, while Australia has different ones as well as the USA (note that each state has its own rules). If you are going to visit countries of the former USSR, then you will see certain specificities as well. And if you are traveling in Asia, be sure to check out the driver/ tourist tips on the government or official travel site of the country of your destination.
Romantic and Fun Road Trip Ideas for Couples
On the Internet, you can find numerous couple road trip ideas that will differ in many ways starting with the budget required and to the duration of your journey. Anyway, a road trip provides you with autonomy and the ability to plan a route to your liking. It may seem that a road trip involves knowing a lot of rules and nuances. But in fact, everything is much simpler, and you can find out about all the pitfalls not leaving your apartment if you have access to the Internet. If you are afraid that your trip might be too exhausting, you can buy tickets to the starting point, rent a car there and go towards adventures.
1. The Great Ocean Road, Australia
Tourists called the modest two-lane highway B100 Great Ocean Road not for nothing. It is in the south of the Australian state of Victoria and connects cities such as Melbourne and Adelaide. This is not just 243 kilometers of road along the beautiful Australian coast - it is a memorial, a historical monument.
The fact is that the so-called Great Australian Road was built after the First World War by soldiers in honor of the deceased comrades. For some time, the Road was paid, but when the veterans finished work, the fee was canceled. Observation platforms are equipped along the way: the landscape is constantly changing, so do not miss the chance to get out of the car to enjoy the scenery! You will see vineyards, cliffs, golden beaches, and shipwrecks.
A trip along the Great Ocean Road will allow you to see one of the pearls of Australia: limestone columns in the ocean, which are called the "Twelve Apostles." Unfortunately, they are no longer 12, but 8, so you should not delay the journey, even the stones are destroyed over time.
2. The Garden Route, South Africa
If you dream of traveling by car in a mysterious and exotic Africa, pay attention to the famous Garden Route. It runs along the coast of the Indian Ocean: from Cape Town to Tsitsikamma National Park. In total, you will drive over 400 km. It is significant that even the Africans themselves, who cannot be surprised by the sandy shores and tropical forests, prefer to relax in the resorts along the Garden Route. On the route, you will run into Mossel Bay, a city with clean beaches, beautiful cliffs, and a mild climate. Talking about fun things for couples to do on a road trip, if you like surfing, you should make a stop in Victoria Bay, and you can enjoy the most delicious oysters and lobsters in Africa in the resort of Plettenberg Bay. Most people do not see South African countries as a place for a comfortable, five-star vacation. A trip along the Garden Route will prove that it's time to forget about stereotypes. You will see a luxurious, beautiful, and prosperous Africa.
3. Around the South Island, New Zealand
If you dream of truly exotic corners of the planet, then welcome to the largest island of New Zealand – the South Island. There are beautiful roads, so traveling by car will be enjoyable. Nonetheless, do not forget that the further south you move from Picton, the cooler the climate will be. Having passed along the ring road of the South Island, you will admire not only neat towns but also fantastic landscapes: lakes, forests, and seacoasts of this country, so similar to the kingdom of elves.
4. The Ring Road, Iceland
If you want to see alien landscapes, the kingdom of trolls and elves, go to beautiful icy Iceland. You can travel around this country by car in about three weeks: you will see volcanoes, fabulous waterfalls, hot springs, and black sand beaches. The journey will start in Reykjavik, where you will rent a car. But there are a few subtleties. Firstly, do not save on auto insurance. Roads in Iceland are good, but they save on signs and chippers, so you can simply not have time to slow down. Even a simple tire change will cost a pretty penny. Secondly, go on a journey from May to September, and even better, from June to August, otherwise, you will enjoy snowmobiling instead of a road trip. Thirdly, it will take at least a week to see a standard set of attractions: glaciers, volcanoes, waterfalls. Fourthly, protect the environment. There are many campsites in Iceland, but there are even more prohibition signs. Do not break the ban, fines for unauthorized walks in nature reserves are high.
5. Along Tusheti and Svaneti, Georgia
The infrastructure in Georgia is unevenly developed, therefore, it is better to make a travel route by car to see the maximum beauties of this amazing country. Start with Tbilisi or Kutaisi but choose a car with high ground clearance and a powerful engine because you have to drive along the mountain serpentines of Svaneti, a beautiful region famous for the highest mountain village of Ushguli, the resort of Mestia and Ushba peak. If you leave Tbilisi in the early morning, you can make a stop in Borjomi on the way to Svaneti. However, there is another direction: from Tbilisi to the town of Akhmet, and then to Tusheti and Kazbegi.
6. The Atlantic Road, Norway
Do you like mountain serpentines? A four-day trip from Bergen to Trondheim will not make you bored or leave indifferent. You will see fabulous fjords, waterfalls, mountain lakes, and glaciers. On the way you will find an almost 25-kilometer Laerdal tunnel, do not worry, it is lit. Be careful on the bends of the Troll Stairs and, of course, the Atlantic Road, which famously winds over the ocean. Just do not forget that the climate in Norway is harsh, so you need to get out on the road no earlier than May. By the way, you can spend the night in a tent in nature almost everywhere since there is no warning about private property.
7. From Salzburg to Vienna, Austria
Combine walks in historical cities with a pleasant car trip, traveling from the old Salzburg to the beautiful Vienna. This route is for 4-6 days, but free up space on your smartphone's memory card in advance! Because on the way, you will surely want to photograph literally every centimeter of the surrounding beauties: alpine meadows, glaciers, lakes, gorges, and medieval villages. Do not be afraid to deviate a little from the route for the sights. On the way to Vienna there are still many stunning views, for example, the majestic Obertraun hidden in the valley among mountains, the Ice and Mammoth caves of Dachstein, and the world's largest ski jump Kulm near the resort of Bad Aussee. Do not pass by Admont Abbey with a huge monastery library and the Schallaburg Palace that is one of the most beautiful castles in Lower Austria, which is famous for its medieval fortresses.
8. From Würzburg to Neuschwanstein, Germany
The most romantic road trip in Germany begins in Würzburg – go south, dine in one of the towns in the Tauber Valley, for example, in the spa resort of Bad Mergentheim. The rest of the day you can devote to Rothenburg with its German Christmas Museum, where the holiday lasts all year round. The next city is Dinkelsbühl in the Wernitz Valley. The ancient fortress wall, half-timbered houses with tiled roofs, cute old signs on medieval streets make you ask yourself every now and again, "Is this not a dream?" You can spend the night in Nordlingen, located in a meteorite crater. Then go to Harburg that can boast of one of the most impressive castles in Bavaria and Augsburg with a Renaissance town hall and the Open Theater at the Red Gate, where noisy street performances take place from mid-June to mid-July. On the last day, visit the Pilgrimage Church in the village of Vis, where a real Rococo riot hides behind a modest facade. And of course, a visit to Hohenschwangau and Neuschwanstein.
9. Karelia, Russia
Karelia is the land of numerous lakes and the harsh but stunning nature. You will definitely remember the road trip for a long time: the road goes through pine forests, along lakes and rocky ridges. You will forget about road trip games for couples, and will not ask yourselves questions like, "What to do?" and "Where to go?" because Karelia is an atmospheric place where you just want to stay in, light a fire and put boiling water in the kettle without thinking about anything. It is better to start from the capital city of the Republic, Petrozavodsk, and move to the border with Finland through Lake Onega, Kivach Nature Reserve, Ladoga Ruskealu, Karelian Isthmus.
10. The Wild Atlantic Way, Ireland
Of course, the homeland of Joyce, Stoker, and Wilde is famous for its whiskey and beer, so you may not want to deny yourself a drink in your vacation, but the stunning landscapes of the so-called Wild Atlantic Way are worth the delay in the tasting. The route with a length of 2.5 thousand kilometers begins at the northernmost point of Ireland and ends in the southern. You will drive from Donegal County to Cork County, admiring castles, cities, cliffs, and beautiful green meadows. It can become one of the most fascinating and fun road trip ideas for couples.
It Is a Small Life
When you take a road trip, you can observe such amazing places that you would hardly visit on purpose. When you travel by train, you mostly see nature (mainly forests, fields, maybe mountains). Moreover, you have the opportunity at any time to get out of the car and capture the moment you like or take a walk around the place. Nevertheless, a road trip is always a big responsibility. A driver is responsible for all those present in the car: for friends, family, animals, or just fellow travelers. Remember this and try to make the road comfortable and calm, not only for you but also for your beloved one.
There are no comments. Your can be the first