How to have a great second date with a Russian girl
03.04.2017
Have you ever wondered why foreigners prefer to date Russian women? Is it because of the fact that the most beautiful women live in Russia? Maybe. But not only this makes foreigners give preference to Russians. Every man expects to receive from a woman: a strong union, a warm and trusting relationship, and of course, the high status of a respected man. Russian woman at all times has been a model of modesty and devotion. But this commitment is evident not only in relation to her husband, but also to her relatives and the entire Russian people. In response, they just need a decent man's shoulder on which they could rely.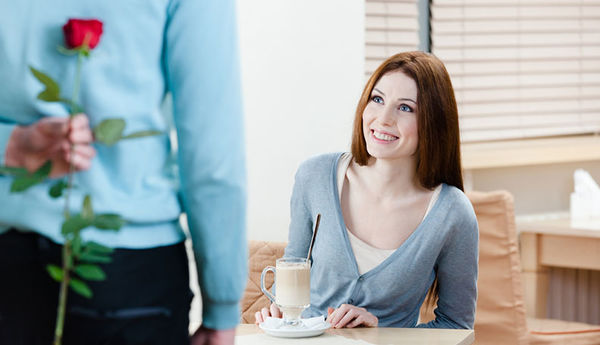 If you were dating a Russian girl you must have noticed that most of them are humble and friendly. They attach a great importance to the romance, love when men give flowers and read poetry. If a Russian woman loves, for her there are no rules, she falls in love once and for life.
After a dating with a Russian woman, the question arises: "How to conduct a second date?". Even if your first date was perfect, this does not mean that everything is already done and the woman in love with you. But! The first date is the most important and most difficult among all, because it is necessary to spend it unusual, to know preferences of the girl, what she enjoys in life and more. It can be used in subsequent dates and the place should be chosen right. So where to go on a second date with a Russian girl and what are second date rules?
Second date ideas
So, where you can invite Russian girls for dating? Let's divide all the options into three groups depending on the possibility to communicate with a girl:
Active places. In these places your main activity with the girl – is the conversation: cafes, parks, squares, forest, abandoned places of the city, a roof of the house, romantic places of the city (especially good if you have a car), a yard where you can have a romantic date at night with a bottle of wine, an apartment.
Places of an average activity. There you will do something with a girl together (go bowling for example), but you have the ability to communicate freely. Thus, a communication takes only part of the time. It can be roller coasters, skiing, snowboarding, billiards, bowling, karting, card games, driving lessons, water parks, horseback riding, winter slides, climbing, cycling.
Passive places. There you are busy in some action. You will have minimum conversations: a cinema, a theater, a circus.
Second date tips
Many of you probably feared that she may refuse a re-appointment. Well, now you will understand that those fears were unfounded. Moreover, maybe you felt that she liked you, but were afraid to admit it? Look at these tips and don't hesitate next time:
Touch. If at the first meeting, you used adequate touches (offer a hand, touch her back when you cross the road, etc.), then on the second date with a girl it is important to touch more expressly and intensively. This is necessary in order to inform her about your intentions and to feel a reciprocal desire. Hug her shoulders, touch her hands. Safely hug the waist and when you feel her tension – remove your hands. It is like a game. This will help to tease her emotions and then she will be waiting for your touch again and again.
Topics for communication. The second meeting is the stage when you can move to more personal topics. It is necessary to dilute your communication with light topics. You can pin up a girl sometimes. It means that you immerse her in pleasant emotions on the one hand, and then immediately pull back to "harsh reality". She will definitely like such a communication.
The constant change of places. A few years ago, experienced seducers found that the change of places facilitates an instantaneous creation of the trust. The essence of this method lies in the fact that you meet not just in one place (as all used to it), but in several. It seems for a girl that you have not a one date, but several. At the end of such a date, the probability of a successful seduction increases significantly.
Second date kiss
All Russian women have different attitudes to intimate relationships with the opposite sex. It depends on the upbringing and the outlook and sometimes from the circumstances. Therefore, to accurately answer the question on what date you can kiss her – is difficult. First of all, you should understand what kiss means for a girl. Some girls think that a kiss is just a gesture of sympathy and appreciation, for others – it is a symbol of tenderness, love and trust. When man and woman should kiss, on the first date or later, depends on their nature, a relationship to each other and future intentions.
Whether you kiss soon after meeting or postpone it for later, nobody must judge you, it's your relationship. You are adults and have the right to decide this question independently. But you have to know how not to lose control over the senses. A kiss should be gentle and reverent, so the girl will want to meet again.
So, to kiss on the first date or not – it's up to you. Listen to your feelings, whether you like the person with whom you spent time. But, if you are not inclined to communicate with a particular girl, don't waste your time.
Sex on the second date
This moment is also very individual as in the case of a kiss. Men and women perceive sex on the second date differently. Women associate sex with romance and love, instant and fatal passion. For men – it is a pleasant feeling and a goal achievement. But for both a sex is an important part of a relationship.
But most people think if a man and a woman like each other, then sex can happen anytime, even immediately after meeting. Though, if people saw each other in a nightclub and in 10 minutes have sex, then it is not normal. But if man and woman know each other well and then come on a date that ends with sex is quite another thing.
So, if you didn't know where to invite Russian women for dating or how to continue your relationship with the second and third date, then we hope this article helped you in this difficult question.
Nicholas
If your first date was traditional and pretty passive, then the second date should be active. It's better to choose an activity that will show you from some other side.
16.07.2020 14:53