Writing a Great Online Dating Profile
30.01.2017
Your success at online dating largely depends on the quality of your dating profile. Usually, there are two main reasons why men get few responses from women – incomplete profile information and inappropriate photo. Before writing you back, a woman will skim through your profile and if it makes a good impression on her she'll reply. Women are very cautious: they need to make sure that the man they're about to meet is decent and has at least something in common with them. While men usually decide to contact a girl if they like her profile photo, women decide whether to answer or ignore a letter after reading through men's profiles. If you don't read women's personal information, it doesn't mean they skip yours. Now that you understand the importance of an informative and presentable profile, you must be interested in how you can write the online dating profile that will work. Here are some tips for you.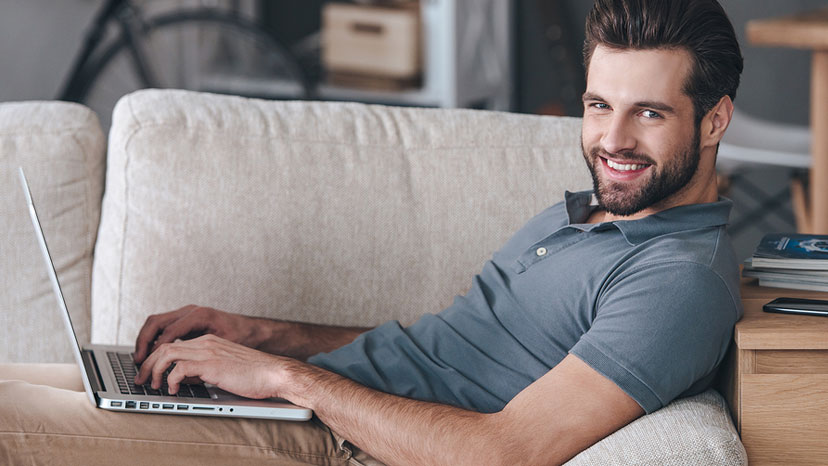 Introduce yourself
You're going to give a brief but informative description of your personality and your first sentences are the most important. You should write something that will grab women's attention at once. Women want to know what kind of person you're, so write 3-4 adjectives that characterize your personality. If you find it difficult to pick the most prominent traits of your character, ask those people who know you better than you know yourself – your friends.
Then, write about your passions and plans connected with them. You can mention your job but the main emphasis should be put on the things you're interested in. People's hobbies can tell much about them. Also, women appreciate it very much if a man is involved in something that gives him room for development and improvement.
Finally, you should mention what you are after. The main rule here is to be honest. If you want to find a potential partner, don't write that you only want to communicate with girls and vice versa. Most Russian women registered on online dating websites are looking for future husbands – they don't want to find new pen pals. So, make sure you write what you mean.
Avoid long lists
The most boring thing that one may come across in an online dating profile is enumeration. The lists of your strong points, the lists of your requirements for women, the lists of the books you read, etc. Nobody will read till the end. Many guys think that if they list all the qualities and parameters of their dream girl, they will boost their chances of finding a perfect match. In reality, the effect will be opposite. Women will think that the guy is too picky and will think twice before replying to his letter. Instead of listing your preferences, include three main qualities you value in women – that will be enough to understand what kind of girl you want to find.
Keep it short and positive
If you tell everything at once, women will have nothing to ask you about. Your aim should be to give women a general idea of who you're and what you look for. Avoid any negativity in your text. Many people list things they can't stand thinking this will let others understand them better. This is a big mistake. You should focus on the things that make you happy. This way, you'll show your positive attitude to life.
It's a no-no to mention your exes and failed relationships. It's your past and some day you'll share the story of your ups and downs with your significant other. Don't make it public in your profile.
Upload your best photos
A profile without a photo is doomed to be unsuccessful. It's almost the same as if you approached a woman wearing an invisibility cloak. In a club or bar, a woman can check you out before you chat her up. In the case of meeting women online, the same pattern is applied. Your pictures can tell much about you, so you need to know which ones should be added to your profile.
First of all, pick your best picture for the profile photo. It should be a recent photo and there should be only you. Some guys upload a group photo which is a big mistake. How should a woman guess which one of those guys is you? Make sure you're adding the photo in which you don't wear sunglasses. Since they cover almost a half of your face, you'll give an impression of a man who doesn't want to show his eyes because of his insecurities or because he's maniac. According to dating experts, the photo in which you look not straight into the camera but slightly away will attract more women. Also, summer pictures are more attractive than winter ones.
Apart from your main photo, women would like to see some other pictures. You can add your favorite ones but make sure that your online album contains these three photos: the one featuring you in the company of your friends, the one that depicts you engaged in some activity (your hobby), and the one taken during your last trip. If you have pets, add a picture of you and your dog or cat.
All photos you upload should be of good quality. Make your profile look attractive and professional.
There are no comments. Your can be the first