Top Ukrainian Models
14.06.2017
It has long been known that Ukrainian women are among the most beautiful ones. Their beauty is loved and appreciated by men in Ukraine as well as by many foreigners. Slavic ladies are special and famous throughout the world. Ukrainian girls are attractive, kind, attentive, and hardworking. It's no surprise that in Western Europe, there's still a trend to choose a partner among women from Ukraine. Besides, Ukrainian beauties are not only attractive but also smart; they make excellent mothers and housekeepers.
Even those who have never been to Ukraine believe that in every city one can meet a sexy model-like girl with magnificent shapes, who, of course, is also a great cook. And it's undoubtedly true. Ukraine is a country where a simple girl can easily become a model. Therefore, we have put together a list of the most beautiful Ukrainian photo models in bikini. Enjoy it!
25. Alexandra Nikolayenko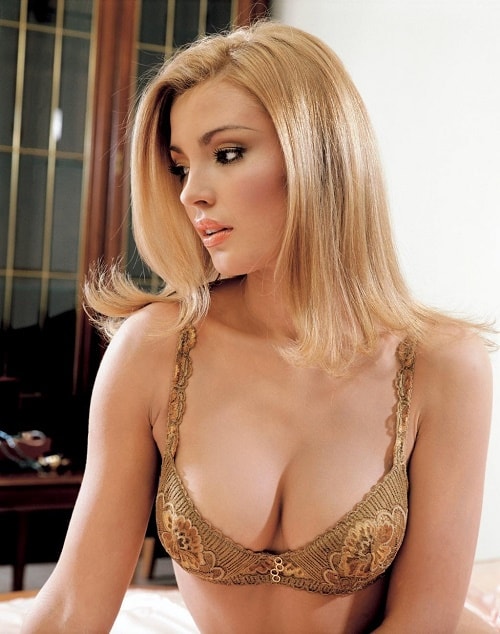 Alexandra Nikolaenko is a Ukrainian top model, TV presenter, and actress, as well as Miss Odessa-2001, Miss Ukraine-South-2001, and a winner of the National XI Miss Ukraine 2001 beauty contest. Alexandra is also a finalist of the Miss Universe-2001, Miss American Dream-2001, and Miss Tourism International-2002 contests. Despite her nationality, this owner of a dozen titles was born on July 3, 1981, in Budapest, in the family of a serviceman. Alexandra Nikolaenko won her first title – Miss Odessa – at the age of 16, and at 18, she already became Miss Ukraine-2001. At the Miss Universe-2001 contest, which was held in South Africa, Alexandra entered the top ten finalists. Apart from these achievements, she also participated in American beauty contests.
24. Alina Baikova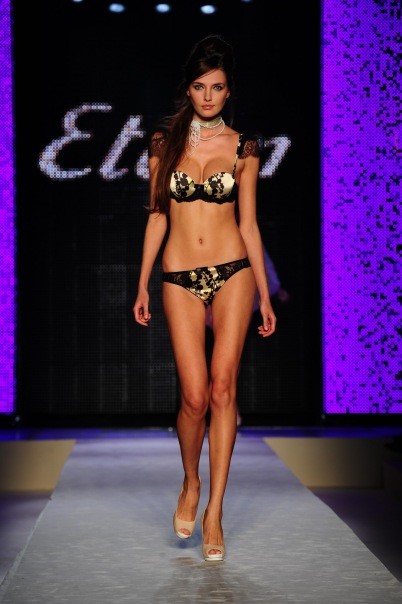 This beautiful model was born in 1989 in Kirovograd, Ukraine. The girl has noticed her talent for the first time during the restaurant uniform fitting in the studio (after graduating from school, she worked in a restaurant). After graduation, she worked in China, then in France and the United States. She starred for covers of such famous magazines as Vogue Australia, Elle, and Harper's Bazaar. Also, Alina is the official face of the Oscar de la Renta aroma and runs her own business in Europe. Her company is called Alina's Flowers and specializes in flower delivery and flower decoration of festive events. Alina prefers mostly male sports, such as boxing, kickboxing, and army training.
23. Angelina Petrova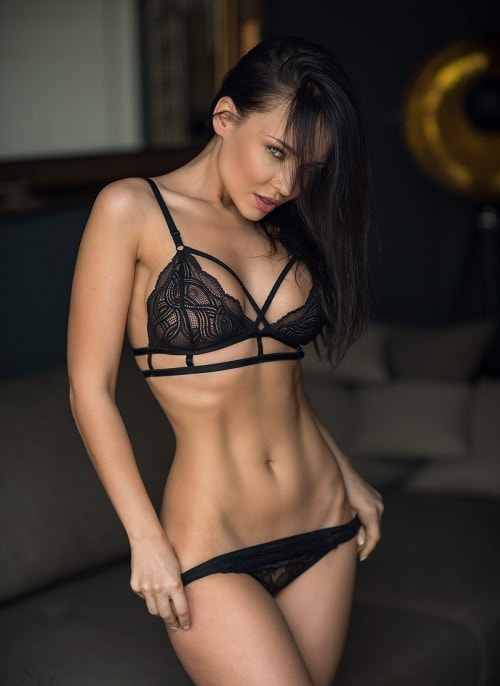 The next lady in our list of Ukrainian beauties' images is Angelina Petrova, a Ukrainian model. Angelina was born on October 3, 1991, in the city of Zaporizhzhya, Ukraine. This popular, experienced, and charming model doesn't stop attracting the attention of photographers. Many professionals dream of working with her. Angelina repeatedly appeared on pages of various magazines, including posing for Playboy several times. Angelina also starred in advertising for magazines, calendars, and souvenirs. Now the girl is actively working and planning shootings in Europe.
22. Anna Poslavskaya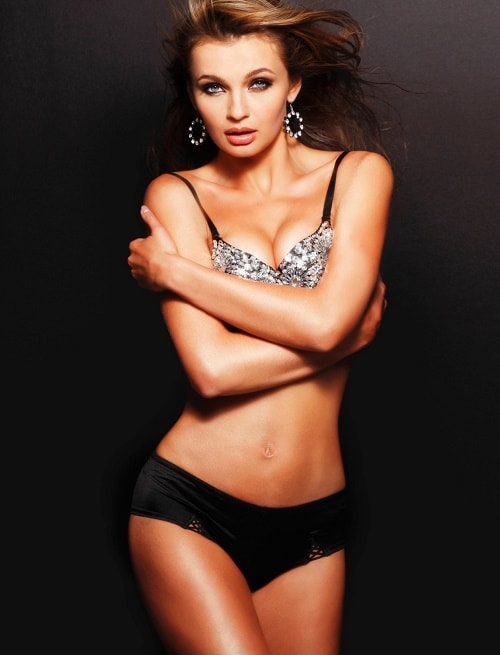 Anna was born on April 28, 1987, in the family of a physician and an engineer. Anna is a winner of such titles as Miss Ukraine-South-2009 and Miss Viewership at Miss Ukraine-2009, as well as Miss Ukraine Universe-2010. It was after this competition that Anna got the opportunity to represent Ukraine at Miss Universe-2010, where she became the third vice-miss. The girl has two higher educations. The first one is a degree in tourism management; Anna is receiving the second one now at the faculty of the international economy. Little is known about her private life, the girl herself doesn't like to talk about it. Anna loves sports and dances, and also plays tennis and volleyball.
21. Anna Zayachkovskaya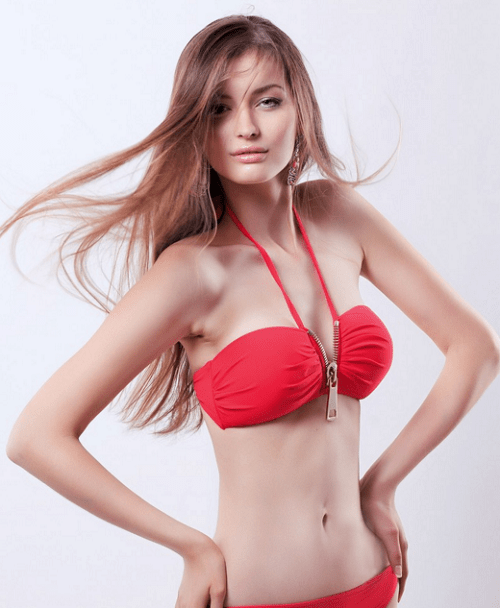 Anna Zayachkovskaya is a Ukrainian model, a winner of the Miss Ukraine-2013 contest. At the Miss World-2013 international competition, Anna took 3rd place in the talent contest with the song called Moment of glory and entered the Top-20. Anna was born in Ivano-Frankivsk, Ukraine on December 12, 1991. The girl began to think about modeling career back at school when she was invited to a photo shoot for a local magazine. Since 2011, Anna Zayachkovskaya decided to devote more time to her career. In addition to it, Anna writes poetry and songs and is engaged in a theater studio. As for sports, Anna prefers swimming.
20. Marina Listopad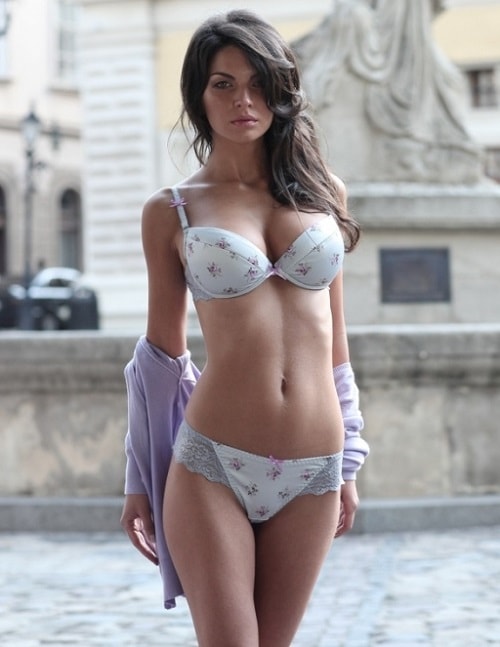 A 28-year-old model Marina Listopad gets the next spot in the list of Ukrainian women in bikini. Marina was born in Kiev. During her professional career, this beauty collaborated with several Ukrainian modeling companies, including Kiev Casting, Eos Models, Fashion Socium, and Prestige Model. In addition to photo sessions, Marina also starred in a video of two Russian singers. The beautiful blue eyes, dark brown hair, and a perfect figure make Marina one of the most popular models in Ukraine.
19. Diana Garkusha
Diana Garkusha is a Ukrainian model known for taking first place at the All-Ukrainian beauty contest Miss Ukraine-Universe-2014. She took third place (2nd Runner-Up) at the Miss Universe-2014 beauty contest. Diana was born on July 5, 1994. Prior to her participation in Miss Ukraine-Universe and Miss Universe, she won many other beauty contests. Diana loves evening jogging, as well as dancing and swimming. She opposes plastic surgery. Diana has no bad habits and doesn't stick to healthy diets, preferring Ukrainian, Japanese, and Italian cuisine. Diana dreams of becoming a lawyer in the future.
18. Ekaterina Yuspina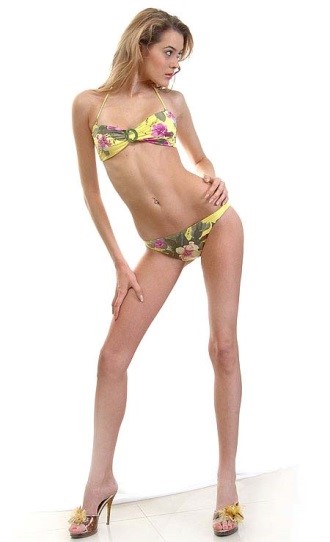 Ekaterina Yuspina has been successfully working in the modeling business for several years, appearing on the covers of different magazines. Her portfolio includes a lot of filming, an impressive list of participation in various fashion weeks, as well as a perfect figure. Ekaterina got into the modeling business at school, after casting a Ukrainian modeling bureau. Soon after, she took part in two more competitions: Miss Teen Ukraine and Miss FT. In April and August 2010, Ekaterina appeared on the covers of the Female Singapur and Ego magazines.
17. Ekaterina Zakharchenko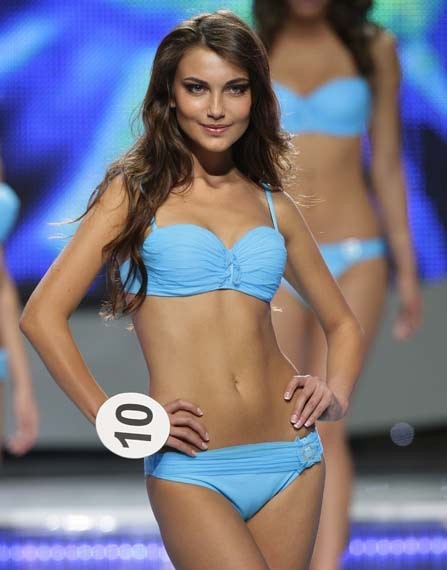 Ekaterina Zakharchenko is a Ukrainian model, actress, and winner of the Miss Ukraine-2010 title. Ekaterina was born on May 19, 1989, in Odessa. Her father is a businessman, and her mother is a physical education teacher. Ekaterina has a sister who is two years younger and a brother who is eight years younger than her. In September 2010, the model won the Miss Ukraine-2010 contest. Katerina got the opportunity to participate just one day before the competition. On October 30, she represented Ukraine at the Miss World contest in China, where she didn't manage to enter the Top-20. After the competition, Jean-Claude Van Damme, who was one of the members of the jury, proposed Ekaterina to star in his movie.
16. Evgeniya Rudaya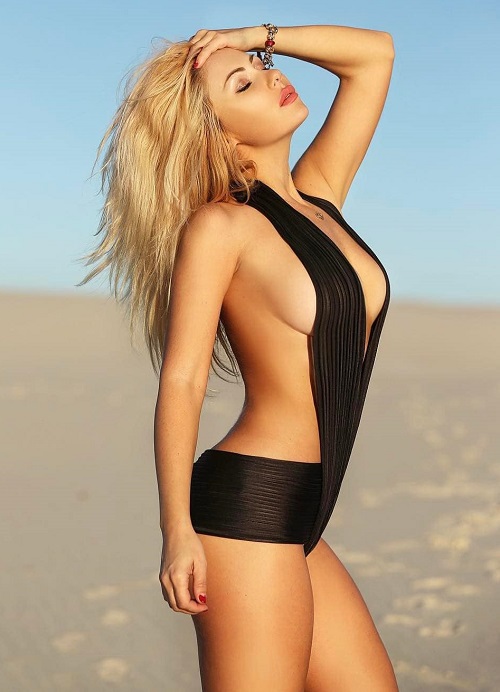 Evgeniya Rudaya is a young, charismatic, and talented Ukrainian model and photographer. Evgeniya was born on October 11, 1982, in the Dnipro, Ukraine. Since early childhood, she is engaged in painting; a little later the girl began a modeling career. In 2013, Evgeniya becomes a photographer. As a very emotional and impressionable person, she expresses all her impressions and experience in her pictures and photos. At the same time, Evgeniya is a perfectionist and constantly tries to improve herself. This girl definitely deserves a spot among the most beautiful Ukrainian models.
15. Irina Zhuravskaya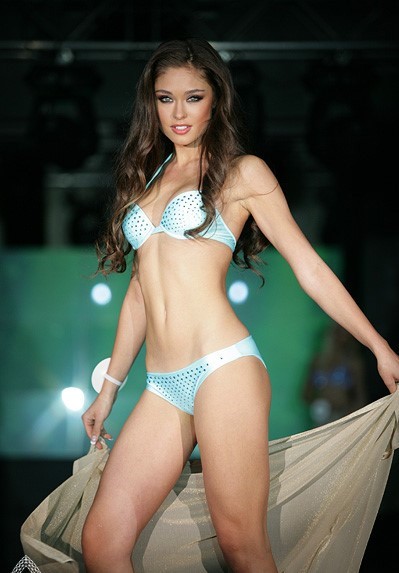 Irina Zhuravskaya is another Ukrainian model from our list of Ukrainian beauties' photos and the winner of the Miss Ukraine-2008 title. After winning the Miss Ukraine-2008, Irina represented Ukraine at the Miss World-2008 contest, where she only got to the final, becoming one of 15 other finalists. Also, 18-year-old Irina became the sexiest girl in the world in 2008, according to a poll by Global Beauties magazine. As a model, Zhuravskaya worked with many Ukrainian designers. Irina signed a contract with the Karin MMG bureau, which belongs to another famous Ukrainian model, Vlada Litovchenko, who won the Miss Ukraine-1995 contest.
14. Kristina Oparina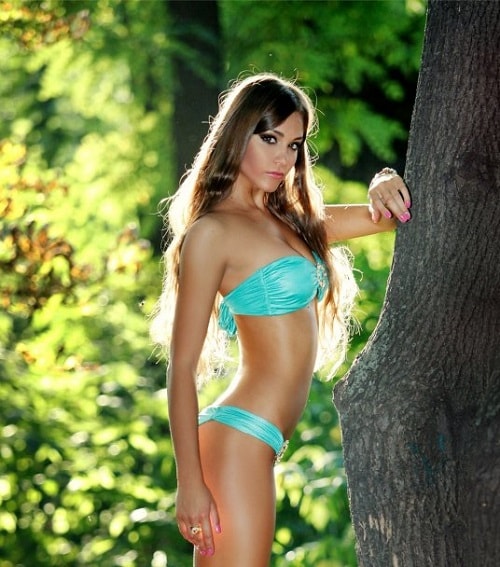 Kristina Oparina is a Miss Model of the World-2012 and the owner of the most expensive crown in the world. In 2011, she won two prestigious competitions: Miss Ukraine-Earth and Miss Earth. In addition, Christina entered the Top-10 most beautiful girls of the world. Kristina is from Zaporizhzhya. The girl never thought that she would become a model since she considered this a frivolous occupation. But one day friends invited Kristina to try herself in the modeling business, and now she's in love with the podium. Since the age of five, Kristina has been engaged in rhythmic gymnastics, and when she turned 12, she got professionally involved in ballroom dancing.
13. Kristina Stoloka
Kristina Stoloka is a Ukrainian model and a winner of the Miss Ukraine-2015 contest. Kristina was born on July 29, 1997, in Kiev. Her father works in the field of construction engineering, and her mother is in the field of beauty. The girl constantly visits the gym to keep herself in shape. On September 22, 2015, the final of the 25th Miss Ukraine contest took place in Kiev, and Kristina won it. 25 girls took part in the competition. In December of the same year, the model represented Ukraine at the Miss World-2015 contest, but she failed to get to the Top-20.
12. Maria Burlakova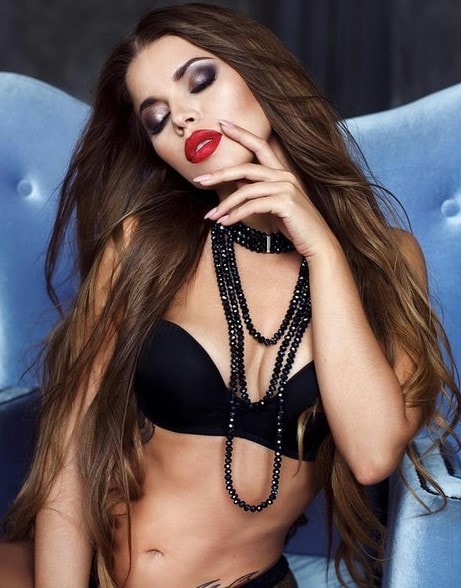 Maria Burlakova is a winner of the Queen of the Ukraine-2010 contest, and also one of the most successful Ukrainian bikini models. After she won her title in 2010, Maria received the right to represent Ukraine at the international Miss World Model contest. Maria studied at Odessa Ecological University, having mastered the profession of environmentalist of customs control, and worked in Odessa and Kiev modeling companies.
11. Maria Popova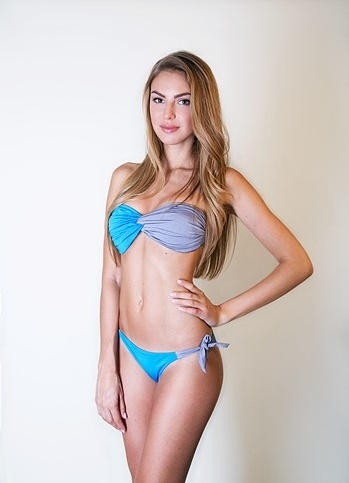 The next beauty from our list, Maria Popova, was born in Ukraine, in the Donetsk region. Confirming the myths about the unique beauty of Ukrainian girls and their intellect, Maria graduated from school with a gold medal, enrolling at the Economics Department of Donetsk National University. Maria loves traveling and has already visited more than 15 countries. Maria is a maximalist; she always strives to be first at whatever she does. She also likes to cook, especially she enjoys making desserts.
10. Nina Astrakhantseva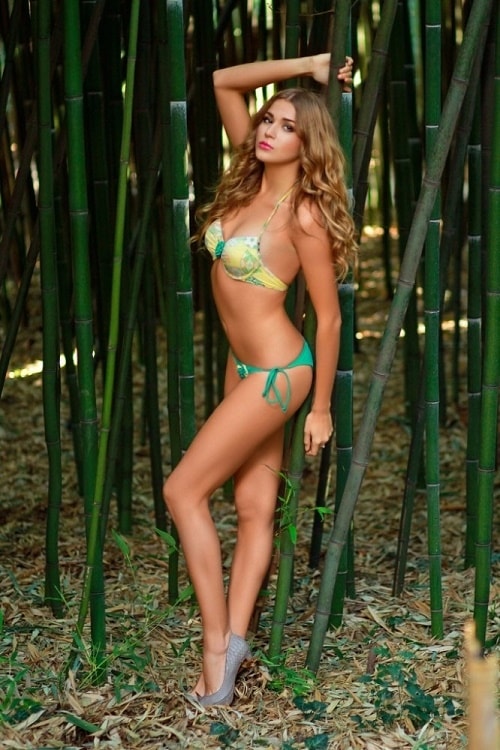 This beauty is Nina Astrakhantseva, a Ukrainian model, vice-miss Model of the World-2010, vice-miss Queen of Crimea-2009, winner of Miss Beauty Millennium International-2011, as well as Miss 7 continents. At the Miss Earth-2011 beauty contest, Nina became one of the eight finalists. She speaks English fluently and is fond of sports, ballroom dancing, photography, and art. Now Astrakhantseva is receiving two higher educations in the field of international economy and international law. In addition to her modeling career, Nina is a Crimean representative of the World League of Beauty and Fashion and a regional director of children's world beauty contests.
9. Olesya Stefanko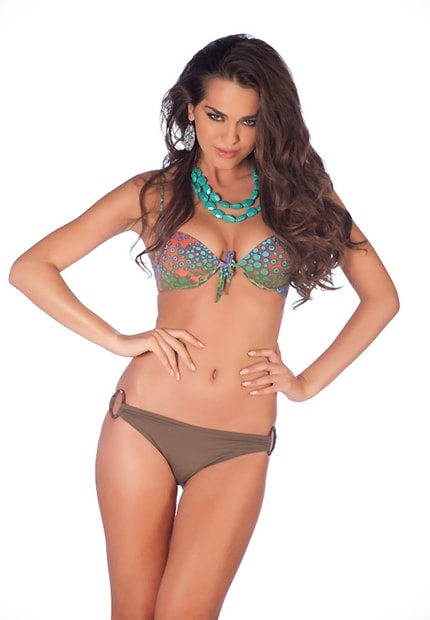 This spot in the list of Ukrainian girls in bikini goes to Olesya Stefanko, a Ukrainian participant of the Miss Universe beauty contest, winner of the Miss Ukraine-Universe-2011 contest, and a representative of Ukraine at the Miss Universe-2011 contest in São Paulo, where she took second place, that is, the First Vice-Miss Universe. This is the highest achievement a representative from Ukraine has ever got in the Miss Universe competition. Since 2009, Olesya has been working with the Art-Podium Ukrainian model bureau. Since 2014 she works as a model in New York, studying for an art critic.
8. Olga Kurylenko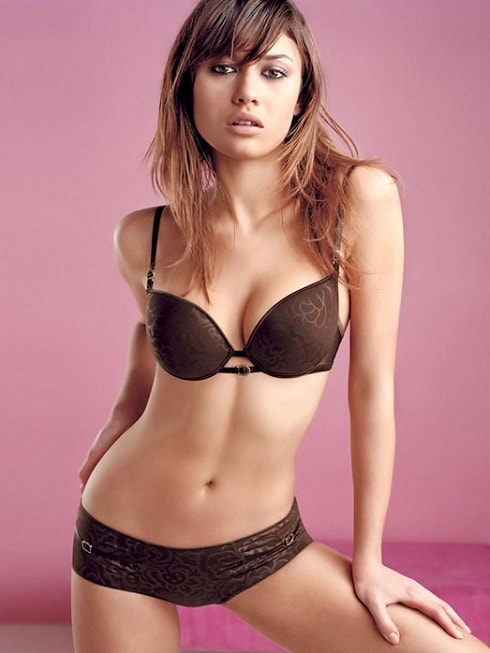 Olga is a French actress and model of Ukrainian origin. Olga was born in the city of Berdyansk in Ukraine. From the age of eight, she studied English; from the age of 7, Olga studied piano and went to the ballet studio. At the age of 16, the girl moved to work in Paris and later signed a contract with the Madison bureau. 18-year-old Olga appeared on the covers of Glamor, ELLE, Madame Figaro, Marie Claire, and Vogue; she also became the face of Lejaby, Bebe clothing, Clarins, and Helena Rubinstein. In January 2008, Olga was chosen to be the next "Bond girl." From 2000 to 2004, Olga had been in relationship with photographer Cedric van Mol, and at the same time, she changed her Ukrainian citizenship to French.
7. Olga Shilovanova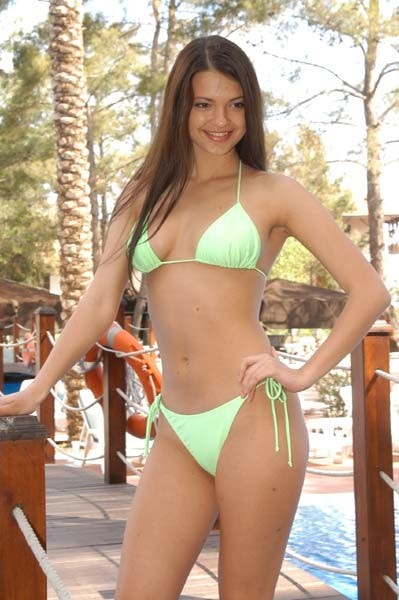 Olga Shilovanova is a Ukrainian model, winner of the Miss Ukraine-2006 and Pani Ukraine-2010 contests. After winning the Miss Ukraine-2006, Olga was given the right to represent the country at the Miss World-2006 contest, which was held in Poland. Later, Olga attained her Master's Degree in Philosophy, and got a legal education. Now Olga lives and works in Kharkov, Ukraine. Although she is not as active as other ladies from our list, Olga still deserves to be among the most beautiful Ukrainian women in bikinis.
6. Olga Tretyachenko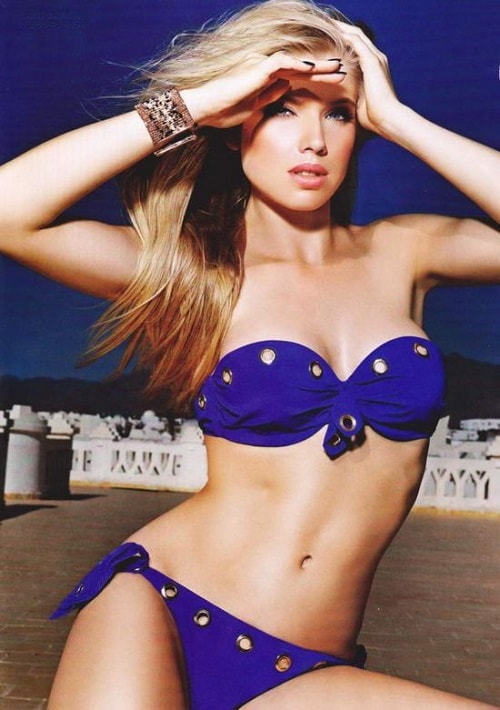 A Ukrainian model, TV presenter, and singer Olga Tretyachenko was born on April 13, 1996, in Slavyansk, Ukraine. Since the age of 15, Olga has been professionally engaged in the modeling business. During her modeling career, she participated in many Ukrainian beauty contests, becoming the finalist of the Miss Ukraine Universe contest. Apart from taking part in competitions, Olga also works with the leading men's magazines in Ukraine and Europe, and very successfully, we must say: her latest achievement is appearing on Playboy's cover and becoming a Playmate of the year in April 2016. But now, the first place among Olga's main priorities is occupied by her solo music project called LELA.
5. Snezhana Tanchuk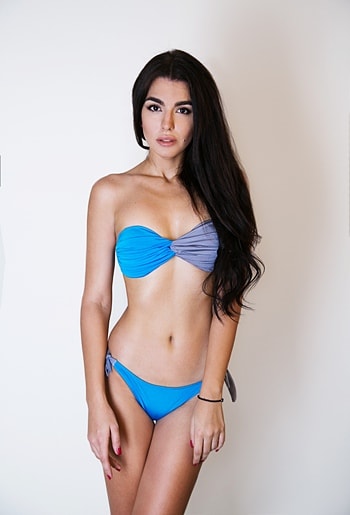 Snezhana Tanchuk is a Ukrainian model and participant of the Miss Ukraine-2015 national beauty contest. Snezhana was born in Lviv, Ukraine. In 2017, she received the title of Queen of Ukraine-2017 and the right to represent the country at one of the world's best contests: Miss Grand International-2017. Snezhana is fond of sports and travel, and also likes photography and reading. Now she works with the Ukrainian Bravo Models model bureau.
4. Tatiana Verevkina
Tatiana is from Ukraine. There's almost no information about her on the Internet, the only thing that's undoubtedly evident is her extremely sexy appearance. The model is perfect from head to toe; she has pretty and attractive features, and her sensual lips and elegant white hair will live no man indifferent. Now Tatiana is engaged in photo shoots for underwear advertising by various brands. Her impeccable appearance is endlessly attractive. The girl was repeatedly credited with the title of the sexiest blonde in Ukraine.
3. Victoria Snisarenko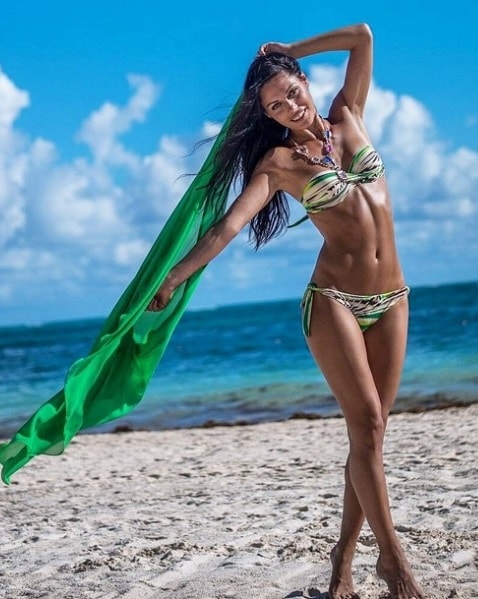 Top model Victoria Snisarenko was born and raised in Ukraine in Zaporizhzhya. Victoria was often offered to participate in various competitions, which is not surprising if you look at her perfect figure and appearance. Victoria's career began with filming in a music video, after which she began receiving invitations to participate in various events. Her most important achievement was the victory at the Miss Eurasia-2014 contest. Now she lives in Moscow and represents many famous brands in Russia; she is often invited to shoot abroad. Victoria is engaged in boxing and regularly visits the gym.
2. Yara Khmidan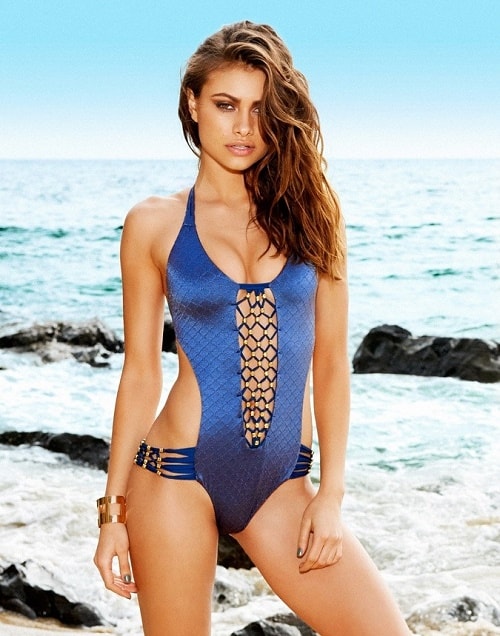 Yara Khmidan was born on March 17, 1993, in Odessa. Yara is in the modeling business since the age of 16. She participated in local shows of such brands as Mango, Benetton, and Sisley, and started working with the Kiev international Star System modeling bureau, getting to the world's podiums from there. After signing a contract with an international company, she went to work in America, first to Miami, then to Los Angeles. Now Yara lives and works in New York. In the summer of 2014, an erotic photo session of the model, made by the world-famous photographer Leonardo Corredor, appeared on the web. Now the girl advertises swimsuits and underwear.
1. Diana Kovalchuk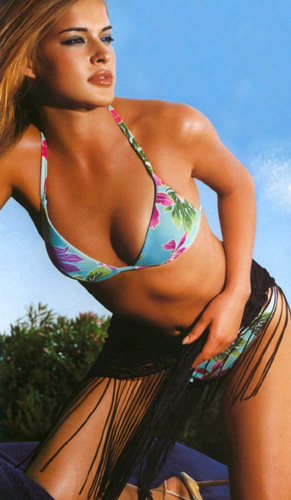 And finally, the first place in our list of Ukrainian bikini babes goes to Diana Kovalchuk, a Ukrainian model. In 1996, at the age of 14, she won first place in the international finals of the Elit Model Look contest in Nice. For the first time, a Ukrainian model became the winner of this competition. Thanks to her victory, Diana got a contract with the Paris agent Elit Models for two years. During her career, Kovalchuk appeared on the covers of almost all the leading magazines, such as Photo, Elle, Marie Clare, Anna, Amica, Glamor, L'Officiel, Mademoiselle, Cleo, etc. She also worked with the world's best designers.
Matthew
These girls are really stunning and amazingly beautiful. Ukrainian men are extremely lucky bastards who don't value their women as much as these hot chicks deserve.
16.07.2020 15:04