Using Lunch Dates to Find a Perfect Partner
22.11.2020
We are absorbed by our gadgets so much and used to living online. We even spend evenings with our loved ones in the virtual space, forgetting about romance, surprises, unexpected gifts, and more. It's great if you manage to at least have dinner in a restaurant. Forget about your smartphone and single women seeking single men dating sites for a few hours, stay alone with each other, and have a lot of fun arranging an unusual date.
A lunch date is quite a nice option. As a rule, the purpose of such a date is quick communication. There are a few secrets to doing well on such a date. First of all, it is better to book a table in a cafe or restaurant in advance, familiarize yourself with the menu and wine list, so that later you can recommend the girl some particularly interesting dish. And secondly, you have to demonstrate that everything is under control. What are the other tips for having a perfect lunch date?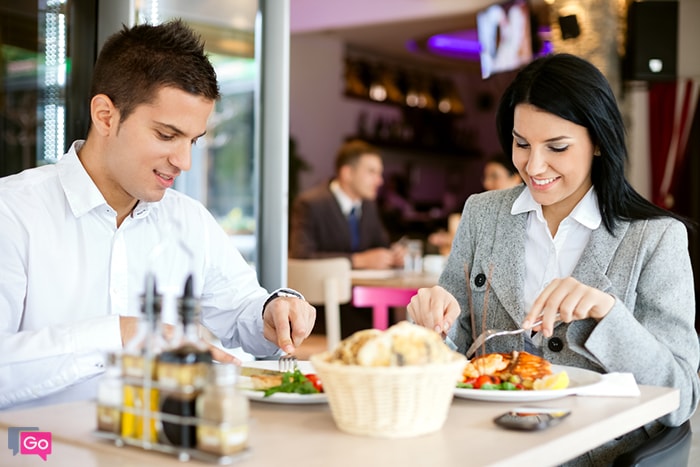 Reasons to try a lunch date for a first date
lunch date is the best idea for the first meeting with a potential girlfriend. A restaurant or cafe is a public institution that requires appropriate behavior. The way a woman behaves and how she treats the staff show peculiarities of her character. Walking in the park or sitting in the cinema, you may not notice these features, but it is easy to notice while you have lunch.
1. A lunch date will best reveal a woman's character
Is lunch a date? Yes, a kind of. And being on such a date, you can notice some things that fully characterize a woman without unnecessary questions. Just watch her, and, on the first date, you will be able to understand whether it is worth continuing to communicate with this person in the future. A lunch date will best reveal your partner as a person.
2. You will see how she behave with staff and what she talks about herself
Choosing a lunch date among other date ideas, you win. On such a date, you can pay attention to how she talks to a waiter: if she snaps her fingers to call the waiter, makes comments to him/her, then, most likely, this person is impatient, impulsive, and there is a chance that she communicates with everyone like that. A well-mannered girl will never talk rudely to unfamiliar people. And she will not talk about herself on her own initiative and bore another with uninteresting conversations. If a woman doesn't stop talking about herself, then you are of little interest to her.
3. You can get to know each other better and it doesn't commit you to anything
No matter how romantically this idea seems to you, but in a nightclub or a cafe, there are many people around and loud music that will definitely not help you win the girl's heart. This is the difference between lunch date vs dinner date. Therefore, choose places where you can clearly hear each other. In a restaurant, you can sit comfortably, relax, and have lunch!
4. A lunch date is convenient
Both of you shouldn't be distracted by many extraneous factors: people passing by, harsh street sounds, weather conditions, etc. You have the opportunity to completely relax, starting from the physical level (sitting is much easier than walking). After all, you can get a better look at a woman, look into her eyes, catch a smile, and so on. It is much more difficult to do this while walking.
5. This is not considered a formal date
You have about an hour to dine and find out if you like each other or not. And if not, then just thank her for the time spent together and never meet again. For example, during long dates (a trip to the forest/another city/country cottage, or something like that), you will not be able to end such a date so quickly. You may just not like each other. But at the same time, you will already be doomed to spend several hours or even a whole day together. It is better to give each other free space and the opportunity to leave the meeting place if necessary.
6. You can show yourself as a gentleman
You can say as much as you like that we live in the 21st century, and the time of ladies and gentlemen is long over, but any girl will be pleased if you show unobtrusive care and emphasize that you treat her like a lady. For example, move a chair for her, help her choose dishes from the menu, pay the bill, and pay a taxi. There shouldn't be too many such manifestations, they shouldn't be intrusive, otherwise, it will be perceived as a kind of cutesy and mad adherence to the norms of etiquette instead of live human communication.
Lunch date ideas and tips
The lunch date can be a lot more enjoyable if you don't pretend to be someone else and feel self-confident. Non-compulsion in behavior and good manners always attract women and arouse interest. Such a date is not only lunch but also a test of knowledge of etiquette. So, how to do everything right? Check out these lunch date ideas:
1. Choose the right place
The first selection criterion will be a restaurant with an intimate setting and slightly subdued lighting. You need to think about this issue in advance and find a suitable place. A restaurant with special rooms for VIP guests will be a great option. In this case, you can be together. Candles on the table are considered the main attribute of any romantic date. Not a single girl can resist this, so she will be delighted. So, consider these good lunch date ideas.
2. Book a table in advance
Whichever restaurant or cafe you prefer, you need to book a table as early as possible. Imagine the situation, you come to some establishment, and all the tables are already occupied there. It is worth assuming that the girl will not be delighted with this ridiculous fact. Of course, you can easily find other cozy lunch date places nearby, but, most likely, the lunch date will still be ruined in the eyes of the girl. The date should go just perfect without any flaws or mistakes. To do this, it is imperative to take into account all possible nuances.
3. Don't order a salad
This is one of the lunch date tips that not every man knows. It may seem strange, but according to a survey of one famous newspaper, many girls don't like it when a man orders a salad. In their opinion, they look like weaklings by doing this. Meat is still considered food for men. But before you order a meat dish, make sure that the girl is not a vegetarian. She may find you bloodthirsty.
4. Slow down
Men eat fast and women eat slowly. So, try not to rush out on your date. After all, you came on a date not to eat. You likely want to talk with the girl, get to know her better, right? So, pay more attention to the girl and not what you have on your plate. For a start, you can just discuss the dishes you ordered.
5. Don't ask too many questions
Never turn a lunch date into an interview in which you are trying to determine your compatibility. Just enjoy the process of communication with each other, and you will draw conclusions later. It is foolish to expect that you will form the correct opinion of your companion on one date. Most likely, you will have time to catch only some of her traits, and you simply will not notice something important. So, don't force things.
6. Talk about general topics or discuss the dishes you eat
You can talk about your hobbies, the last films you watched, public events, etc. Don't ask a girl where she works and how much she earns. However, if you want, you can talk about your work. Avoid talking exclusively about male topics. These include discussions of football or cars, problems at work, and so on. Find topics that are truly interesting to both of you. If all the thoughts suddenly flew out of your head, and a woman is also not the most talkative person, talk about what you eat. And then go from the culinary topic to other topics.
7. Add some flirting
The first date is all about exploration and easy communication. It doesn't owe you anything. Don't dive deep into serious topics and avoid over-immersion in love. Evaluate mutual compatibility and interest in each other. Flirting, irony, smiles, laughter, and entertainment – this is what should be present on your date. Tease the girl and be playful. Girls want to have fun on a date with an interesting man.
8. Don't spend too much time on a first date
You should spend a maximum of two hours there. You yourself will notice how you both get a little emotionally "tired". You should fly home as if on wings, and a woman should look forward to the next date. To do this, you shouldn't "oversaturate" a date with communication, even if it is extremely pleasant.
9. Pay the bill
Paying the lunch bill is a man's responsibility. In this way, you show the girl that you are acting like a gentleman. But if you take a calculator and start counting how much money she has to pay for lunch, then, most likely, the girl will no longer want to see you (of course, unless she is a feminist).
10. Take care of a girl
Bring her a coat, open the door, hold her elbow on the stairs, and so on. At the end of a date, thank her for a pleasant pastime, and tell her that you liked everything very much. It is very important to let the woman know that she is interesting enough in your eyes, and she did everything right. Without this, she will not feel complete satisfaction. Add something personal: "You are very cute!", "It was interesting with you!", "It's nice to talk to you!" Don't forget to smile and ask her to go out once again!
What to wear on a lunch date
What you are wearing often plays an important role. And in some cases, it can become life-changing aspects in certain life situations. What are the lunch date outfit ideas? If this is a date in a small, cozy restaurant located far from the city center, then it is not necessary to wear something extraordinary. Trousers, a jumper, and a shirt or turtleneck with a jacket are quite good options.
What to wear on a lunch date… Well, if you want something extraordinary, then you can wear bright suspenders. You can simply wear jeans and a jacket with a shirt in a bright color, and complement your lunch date outfit with leather lace-up derby. For such events, as a rule, there is no strict dress code. A man on a lunch date can experiment with colors and shapes.
If you work and have a coffee break that you want to spend with a girl, then you can still wear a three-piece suit (a win-win option for all occasions) made of good fabric with a tie, a bow tie, or a bright shirt. This is a great choice for meeting in a restaurant or cafe.
So, going on a lunch date, remember that you have to take into account all the nuances and make an unforgettable impression that will be remembered for a lifetime. Moreover, if you have serious intentions, then it is better to try hard.
The main thing is not to worry. In fact, there is no win-win recipe for a successful date. We are all different, we all have our own tastes and preferences (which may seem strange to others). So, the successful completion of the first date can only be judged by the mutual desire of both parties to continue their acquaintance on the next date.
There are no comments. Your can be the first