Best Ideas to Celebrate St. Valentine's Day 2018
17.01.2018
Valentine's Day is a synonym of romance. This celebration of love has conquered the hearts of millions of people throughout the world with its cute little Valentine cards, and this tradition only gets stronger and stronger every year.
Today, it's impossible to imagine February 14 without plush bears and cardboard hearts because this special holiday grants you with a great opportunity to show your romantic nature and prepare something unforgettable for your loved one. This is the only day when you can confess love to your secret crush and do it without words - the Valentine card will tell everything for you. But one small card isn't enough to win your significant other's heart. You'll have to try to make this day truly unforgettable, and we'll help you. But let's start with a brief history lesson first.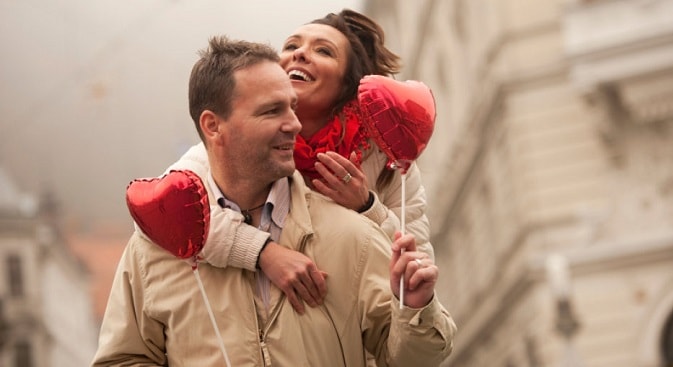 Valentine's Day: History and Traditions
Let's talk about Valentine's Day origin. Initially, the celebration of the memory of St. Valentine was established as a veneration of his martyrdom, and it had nothing to do with cardboard hearts and love. At the dawn of Christianity, three people, named Valentine, died martyrs for their faith. The only thing we know about the first one is that he died in Carthage along with a group of coreligionists. The second Valentine was the bishop of Interamna (the modern city of Terni, Italy). The third martyr is Presbyter Valentine.
During the reform of the Roman Catholic calendar of the saints in 1969, the celebration of the memory of St. Valentine as a saint was abolished simply because there was no solid information about this martyr.
The history of Valentine's Day as we know it refers to the Middle Ages and their romantic atmosphere. That's when St. Valentine suddenly became the patron saint of lovers, and February 14th became his day (this happened back in 496 A.D.). Again, this has no connection to the lives of real martyrs who died at the dawn of Christianity.
In England and Scotland, February 14th was accompanied by a peculiar custom. On the eve of the holiday, young men put small pieces of paper with the names of ladies written on them in the urn. Then each man took out one piece. The girl, whose name was written on it, became his Valentine. This meant that for the whole next year, the couple was engaged in a relationship, similar to those that arose between the knight and his lady, according to medieval novels. By the way, this custom was of pagan origin. Later, February 14th grew into a bigger holiday, with jokes and other kinds of entertainment. According to Valentine's Day traditions of that time, young men sent gifts to their loved ones, as well as letters and poems expressing their feelings and wishes on this day.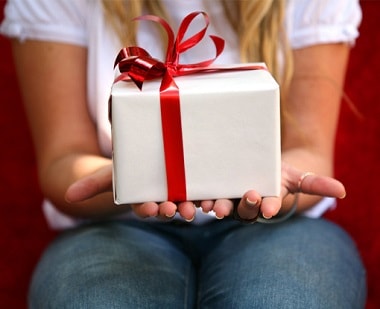 The custom of sending Valentine cards originated in the Middle Ages, too. The very first card was a note sent by Charles, Duke of Orleans, to his wife from prison in the Tower of London in 1415.
Different countries brought their own traditions to the modern Valentine's Day history. For example, the Italians call February 14th a sweet day and give their dearly beloved chocolates and other sweets. They also send Valentine cards by mail in a pink envelope without a return address. In Denmark, couples usually send each other dried white flowers, and in Spain, it's considered incredibly romantic to send a love message with a pigeon.
There are also rather strange Valentine's Day traditions. Thus, during this holiday in Japan, women give chocolate to their male colleagues. This custom is relatively new and dates back to the 1970s. Back then, the box of chocolates presented to the man was almost equal to a confession of love. Recently, women began to buy chocolate sweets as a gift for themselves or their friends. In Mexico, like in many other countries of Latin America, Valentine's Day has another name - Love and Friendship Day. In 2012, about 6,200 couples took part in the mass wedding ceremony during this holiday.
Why not start your own tradition? How about an unusual date?
Valentine's Day 2018: Ideas for a Date Night
If you want to give your loved one the brightest emotions she's ever felt and make this evening truly unforgettable, but you're in short of imagination, these Valentine's Day ideas are just for you. Here are a few scenarios for a romantic date you can spend outdoors, in the fresh winter air, or in the warmth of a cozy room. It's up to you to choose.
Snowboarding lesson
If you can't afford a trip to a mountain resort right now, but you and your girlfriend are big fans of winter activities, there's one thing you can try. Sure, a joint trip would be an ideal gift for both of you, but you'll probably find a couple of indoor ski or snowboard centers in your city, where you'll get a lot of emotions and a snowboarding master class for a reasonable fee. If your girlfriend or both of you are new to this sport, then the hours you'll spend snowboarding will stay in your memory forever.
Romantic quest
If you're a fan of original and extraordinary, organize a romantic quest for your sweetheart. Prepare small surprises or Valentine cards, hide them around your house or near the place you're planning to spend the evening at. To start a quest, just drop your loved one a hint on how to find the first surprise. Hide the clue to the next one in it, and so on. The hints may be very personal. This option is also one of the great first Valentine's Day ideas because she will definitely remember it. Make all preparations carefully. Believe us – seeing your loved one's emotions is more than worth it!
Movie marathon
If it's so cold outside that even one thought of it makes your body tremble, it's better to choose one of the most comfortable and budget Valentine's Day date ideas. A couple of bottles of wine, dinner (which should be prepared beforehand), some candles for entourage, and, of course, great movies that you both love – that's all you need. You can see your favorite films once again or pick those that you always wanted to see.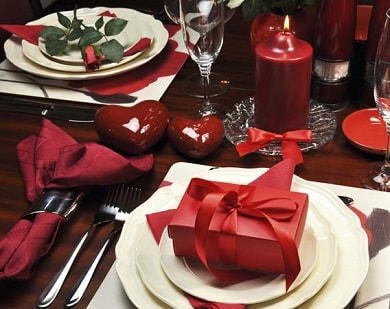 Whiskey/wine tasting
What could be more tempting than getting inside a warm, comfortable pub and having a nice drink? Especially if it's cold outside! If you're too lazy for sports, but you don't want to stay at home, go and taste your favorite strong drinks. Almost all major cities regularly host the events where gourmets, critics, and just drinkers get together to taste some fine alcohol.
Ride in the carriage
A carriage ride through all city spots your significant other likes definitely deserves to win the title of the best date of the year. Just plan everything in advance and take a look at horses and the carriage itself. You and your girlfriend won't enjoy the sight of a thin, old horse carrying you and the piercing wind blowing into all the slits of the carriage. Dress warmly, take a thermos of hot mulled wine with you, hug your girlfriend, and you're set for the most romantic day of this year. You're free to combine this option with other Valentine's Day dinner ideas and make sure your loved one will never regret that she chose you.
Karaoke!
Well, karaoke bar is a place where you take your friends to blow off some steam after a hard day at work. But not on February 14th! Forget about your friends for a day and go to the karaoke bar with your significant other. Pick the appropriate repertoire. Let these be the famous love songs you'll be singing in turns or in a duet.
A trip to a haunted house
Spooky mysteries always attract and fascinate. And if both of you are also fans of supernatural, then a trip to a house full of ghosts is just for you. What could be more thrilling than a bit of mystery on Valentine's Day? And what can be more romantic than an ancient castle, where you can feel the spirit of the past? Castles or houses with ghosts can be found everywhere; you just need to look closer. These mansions are usually located outside the city limits. Leave those romantic Valentine's Day breakfast ideas to teenagers and take a small visiting tour to a haunted house with your soul mate to plunge into the eerie but still attractive atmosphere.
Valentine's Day Gift Ideas for Her: Make Her Happy!
If you can't decide what present to choose, here are our best picks for this year. And remember, not all Valentine's Day gifts must necessarily be expensive.
Box with her favorite sweets Take a cardboard box, paste a joint photo inside, and fill it with the delicious goodies your girlfriend likes. Profit! It can be chocolate bars, gummy bears, popcorn, chips – in other words, anything that tastes great. You can complement this set with homemade
Valentine cards or some lovely notes
Fitness tracker disguised as jewelry Maybe this option is not as romantic, as it may seem at first glance, it's also worthy of attention when choosing Valentine's Day gifts for her. If your significant other loves sports, she will definitely appreciate this accessory. Besides, there are other smart wearables that look more like jewelry rather than gadgets. Your girlfriend will like an elegant zirconia bracelet or another high-tech accessory.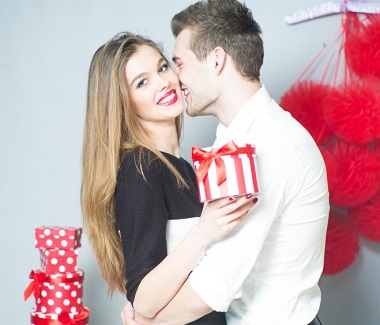 Organizer for her other accessories
If you know how to work with your hands, make your loved one an organizer for her accessories. If you can't make your own one, order it online. You can take a photo frame or a clothes hanger as a basis for it. Girls love such stuff. You can't even imagine how difficult it is to find a spot where all accessories will be in sight and won't get lost at the same time.
The book with a surprise
Books can be best Valentine's Day gifts, even if your girlfriend doesn't like to read. If it's so, you can hide a surprise under the cover, like a new phone or a bracelet to have something to hang on her brand new organizer.
Games for two
If you and your loved one like board games, then you can kill two birds with one stone. The thematic board game is both a gift and an interesting date idea. The Internet offers many options for romantic board games.
Plans for the whole year
Couples always make plans together. And what if you visualize them? Remember what plans you have discussed recently? Where does your significant other want to go? What would you like to do together? Make 12 cards (according to the number of months) and visualize your plans for the upcoming year on them. Unlike other Valentine's Day gifts for a girlfriend, this one requires a lot of creativity.
Tracker for finding things
How much time do we waste looking for small stuff scattered around the house? The problem of searching for keys, documents, slippers, and all sorts of things that always get lost can be solved with convenient radio or Bluetooth beacons. Using a special app for Android or iOS, such a beacon can be easily found using a smartphone as radar. Or you can turn on the beacon's loud alert and find the lost object by sound. Such gift will show that you care for her.
No matter how thoroughly you prepare and how much you want to impress your partner, don't forget that among the best Valentine's Day gifts for her, you're the main one.
There are no comments. Your can be the first