How to create your online dating profile
31.03.2017
So, you got sick of being alone and decided to look for your significant other on an online dating service. But if you want your profile to attract attention, you should know how to fill it correctly.
Depending on your goal, your profile can be different. It's your business card that creates the first impression of you; it may be pleasant or not. So take this issue seriously. Think about every word you're going to write. Let's try to figure out how to write an online dating profile right.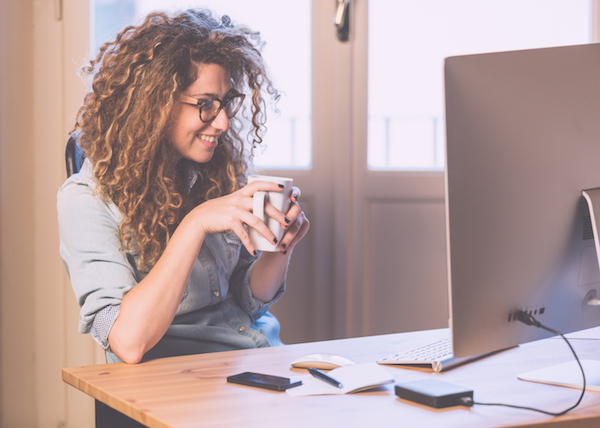 Making the profile look attractive
After completing registration on the website, you'll probably have to fill out a questionnaire. Don't forget that you're looking for your soul mate. Therefore, you must realize that a person, who can become your companion for life, may now be looking through other users' profiles and chatting with people.
The task before you is not so difficult. You need to make sure that when reading your profile, your potential companion finds something unique and doesn't stumble upon banal phrases. Any word, even a pleasant one, repeated a lot of times, becomes annoying. So try to avoid the most common phrases.
What to write
Good profiles for online dating need to be catchy. Try to describe your character, habits, and preferences in a good way. If you read a lot of books, don't hesitate to mention it. But the thing is that most people on this website probably write the same in their profiles. So yours can't catch the reader attention. Create an online dating profile using imagination.
A couple of unusual phrases can do the trick. For example, in their profiles, hundreds of users write that they like walking around a city enjoying the view. But if you write that you collect fallen leaves in a park during a walk, reader's attention is guaranteed.
The purpose of successful online dating profiles is to make people interested in their owners. And you should do everything possible for this: try to add a few interesting details to your story. For example, by writing: "I like to walk the streets, watching how my city lives," you not only show the reader that you are an interesting person but also make her want to ask you, what's so tempting about your city that you like to watch its life. This question can become the beginning of a long dialogue.
What not to write
Don't write anything negative. Don't write about your disappointments. People don't visit dating websites to sympathize or support someone morally. They want to meet someone who's doing well. If you look for a girl not for online flirting and virtual communication, but for actual relationships, you also shouldn't lie in your profile. Neither about your age nor about some hobbies that you don't have.
Be original
Why do most users on dating websites write about how they like going to cinemas, listen to music, or read books? That's right, because billions of people who have ears like listening to music, people with eyes read and go to cinemas, and even the blind can read books. However, not many people have interesting and original hobbies. Maybe you collect old black and white movies, take pictures of brick walls, or enjoy counting passing cars. Adding such info to your profile will attract more potential companions.
When creating your profile, you also need to pay attention to the photos you choose. Profiles with photos are viewed more often than those without ones.
Choosing the photo
Good online dating profiles attract users' attention mostly with photos. Your photo carries important information about you. It reveals your inner world which is essential in online dating. A profile without photos can push potential companions away. It's better to upload at least four or five photos. Also avoid old pics, group shots, and pictures with your children (if you have any). You want to present yourself, not your kids or friends.
You can choose photos from your vacation. If you wear glasses, pick a photo without them. The main thing in the picture is your eyes. If you are looking for a long-term relationship, photos in your home environment will suit your profile more.
Do you like cooking? Upload a photo where you're making a pie or something. Are you a romantic person? Ask someone to take a picture of you in the park. If you spent your last vacation abroad, don't forget to add a couple of photos to show it. Travel lovers will appreciate them. And the photos made with humor are always appreciated and will attract girls with a sense of humor.
Also, if you're looking for serious, long-term relationships, it's important to make a portrait, where your face is clearly visible. But the background on it shouldn't distract people from the main thing in your photo - your eyes; they are the mirror of the soul. Don't forget to smile, and you'll have the best profile for online dating.
The best online dating profiles usually don't include intimate photos or pics that others may find offensive. So, if you like hunting, don't share your photos with animals you killed. It may sharply limit the circle of people who might want to get to know you better. But if you have an athletic body, feel free to show it.
If you're too shy to post your photos on the website, this means that you don't accept yourself. In this case, you need a psychologist and not a profile on a dating site.
The profile without photos is meaningless, as a potential life partner can't see you, and you'll end up wasting your time which is your most important value.
Accept yourself, your appearance, and age as they are, show yourself from the better side and only then create a profile on a dating website.
When exchanging emails or chatting
Watch your grammar
A lot of ladies just can't stand guys that begin calling them "babes" or "cuties" and using other variations right from the start. It's really annoying and not how you should treat a woman you want to date.
Her name is right in the profile, so make sure to refer to the lady by it.
Show some respect
A lot of guys act like real jerks when they keep anonymity during chats with ladies. It seems like respectability and manners mean nothing to them.
When chatting a girl or sending her emails, don't forget that she's not a chat bot. Be sure to mind your language and choose your words correctly.
Besides, if you don't feel like chatting with her anymore, have the guts to say "goodbye" properly. Instead of suddenly going silent, send her a message explaining that you don't think that you fit each other. This way you'll show respect to her.
If you like chatting with a girl, let her know about it
Perhaps there's no secret that there's a huge communication barrier between girls and guys. It may lead to misunderstandings and leave your companion guessing whether you like chatting to her or not. That's why if you like chatting with a lady, be sure to let her know about it.
In conclusion
Now you know how to write a great online dating profile. If in brief, among all online dating profile tips, you should stick only to one - be extraordinary! Try to make up everything you write in your profile yourself, without using standard phrases. Don't hesitate to write to the girls you like, giving them all your attention.
There are no comments. Your can be the first