How To Flirt: 10 useful tips that will help you
12.04.2023
How to flirt better? Flirting is a true art. And some are perfect, and some are not. This art must be comprehended if you want to be a girl who can charm any guy. A guide on how to flirt with a guy will help you. Before you start flirting with a guy, you need to understand how they do it.
How do men flirt?
Regardless of age, men like to be charmed. However, they themselves do not seek to start flirting with the first person they meet. In fact, flirting with a guy is a terrible thing. Not everyone knows how to show sympathy. They, at times, will not even begin to take risks if the girl does not give a sign. All because guys are afraid to make a wrong move and be ridiculed.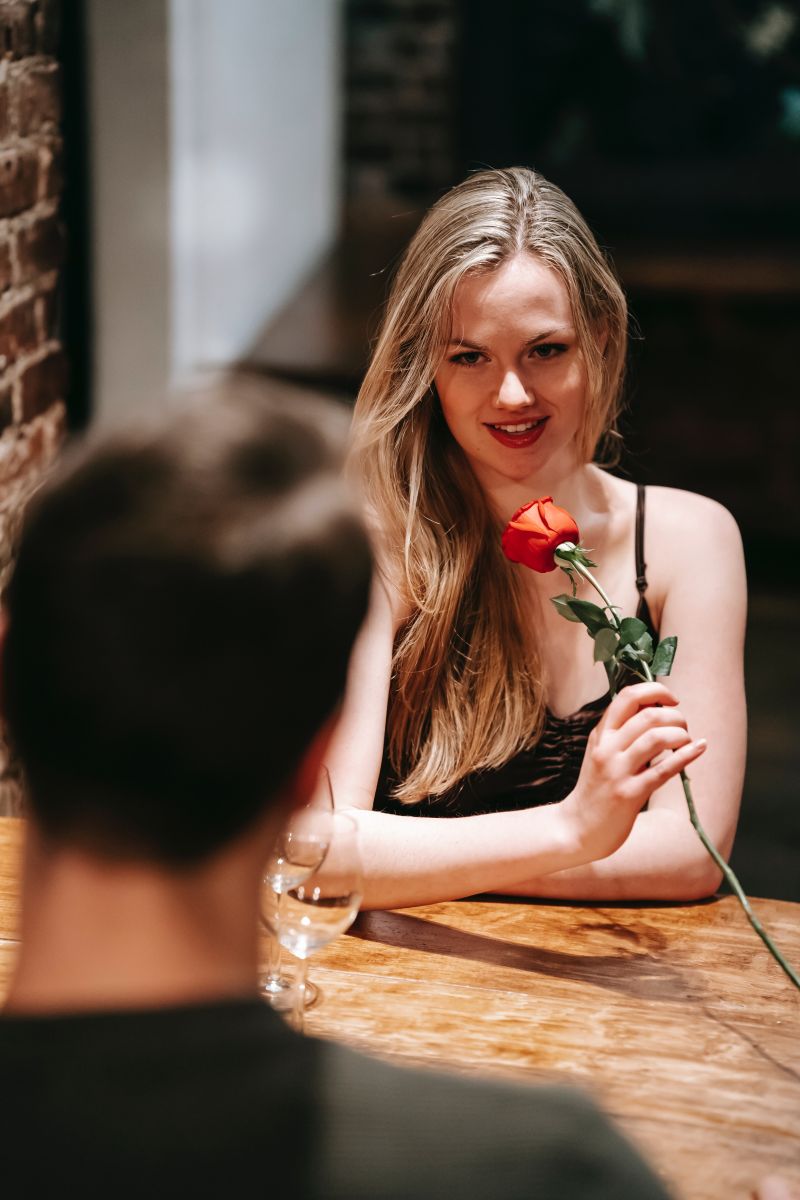 How to flirt in a relationship?
Before you start hunting for a guy, you need to let the young man know that you are positive and not averse to flirting. And if you still use the best flirt tips, then all men will flirt with you, even if there is a girl next to him.
Smile modestly and blush. Guys are delighted with positive and happy girls. Young people especially like those who smile and laugh when communicating with them. So don't be rude and arrogant; keep cheeky comments to yourself when it comes to flirting. Even if the girl is attractive, the guys prefer to stay away from such people. Be cheerful and simple, and enjoy the guy's company. Smile and sometimes blush when someone compliments you. This, one hundred percent, will not go unnoticed.

Thank him and give him compliments. Guys love to be praised. Therefore, the best way to flirt is with compliments. If you like something in the interlocutor - speak. He will love it. If he is gallant and polite, then thank him for his actions and words with a warm smile. When his behavior and gestures seem conducive to further communication, admit it. He will continue to try to please you. And he will continue to flirt only to win your attention.

Look into the eyes. One of the secrets of flirting is the ability to enjoy what the guy does. And you don't have to be in love with him; you just have to enjoy the knowledge that you are next to him. So the next time you talk to a cute guy, look him straight in the eye and smile. This act will certainly lead him to a dead end and make him feel uncomfortable. But such visual contact will make the knees tremble a little.

Be expressive. To understand flirt, how to take a few minutes and stand in front of the mirror. To develop different facial expressions. Learn to use your eyes and facial expressions to your advantage. Then you won't need words to impress a guy and make him flirt. Clap your eyes, rehearse smile options; in a word, do everything to be a flirtatious goddess without words. Then not a single guy will pass by. And if you're not sure facial expressions will make a difference, think of Julia Roberts or Angelina Jolie, who shine with awe-inspiring flirtatious expressions. It may take several weeks or months to learn, but the game is worth the candle. Who knows, it might even help change your life.

Touch your hair. Of all the flirt tips, this is probably the easiest. Men are not indifferent to women's hair. Beautiful hair. Perhaps because they themselves are deprived of the opportunity to play with their hair. In view of her absence in the form of a woman. However, guys love it when girls play with their hair. Beautiful hair is incredibly attractive to men. Therefore, in the middle of a conversation, you can run your hands through your own hair or put them behind your ears. This will show your confidence in the interlocutor. And besides, your sexuality. One way or another, do something with the hair so that the guy has the opportunity to admire them.

Tease. How to be flirtatious? Don't always put a guy on a pedestal with enthusiastic words. Sometimes it's worth taunting a joke so that the young man works even harder and wins your attention. If the guy joked really badly, then tell him about it. Tell him that he is trying too hard to be funny. Let it show itself. All jokes, however, must be released as a joke so that he feels comfortable. Sometimes tease so that there is an incentive to fight.

You don't have to be rude and loud. How to flirt naturally? Absolutely all real men love feminine girls. Of course, you don't need to pretend to be a fairy princess, but during the conversation, try to be feminine and balanced. And this applies to voice, demeanor, and style of clothing. Rude, impudent, and loud girls scare guys away.

Touch it unexpectedly. This is one of the effective pieces of advice on how to flirt. Men are thrilled that the woman they are flirting with suddenly touches them. And after each touch, the guy opens up more and more. He begins to feel more comfortable, talking and flirting. Try it; it works.

Be feminine. You don't have to act like a junior high school girl to settle in a guy's heart, but for a young man to start flirting, you need to let him know that he can protect you. Men have always been protectors and hunters in the process of evolution. And if you want him to be yours and constantly communicate with you, you must give the initiative to him, at least for a few minutes. Either way, men love to be in charge. So give him a chance to flirt first. Do not deprive him of such an opportunity. Otherwise, she may no longer present herself. Play and wait any minute; he will start flirting.

Let him know he is special. One of the flirting methods is to let the guy know that he is not like everyone else. After that, you can not make any effort. The young man will need to fuel such a feeling, will be carried away by you, and want to be around. Anything can make it special. Your smile is not the one you give to others, facial expressions, but maybe your compliments or unexpected flirtatious touches during a conversation. With all this, do not forget that you need to behave with a guy as naturally as possible. Otherwise, the game called "flirting" can turn against you, and you will get out of it, alas, the loser.
Top flirting mistakes
To learn how to flirt, you need to consider the mistakes that can be made when flirting. The most common mistakes include:
Using overly provocative makeup or clothing. A man may think that his new acquaintance is only looking for entertainment for the night and not a serious relationship. Therefore, a woman who puts on a miniskirt and a dress with a deep neckline should not be surprised that almost immediately after meeting an interesting guy, she gets hints of intimacy.

Conducting a conversation in a noisy and crowded place. Flirting implies the privacy of a couple. Suppose the acquaintance took place in the company of mutual friends in a cafe or restaurant. In that case, it is better to wait until everyone has dispersed and then continue the conversation, sitting at a far table in the corner of the room, away from the cheerful company.

Trying to be popular. Some girls believe that they will increase their importance in the eyes of a new acquaintance by talking about their past relationships. For example, how one of the ex-boyfriends filled her with gifts, and the other organized amazing romantic dates. According to the man, this is pure boasting. Therefore, the secrets of a flirting lie in modesty and mystery.
The best places to flirt
The park. How to flirt more? You can ride in the park on roller skates, but only in ordinary clothes. You should not dress "under an athlete" because by doing so, you can only scare a man away because he will first see you as an opponent and not an attractive girl. It is important to remember that a man communicating with a woman often perceives her as a possible sexual partner. For a man, a simple, friendly conversation can seem like flirting. Therefore, make the necessary adjustments for this circumstance when dealing with the stronger sex.

Bar. The easiest way to flirt is in bars and discos. At the disco, everyone behaves the way they want, and at the bar, a good place for flirting is the counter. It is here, and not in the far corner of the bar that you can attract the attention of men. However, do not overdo it because you can be mistaken for a woman of easy virtue.

Job. How to start a flirt? If you really want to, you can flirt at work, but only in certain places. For example, flirting at the printer or near the coffee maker will look like innocent chatter. But in any case, do not do it right at the workplace.

Book store. Only if you yourself really like to read and understand literature. However, handsome, smart men who choose books based on their interests are extremely tempting and worth a try.
Register on GoDateNow to find your soul mate. In the modern world, it is difficult to find time for dates, but you can always find time for correspondence with beautiful girls from the Girls online gallery section. Also, to learn more about the ins and outs of dating on dating sites, read Our Dating Blog.
There are no comments. Your can be the first