Travel Dating Websites and Apps to Brighten Up Your Vacation
23.04.2020
According to Hollywood movies finding a dating partner during a trip is not a big deal. Unfortunately, life is not like movies, and traveling is not only about Eat, Pray, and Love. However, nowadays, there are many interesting single women sites where you can find romantic partners even during your trips. So, even though Hollywood movies exaggerate real life, you still can expect that you will find a romantic partner while traveling. You will be surprised to know how many people use various traveling dating websites and apps to search for partners while traveling.
Why it feels so nice to try travel dating? You see, the more you live without refreshing experiences and changes in your life, the fewer chances you have to meet a new person you would like to date. At home, all possible dating partners have already been dated, or you don't see them as possible romantic partners. On the other hand, when you take a trip somewhere, everything changes, from your surroundings and up to your attitude to dating. Generally, during your trips, your main task is to know how to make compliments for women. Plus, during trips, things go much faster simply because you both don't have much time.
How to Date While Traveling Without Any Apps
A solo trip is definitely something that you should try at least once, especially if you are a lonely person. Without a single doubt, various travel hookup apps allow their users to find new romantic partners in no time. However, not everyone can or even wants to use those. What if you don't have Tinder or even an internet connection in another country? In this case, you will be happy to know that not everyone has switched purely to online dating. If you go on a solo trip and rely on other ways to find a romantic partner, then here are a few tested ways to meet someone special while traveling.
1. Take a special tour
The easiest way to find a romantic partner during a trip without any dating apps or websites is to take a special trip. Search for special tours for single people in the guidebooks. Choose your favorite topic and get ready to chat with other people a lot. Thus, you will be sure that there will be plenty of those who also seek friends or more.
2. Attended an interesting festival
You can choose any thematic festival you like. Festivals help unite people with approximately the same interests together. Thus you won't have any problems with finding common topics with new people. Most frequently, festivals last for a couple of days, meaning that you will have plenty of time not only to be friends with someone but even for more.
3. Visit the same place daily
If your trip lasts longer than a week, and you want to meet a local beauty, you can get into a routine. For example, start visiting the same coffee shop every morning and spend there at least an hour. To feel more comfortable, you can bring your laptop or some book. There, you will see other people who do exactly the same. They are your targets, and you already have an ice breaker for starting a conversation.
4. Stay in social hotels
Nope, we are not talking about cheap hostels. As you may know, nowadays, it is popular to keep hotels social. So, in such hotels, you will find co-working spaces, lounges, and various social activities. In luxury hotels, people tend to be very isolated or just busy with their businesses and work.
5. Never underestimate the power of waiting rooms
This is especially effective if you have many transfers on your trip. Waiting rooms are very nice places to meet potential dating partners. You won't have to put any effort to start a conversation with someone about the place where you are going to travel. It won't be too hard to break the ice, especially if you both are bored with waiting.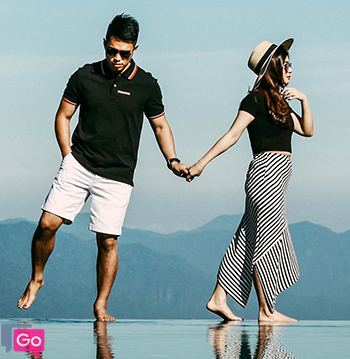 Best Travel Hookup Apps and Travel Dating Sites
Even though you still can find a romantic partner on your trips even without any travel dating sites, but you will have higher chances to have a travel hookup if you try some dating site for travelers. Online dating is a great tool that allows people from different countries to meet and build their relationships. Plus, via online dating, you will have more potential dating options. In this part of our article, we are going to share with you the most popular and effective travel dating apps and websites. Some of them are pretty common ones, and you probably have already tried to use those to try to find someone while you were at home.
1. Bumble BFF
It is one of the best apps for traveling singles dating. After downloading and installing it, you will be able to start connecting people who live in your destination places. Also, via this app, you will be able to chat with other travelers who are going to visit the same place as you do. Furthermore, this app allows you to benefit locals who are eager to host a unique tour for you or show you around their hometown. So, these apps provide you with plenty of opportunities to meet both fellow travelers and locals.
2. MissTravel
This travel dating website is one of the most trustworthy ones. After all, it has been available since 2012. This website exists to help single people find romantic partners during their trips to other countries. The main feature of this website is that it allows you to offer trips. Another interesting thing about this website is that it doesn't require you to share your GPS location. So, your date will be secure. Also, they have an app version, but still, the main dating features are available only on their website.
3. Tourbar
The biggest problem of meeting people while traveling is that you can never know who you will meet on your trips. As you have guessed, this app resolves this problem. It allows you to make friends way ahead before your trip. Thus, during your trip, you will already know what to expect both from a country and a receiving person. Also, this trip can help you find a company to visit festivals and concerts. This app works as a messenger too. When you accept someone you like, you will be able to chat and send pictures.
4. Flip the Trip
This is a very popular dating app. In this app, you will have more than 50 thousand possible companions for a traveling date from more than 5000 cities from all around the world. Just like in every other special dating app, you will be able to find not only your fellow travelers, but you will be able to meet locals who live in your desired destination as well. In this app, you will be able to start a conversation and ask your new partner all the interesting questions.
5. Smartcat
When traveling abroad, local languages can become a real problem. As you have guessed, it may be very hard for you to communicate with locals and travelers from other countries. Unfortunately, even the majority of travel dating websites don't help their users communicate with foreigners. Thus, people have to use external translators that take too much time and negatively affect the process of communication. In turn, this app not only provides everything that you may need for dating while traveling, but it also has a built-in translator to help you communicate with foreigners. So, this app is perfect if you doubt your language skills.
6. Skout
This app mostly focuses on bringing people from all around the world together. Yes, it won't allow you to communicate with fellow travelers who are planning to visit the same destination, but it connects you with locals, and it does it very well. This app is especially handy if you are planning to have a business travel hookup on the other side of the world, but you don't know the local language. Locals will help you learn more about the neighborhood, local traditions, and the best dating spots.
7. Facebook
Facebook is a very-well known all around the world's social network. Most frequently, people use it for business. However, in our case, with the same success, you can use the Facebook app as a business travel hookup app. As opposed to what is the case with the other dating apps and websites, Facebook allows you to find potential partners according to their interests and maintain connections before and after your trip. And it is a great tool to make sure that you truly know everything about a person whom you are going to date because you can check his or her life on Facebook.
8. Travel host date
As you may know, dating scammers can be found everywhere. Even the best and the most trustworthy dating websites and apps can't fully control scammers. However, this situation may change very soon because Travel Host Date takes the safety of its users very seriously. This website has more various security checks than any other dating website or app. Furthermore, you can have a secret account via VIP membership. Also, it not only helps you meet people online but also can help you plan to host this person.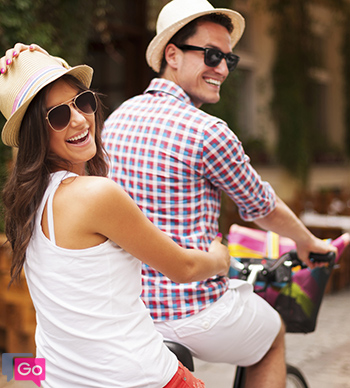 9. Your travel mates
To be honest, technically, this is not a dating website, but people very often use it as one. If you are an experienced user of various dating apps, then it may look very similar to MissTravel dating app. This website has many adjustable filters to help you find a soulmate with similar interests. Also, it has a built-in social medial platform that allows you to share your opinion, knowledge, and traveling experience with other members. Thus, you can use this social platform to search for new friends and lovers. Another interesting thing about this website is that it is absolutely free.
10. HelloTel
If you are traveling alone, and you are not one of those very talkative and active people, you may have a problem with meeting a dating partner during your trip. But this hotel hookup app will allow you to approach strangers in a hotel where you've decided to stay. To make your future conversation easier, you can use this app to have online conversations with those who also stay in the same hotel as you. This will help you establish an initial connection with them before going downstairs to finally meet this person in real life.
Important Rules of Dating While Traveling
Traveling is very interesting and refreshing. However, you must understand that traveling not only makes you leave your comfort zone but also may be pretty dangerous, especially if you are planning to search for a significant other during a trip. Recently, we have already mentioned dating scammers who aim to steal money from you. Without a single doubt, they may completely ruin your trip. Even though all dating apps and websites from our list do their best to protect their users from scammers, you still should be very cautious. So, here are the top 3 the most important rules of dating while traveling.
1. Meet only in public places
When you chat with someone online and agree to meet him or her in real life, you should always trust your gut. After all, you are in a foreign country, and you can never know who your new dating partner truly is. Thus, to make sure that everything will be fine, you should meet him or her only in public places. Plus, if you feel that something is wrong, you should immediately leave this person.
2. Consider video chatting
You can never know who is truly chatting with you behind a dating page. To make sure that you are going to meet with a real person, you should ask him or her to have a video conversation with you before you go to their country. Thus, you make sure that you are going to visit a real person. Plus, you show him or her that your intentions are serious.
3. Be active
The last important advice is that you should always be active. Remember, most frequently, people fear to make the first step towards each other. For this very reason, if you want to find someone during your trip, you should always be active and must never fear to make the first step.
Nowadays, the tourism industry allows us to visit even the most remote places on Earth, meet foreign people, and establish international long-lasting romantic relationships. If you are a single person and you struggle to find a romantic partner in your hometown, you definitely should try special propositions for lonely tourists. Meeting someone during your tourist trip is possible, and what is more interesting, the number of people who meet during their trips rises every year. Don't expect that you will immediately find someone on the first day of your trip. But if you are active, pretty soon you will find new friends and possibly lovers.
To furthermore increase your chances of meeting a romantic partner during your trip, you should pay attention to online dating. Via online dating, you can meet potential lovers online and then travel to their country, knowing that there are people who are already waiting for you. But we ask you not to lose your head. Dating someone during your trip may be very exciting and great, but you should always be very cautious and careful.
There are no comments. Your can be the first