How to Apologize Properly to Your Girlfriend
30.10.2018
What is the best way to apologize to your girlfriend? First of all, you need to analyze the cause of the quarrel, to understand the impetus for her resentment. Often, men think that girls are just being naughty in this way, wanting to "rein in" their chosen one. However, this is not always the case. Yes, there are individuals who should be awarded the Oscar for the best dramatic role, but the sincere girl will not allow herself this, because she values the feelings and emotions of her boyfriend. The offense of a girl is often based on her vulnerability: she did not expect you to do that or say those words. To which men often respond: "It's not what you think!"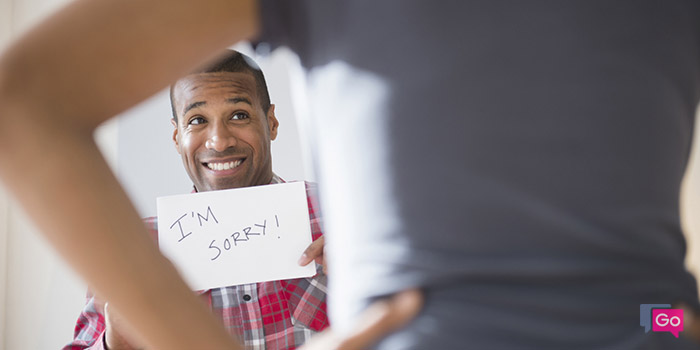 But no, her eyes and behavior tell a different story. In this case, in the conciliatory conversation with the girl, do not begin to "pull the blanket over yourself", they say, "You forgive me, of course, but I am not guilty of anything ...". And that's when a good conversation will stop immediately. In general, how to apologize to someone you hurt deeply, – a rational conversation is always the best way out, yet it is the hardest one as well.
How to apologize to a girlfriend? In order to understand and be understood, you need to: prepare to speak sincerely; calm down; be ready to control your words and tone in conversation; start a conversation with the words: "I would like to talk to you" or something like that; ask a question about what exactly offended her; try to understand that for her it is really serious; if you don't understand, just accept it; explain that you did not see anything wrong with this, and did not want to hurt her; promise that you will try not to repeat this again; smile and kiss your sweetheart.
In a situation where your guilt is obvious, and you have already realized it, you need to act a little differently: "put on" the guilty person; come up with a request to talk; then begin by saying that you fully admit your guilt, but be prepared that this is not enough; if you can explain your act (roughly speaking, tell her what made you do it: upbringing, environment, influence of friends, etc.), be sure to do it - this will be a great bonus for you; ask for forgiveness, but only sincerely, from the heart; tell her the most important thing, that you have already realized your mistake, therefore you are ready not to commit it anymore; mention how important your relationship is to you; try to hug her or take her hand.
Note! After you have received forgiveness and hugged your beloved, do not begin to hint at sex with actions or words! Most likely, now she is touched. Do not debase this moment! Of course, if she herself did not start acting first! You should implement some creative cute ways to apologize to your girlfriend rather than go for sex.
Psychologist tips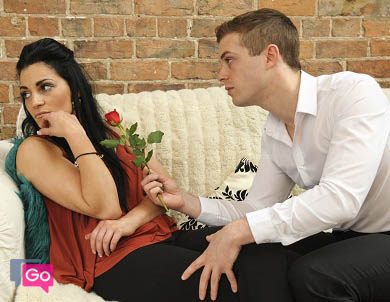 One of the most important factors that affect the success of answering the question how to apologize to a girl: Do not tell other people about your quarrels. They are able to speak out against you without even realizing it. Everything that has been said by you can be turned over and issued to your beloved. And it will act against you. Moreover, a girl can be "touched" by the fact that instead of trying to improve relations with her, you go and talk left and right about your business. Do not give up quickly. Sometimes the resentment of a girl is so strong that from the first and second times she cannot forgive you.
If this person is really dear to you, try again. Best of all, proceed according to the following scheme: at first try to break out a conversation with her, then, if she didn't accept you, let her think for a day or two. Then start trying again. Follow the conversation. Try to introduce your speech in a form in which it would be pleasant and not offensive to her.
How to Apologize When You are Not Wrong
There is one wise expression for all the cases in which you don't know how to apologize to someone: "The first person who apologizes is not the one who is guilty, but the one who values relationships."
You probably know that the negativity does not lead to anything good, so if you are accused of something, do not be obstinate but simply apologize. Especially, it concerns guys: girls often throw up tantrums with and without a reason, and sometimes the words "I am sorry" are the most painless way out of the situation. So often, the answer to the question of how to apologize to a woman is in just accepting guilt.
Suppose you are not to blame, but you have pleaded guilty to avoid conflict. How to ask for forgiveness? First, cold "forgive" or "sorry" helps rarely. In order for a person to have the feeling that you really repent of your deed (although you did not do anything), you need to voice the reason for the insult during the apology. Turn on acting and repent of what you didn't do. You need to know how to sincerely apologize. Then she will believe in your apology and change the attitude to a favorable one for you. Just accepting guilt can be a great answer to how to apologize for lying to your girlfriend. Do not go too far with your acting though, do not stack up too many false confessions under your belt.
How to Apologize for Cheating
Such acts as getting home drunk or cheating have an extremely negative effect on family life. Sending an apologize message to girlfriend won't work in such cases. Even if the girl forgives you for something like this, harmony in the relationship does not come immediately. Offended by your actions, a woman will remember what happened for a period of time. Even if she does not begin to speak to you directly about this, the disappointment she has suffered will most likely still make itself felt. How can this be manifested? In general, the recent grievance can "surface" again and again in various trifles.
A woman may become colder in her sexual life or periodically express her irritation, seemingly from nothing. Although, of course, there are no rules without exceptions, and perhaps your chosen one will find the strength to behave in the same way as before. However, women with such strong self-control are still in the minority. Whatever it was, first, forgiveness still needs to be deserved.
In many couples, trust is lost after the infidelity of one of the partners. How to apologize for lying or cheating? If you want to prove to your beloved that for you there are no other women besides herself, you have to show it in practice. First of all, you need to interrupt any contact with the subject of cheating. If you went for an intimate relationship with a co-worker, then it is possible that you can restore confidence in your family only if you change your job. In general, the beloved must be sure that you do not intersect with the former mistress, thus by eliminating a natural desire.
Perhaps you've cheated, in a way, be texting someone else? Then you should show the girl that you are no longer engaged in this and do not aspire to a virtual romance. Remove from your contacts all persons who, in the opinion of the chosen one, can bear some harm to your relationship. Many men reluctantly undertake such a step, and women regard this very negatively. However, since the situation has reached the point that you still need to gain trust, then you have no other choice. At the same time, try not to spend a lot of time on social networks - this may cause suspicion in a girl.
Of course, such a restriction of the freedom of choice to most men will seem humiliating, and in the usual situation, when there are no real reasons for jealousy, it is so. However, if you were caught for cheating, and you understand this, now, in order to preserve the relationship, you still have to make sacrifices.
How to Apologize Without Saying Sorry
There are many ways to apologize to your babe, without directly saying "I am sorry", consider some of them.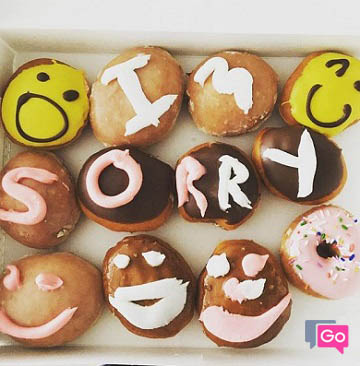 Journey
It is one of the best ways to apologize to your girlfriend, yet know when it's appropriate. Many women dream of escaping from the cycle of household worries or simply to diversify their impressions with positive emotions that can be presented by a fascinating journey. If you know that your babe likes to travel to warm lands to the sea or to ancient cities with magnificent architecture, and you may find an opportunity to realize this desire, then you should take advantage of this. After your unseemly deeds, surely the mood of your spouse leaves much to be desired, and a trip to an interesting city will be able to change that. Of course, it is better to take a joint trip. If you, even with the best intentions, buy a ticket only for your babe or send her on a trip with your best friend, she may think that you just decided to "get rid" of her, and at that time go back to drinking or cheating (depending on what situation you happened to get into).
Keep up to your words
It is not excluded that the spouse has long asked you to do something, but you only promised to do it, without reaching the fulfillment of your words. Think well about what you talked with your babe lately or a little earlier, and what she wanted. Cases can be different. Perhaps she wanted you to finally fix something, get a dog, find the time and opportunity for a little trip or something. Surely, if the babe's request is fulfilled, she will relent. Note, however, that this is a serious matter, and not about sharpening a kitchen knife.
Romance
If recently there was a place of cheating in your family life, this clearly indicates that your babe had to be in a tense state, and, for some, she may have suffered stress, and even more so, depression. When making it official with you, she most likely hoped for a completely different life together, and now it is not easy for her to come to terms with the revealed reality.
And yet, you have the opportunity to return at least some of the feelings that were at the dawn of your relationship. At any stage of the relationship, a woman needs a manifestation of romance on the part of her partner, and you are able to realize this desire. How to do it? Make an apologize gift for girlfriend. You can start off with cute little things - it is relevant especially if they were not at all in your family life before that. Bring flowers to your beloved woman periodically. It is not necessary to talk about luxurious bouquets of one hundred and one roses (although this should not be excluded, and you should gift them to your babe at least occasionally). For sure, wild roses, banal tulips, chrysanthemums will please her - the main thing is to show her that you want to please her.
In addition, it does not hurt to periodically arrange romantic dinners - you can organize something similar at home on your own or invite your spouse to a cozy restaurant. In general, if you have such a desire, you will certainly find a way to please your babe with romantic surprises.
There are no comments. Your can be the first