How to Have Cybersex on the Internet
31.05.2019
With the development of various online communications like Skype and others, more and more people prefer to enter into intimate relationships without leaving their homes. And as in any couple, it happens differently. More often, of course, the man inclines the lady to sex over the Internet and she concedes to it so as not to lose the boyfriend. Sometimes the girls themselves try in such a way to lure as many "princes" as possible so that they can choose from them. More rarely, it happens that both partners are reluctant to get up from their cozy sofas (even when they are in the same city), and in order to merge with their beloved in ecstasy, they only habitually press "on" button.
It would seem that for sex we need at least two people and a lonely place. However, some fans of this entertainment cost without this minimum. For example, having sex on the Internet. And this kind of fun every year becomes only more popular. Are you willing to find out how to have cybersex?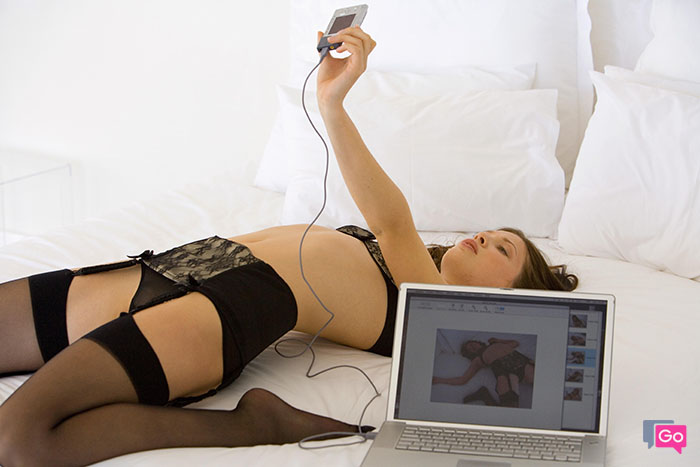 What is cybersex
Sexual life, like communication, often takes place in the virtual space these days. Most often this type of sex is chosen by men from fifteen to fifty-five years. There are many of them who have problems in the family and with a real partner. And some of those who have a cybersex addiction become patients of a psychotherapist and a sexologist. So what is cybersex? Well, cybersex definition stands for a relationship between two people based on sexual nature when communication equipment is used to interact and communicate on this topic. Sexual satisfaction such people receive through technical means, giving each other the necessary stimuli.
Stimuli may be different. The simplest ones are intimate messages via Viber, SMS or other apps. There may be audio format stimuli when a telephone conversation is used. The visualized stimuli are obtained by using a webcam online, while watching porn movies and erotic films. Tactile stimuli are obtained through the use of sex toys that can transmit a sensation of temperature, a sensation of touch and so on of the second participant in cybersex conversation.
Top reasons to have cybersex
If you've faced with online communication and already know how to have cybersex on the Internet but still don't get for what, then take into account the following things: sex on the Internet has its own characteristics and traits. First, during the the process there can be no interaction between physical partners. Secondly, there is access at any time to any attractive object. Thirdly, there is a moment of complete or partial anonymity. Fourthly, there is the implementation of the decision on the duration and form of the process.
What pushes people to cybersex and the main perks of this activity:
Unrealized sexual desires in real life. These people are indecisive, not sociable, with appearance flaws who fail to make contact with the opposite sex. They are either afraid or do not tolerate any acquaintance. For such people, sex over the Internet is the way out because it helps them fulfill sexual needs in a safe format. After all, on the Internet you can even introduce yourself as Napoleon, and you can always avoid contact by simply dropping out of the Web.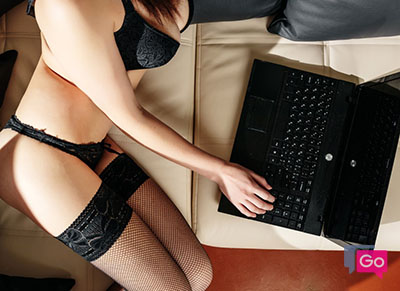 Lack of sexual intercourse with the opposite sex. Often this applies to men and women who do not receive attention, admiration, and sexual realization in their family life. In addition, to women brought up in the moral and ethical traditions it is difficult to take the initiative in sex with a real man. But when making sex on the Internet, such women can appear in any capacity.
Laziness and lack of altruism. To make love with a girl, a man needs to show imagination, spend time and energy, and the outcome may not be positive. For example, she is nervous this evening because of a badly sleeping baby. If this is not a spouse, but a completely unfamiliar woman, then there will be even more costs to seduce her. The same goes for women. Sometimes you need a lot of strength to spend in order to seduce a man. Cybersex is aimed only at self-centeredness and consumption, there is not a drop of altruism in it.
Youth and inexperience. Young people who, due to inexperience, are afraid to have sex with a real object, try to gain experience through the sex over the Internet. Although this does not help much, but at least lets one conceal the inexperience and makes him or her feel more self-confident.
Negative experience in the past. People who have received a negative experience no longer believe that in real life they can have normal relationships. Especially if the negative experience affected their sexual function. For such kind of people cybersex is a perfect solution.
Satiation. Having tried everything that is possible in real relationships, people are looking for new sensations in the virtual world. And diversifying your sexual life through cybersex is the easiest. Many people try to find out the answer to the question: "Is cybersex illegal?". The Internet and cybersex sites are overflowed with different stories relating to this topic but let us assure you, there's nothing illegal about sex on the Internet, so if you need it, do it without fear to bear any kind of responsibility.
How to have cybersex
Most people looking for cybersex don't have a proper level of awareness about it. Or even have no earlier experience. It is a mistake to believe that online sex is a simple matter. You may not succeed in doing this for a first time. If you don't know how to cybersex, follow these tips and enjoy the process.
1. Appearance during virtual sex. So, the partner for love is found, and you can start. Having retired to a secluded corner of the Internet (Skype, private-room chat), describe your appearance to the partner, what you are wearing. If you do not use video chatting, you can dream: instead of a homemade dressing gown, let yourself have a luxurious set of linen that you saw in the shop window during the day, and your thin pigtails will become luscious shovel of hair. The partner can answer you the same, posing as a vampire, wrapped in a velvet cloak.
2. Prelude. Like regular sex, virtual sex begins with foreplay - kisses and hugs. And although in most cases the leading role is played by a man, one should not respond to his actions only with sighs. Describe your reaction: your cheeks became blush, goosebumps ran through your skin, as well as your response actions: you ran your fingertips over your lover's cheekbone and kissed him on the corner of his lips.
3. Sex. What to say during cybersex? The process itself depends entirely on your imagination. Will it be slow and gentle or, on the contrary, you will virtually embody all your fantasies. The main thing is that you should tell about your actions, feelings, and emotional response that your partner causes. At the end of the process, give the partner a compliment, note that they were excellent lovers.
Internet sex addiction
Someone may argue that such sexual behavior is not dangerous at all. People making love over the Internet do not harm anyone and do not violate anyone's interests. However, it can harm these people, interfering with a productive and fulfilling life. Those who are prone to cyber addiction not only reveal major psychological problems, but are more likely to be involved in risk-related relationships in real life. They are also likely to respond positively to the test questions more often than those who are not addicts: "My sexual fantasies distract me from the realization of important tasks in life", "I do things that go against my inner values", "I feel very lonely" etc.
First of all, what is cybersex addiction? Psychological dependence on cybersex is one of the types of neurotic disorder. Neurotic dependencies are dependencies in which a person feels an obsessive desire to repeat certain actions. When such a goal emerges, not results bring satisfaction, but repetition of the process. In the constant process there is no complete pleasure, since a person cannot get enough of it.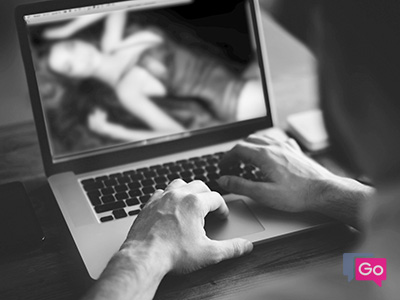 If you take the statistics, almost 50 percent of people who like sex on the Internet, can get into real online slavery.
As for women, it'is not only the danger of meeting the maniac directly, but also the threat of gradually deteriorating physical and mental health. Attempts to relieve mental tension through sexual defusing do not solve problems with the opposite sex. The problems remain and the tension increases again. The pain of loneliness and lack of fulfillment in relationships increases. Some psychologists emphasize that although women are less susceptible to addictive behavior than men, the addictions develop more rapidly and are often irreversible. The excessive interest in cybersex is, in fact, the abandonment of mature sexuality and care in the fantasy world, where the conditional partner turns out to be only an object for its own projections. The longer this virtual game continues, the more difficult it is to establish contacts and maintain relationships with real partner.
And even if the addiction does not arise, so easy and non-binding, at first glance, way of communication can deprive the motivation to search for real relationships. Those that require from us much greater emotional forces and emotional involvement. And in the end, one important question arises: "Is cybersex cheating for you?" According to the comments on the Internet and discussions in the forums, opinions differ slightly. Here is the story of one woman: "I had virtual sex for half a year with one partner. I have never had such preludes, fantasies with my husband as with my online partner. But once my spouse caught me with cybersex, he got so cross. I tell him that this is not a physical cheating. But he is angry and threatens to file for divorce. What should I do? "
It's even more surprising that most of women do not condemn, but favor the virtual experience of their husbands. There is such a joke, when a man was asked what kept him from cheating on his spouse, he replied: "Laziness and porn sites". Thus, some believe that virtual communication on erotic forums is not cheating. Moreover, by introducing diversity into the life of a person, it relieves stress and thus prevents real cheating.
"Let them [men] better visit cybersex sites than brothels," said one woman on the forum. Men, judging by the letters, just enjoy a new kind of sexual services.
There are no comments. Your can be the first