Types of Ukrainian Women on Dating Sites
24.03.2017
So, you are determined to date a Ukrainian girl now. You are dressed up to the nines, looking and smelling like a million dollars. Everything is set and ready for you to conquer her Ukrainian heart. Yet, even the brightest, smartest and dandiest of men are likely to find themselves a little bit uncomfortable inside the Plenty's Horn of dating sites with overwhelmingly beautiful Ukrainian women online there. All sorts of personalities, sexual attitudes, characters and aesthetic tastes look at you from the screen languidly waiting to be explored. For you to be a wise hunter you will need a tiny bit of help from a credible source of information, which we are most pleased to share.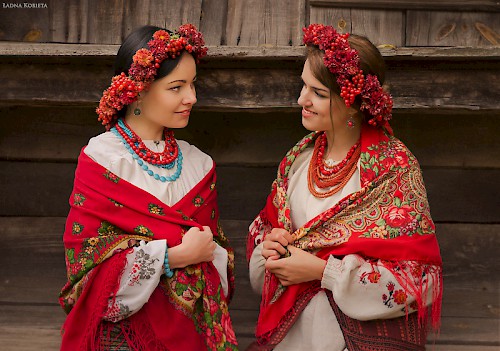 Girls who want a predator
Speaking of hunting, in Ukraine there is an enormous amount of defenseless-looking women. Such behavior is widespread in IRL and in many other countries. In Japan, for instance, plenty of women trying to look cute (or shall we say kawaiish) and childish in their thirties. This is the type of psychology that assumes the man to be a macho hunter and her being a little Thumbelina.
Melting ice is your biggest problem with this type. However, once you make her feel special, chase hundreds of miles around the Carpathian forests for a few weeks, she will let her big bad wolf cover her face with kisses and eat her (or drool, if your predatory inner-self takes over).
Girls with "weak knees"
It is not like she is going to swoon into your hands when she sees you. Just on the contrary. In fact, this type is exactly the opposite of the previous category. Such gals are quite talkative and open during the first steps to the relationship. When it comes to an actual meeting, though, their confidence starts cracking and without an additional enthusiasm (which is ought to be radiating from you) your first meeting can get awkward at best.
As they say, everyone has their rats in the attic and women are no exception. She may be a perfect partner for, yet with a few flaws and being shy in this scenario is among them. Just be ready to humor and comfort her. Remembering best moments of your correspondence is the key: "a good joke must be bought at least twice!"
Girls with a description list
Another touch cookie to taste is a lady with a checklist made deliberately for her future boyfriend/husband. Once you see a profile with a huge set of requirements, then you look at this type of women. Generally speaking, to date a Ukrainian woman means meeting her requirements whatsoever. If you match them, then be sure to spend your honeymoon in Las Vegas with that kind of luck.
Still, considering that people all over the Earth tend to be surprisingly unaware of their own desires and wishes, trying to win her heart may be worth a shot after all. A lovely romantic letter of affection never hurt anybody.
Girls fountaining with negativity
Ukrainian girls online can be very upset about things, you know. If the previous type had their list of things they want a man to include, then these women have a list of everything they don't want to see in men. Ask any psychologist and he/she shall indicate that such behavior conceals a soft and tender nature. Dealing with them shall come via the lens of her suspiciousness, though. Thus, consider such girls only if you have the nerves of steel and some spare time.
Gorgeous non-responders
If you want Ukrainian women for dating, you will find hundreds of profiles with gorgeous beauties. Receiving an answer, however, is something unbelievable. It is reliably unknown and British scientists debate whether there is a man on Earth to have such answer received. On the other hand, the prophecy says that once there will be a chosen one born – the first one to pick up such a gorgeous non-responder and make the brotherhood of men successfully follow in his footsteps. Is it possible that the promised one is actually you? You never know, unless you try.
Flirty attention-lovers
At last, someone who doesn't wait for you to write something. Easy to spot, sharp and humorous – everything a man wants in women. They take the initiative, love to flirt and talk.
Such perfect packages don't come only with benefits. She needs that attention like an air and keeps in mind that it is the dating site she is at. The whole bunch of males is likely to be messaging her simultaneously along with you, should you join the party. For you not to waste time, proceed only if your communication actually took place and goes well steadily. A good mark of any predator is that he knows when he becomes a prey. Make her your prey so that she finally cannot resist you anymore.
Ordinary women
Surprisingly enough, but you can actually face normal people while finding Ukrainian women for dating on the Internet. As you look through the motley profiles, you trained eye will be able to notice normal women who do not have an extraordinary appearance or career, artistic talents or sharp wits. Such women are often to have a down-to-earth attitude and socializing with them comes easy. Perhaps true beauty is easy to overlook indeed. Approaching them as you are is the best piece of advice. Just smooth-talk that cupid to borrow you his bow and… Happy hunting!)
There are no comments. Your can be the first